Photos by Pesi Fonua and Eleanor Gee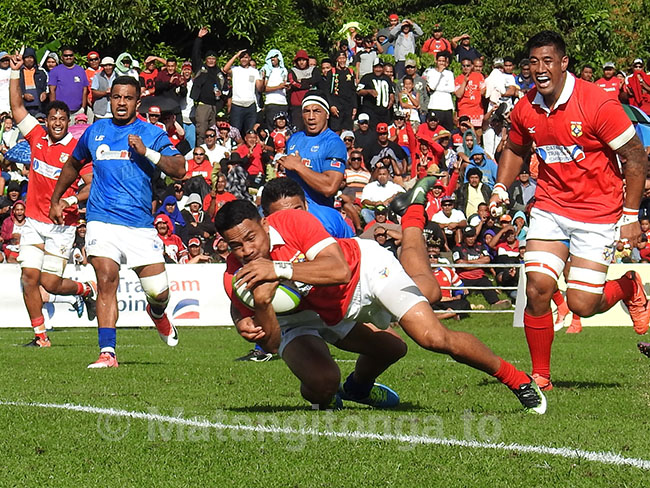 By Finau Fonua
The 'Ikale Tahi defeated Manu Samoa 30 – 26 today at Teufaiva Stadium, winning their first home game in Tonga since 2009. The dramatic encounter saw a thrilling end with the 'Ikale Tahi preventing a Samoan try during extra-time to win the game.
Manu Samoa drew first blood with a successful penalty conversion by Kahn Fotuali'i. The 'Ikale Tahi responded shortly with two tries in quick succession, the first by flanker Nili Latu and the second by full back 'Atieli Pakalani. The two tries gave the 'Ikale Tahi a convincing lead 14 – 3.
A penalty conversion and a try by Manu Samoa closed the gap to 14 – 13. Sonatane Takulua converted two penalties to maintain Tonga's lead. At half-time the score was 20 – 16.
In the second-half, Tusi Pisi converted a penalty to narrow the score to 20 – 19. The 'Ikale Tahi gave another explosive response with a try scored by Sona Takulua followed by a penalty conversion to open up a comfortable lead 30 – 19.
The Samoan backline suddenly sprang into life in the last quarter of the game and made multiple line breaks. Manu Samoa scored a try to narrow the gap to 30 – 26. During fulltime, Manu Samoa almost pulled-off a comeback victory with a final assault within only a few metres of the Tongan try line. The Samoans crossed the line but the ball was held-up, Tonga winning 30 – 26.