By Mary Lyn Fonua
The Pacific Islands first Olympic medalist, Paea Wolfgramm today congratulated the Fiji 7s team on their Olympic Gold Medal achievement.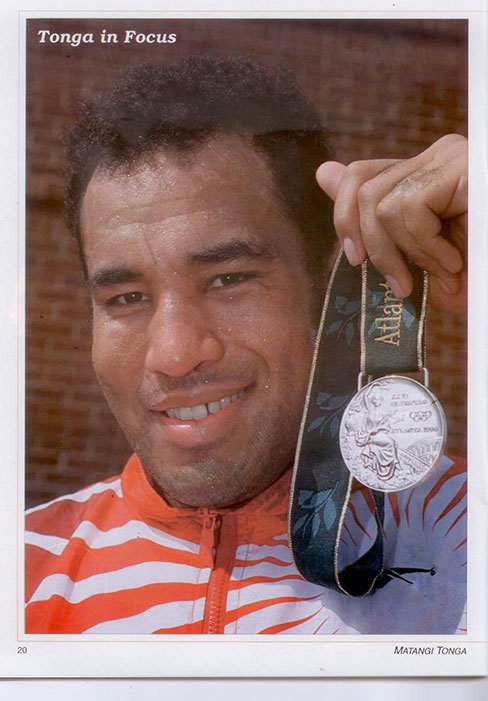 "Good on Fiji! It's something they've worked on - they have planned for and deliberately and methodically worked their way up to being our Olympic Gold medalists, so it's not totally surprising to me," said the Pacific Islands first Olympic medalist, Paea Wolfgramm today.
Wolfgramm, who won the first and only Olympic medal for Tonga - a Silver at Atlanta in 1996, said Fiji had done it the right way.
"They've concentrated on building the sport up in their country, they've used locals and the coach is important but you know at the end of the day…all those guys know what they are doing. They are in good spirit, you can feel that with the Fijian team, they were ready to take the thing by the scruff of the neck and they did, absolutely, worked toward it. Unlike me, I came out of nowhere and took a medal, but these guys - you can tell that for the last 20 years they've been just building toward it.
"I just knew they would be right there to make history. They say that history is where opportunity meets preparation and that's exactly what happened here," he told Matangi Tonga this afternoon.
"But at the same time it was a bit of a bittersweet moment when you think it's been 20 years and finally been repeated by Fiji with another Olympic medal."
Wolfgramm said he won't go out celebrating tonight with his Fijian friends - "Just on Facebook and they have contacted me already and asked me to welcome them to the club!" he said.
Long time coming
After Atlanta Wolgramm imagined that sports would develop in the region, and particularly in Tonga.
"I had envisioned in my mind that I had opened the door for everybody else to follow through and it's taken this long to get there, and I would have loved it to be Tonga, I would have loved it, not a lie, but they've just gone to sleep and it's really disappointing for me," he said.
Wolfgramm, now 46 and living in Auckland, has recently been appointed as an Ambassador for Sports in Tonga. He worked here for a year trying to understand Tonga's sports administration.
"The whole thing with Tonga I see the talent and then how our [national] sports administrators simply don't care enough - that's what it is. I'm not talking about the federations.
"Every Olympic brings back a lot of memories of 20 years ago but it's also bittersweet because I've watched Tonga since 1996 slowly just, you know, get washed away. Any potential promise from Atlanta has just slowly been eroded and so I watch it with a little tear in my eye, almost. … For me it comes down to they simply don't care enough."
Wolfgramm says the next aim now for Tonga must be to think of medals, to get number two and take back the onus again.
"Such a good potential social changes can happen through sports. There's two things that can pull a country together, one of them is sporting achievements and the other is war. So I asked our leaders, which one do you want?"
Sports hero
Back in 1996 Wolfgramm, then 26, was welcomed home as a national hero by cheering crowds after his moment of Olympic glory, bringing home a silver medal from the Super Heavy Weight Boxing final bout with Ukranian Vladimir Klichko. Matangi Tonga Magazine reported that "Paea burst in world boxing fame when he caused the biggest upset in the Olympic boxing by beating the hot favourite for the Super heavy Weight gold medal, Alexis Rubalcaba of Cuba in their quarter final bout. Paea had been boxing for five years with only about 30 fights under his belt, so he was an unknown fighter in the division with its top class boxers."
From 'Utungake in Vava'u, Paea admitted that he had powerful punches but also "I also have a strong mind to be able to compose myself when I am under heavy pressure," he said at the time.