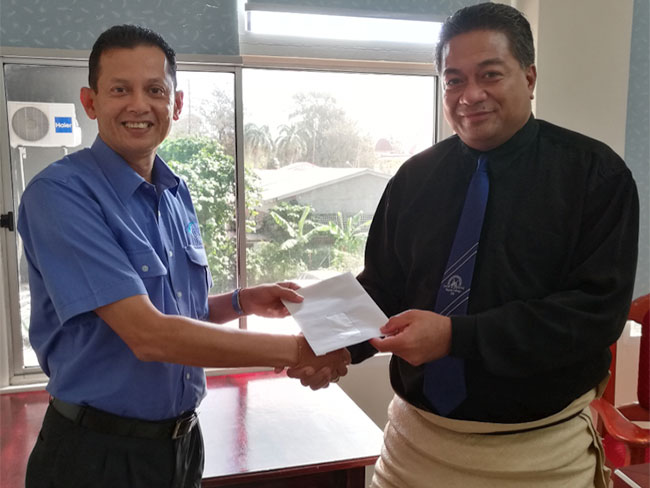 Tonga Communications Corporation (TCC) handed over a dividend cheque of $1.213 million pa'anga to the Government of Tonga as shareholder in the full and final dividend payment for the last financial year 2014-15.
This is the second consecutive year that TCC is paying a dividend in excess of $1 million pa'anga, and growing rapidly year on year over the last five years. The amount declared was $1.5 million pa'anga and there were setoffs for pensioners salaries paid to Tonga Telecommunications Commission resulting in the net payment of $1.2 million.
The profit of $2.2 million pa'anga for the last Financial Year was achieved after write-off of TOP1.6 million worth of redundant legacy network equipment. TCC also contributed substantially toward the government revenue as one of the largest taxpayers, paying over $4 million in direct and indirect taxes and levies per annum.
TCC will be investing $4 million this year towards the network expansion as they have already invested over $30 million in their network infrastructure in the last few years.
Meanwhile, the Minister of Public Enterprises thanked the TCC Board, Management, and all staff for the dividend payment, and said the government was pleased to receive the dividend and are able to contribute towards the development of the Kingdom.