Photos Lisa J. Molloy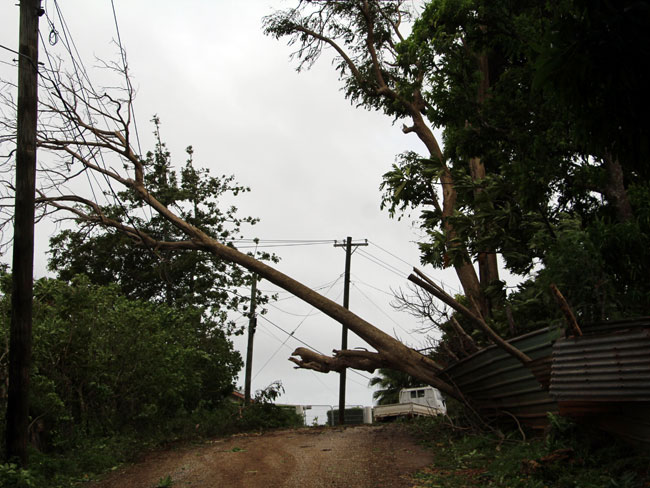 Tonga's island groups of Tongatapu, Vava'u, Ha'apai and 'Eua escaped major damage from Tropical Cyclone Winston as it passed through Tonga yesterday and today, Tuesday, 16 February with winds gusts of 120km.
It was the first pass of the cyclone that is now a category 3 storm and currently intensifying in northern Tongan waters. Weather forecasters warn that TC Winston has a high chance of turning around and coming back, and may hit Vava'u with greater force on Friday, and then Ha'apai and Tongatapu on Monday – although the track may change at any time. Winston, Round 2, is likely to do more damage than Round 1.
There have been no casualties, so far. Deputy Prime Minister Hon. Siaosi Sovaleni told Parliament this morning that the islands escaped any major destruction. In Vava'u there were reports of damage to trees and some homes, as well power lines after TC Winston passed 40km from Neiafu, at 10:00pm last night. The strongest gusts up to 120km were at around 1:00-2:00am this morning near Vava'u.
"We are thankful there has been no report of lives lost or injuries in all of the islands," he said.
Evacuation centers had opened at church halls and housed around 140 people each in both Ha'apai and Vava'u last night.
"Although the cyclone has passed it is forecasted that it may turn around and come back but we will know tomorrow its route and what islands will be affected on its path. We advise people to prepare and remain cautious," he said.
This afternoon, a spokesperson from the Governor's Office in Neiafu also reported damage was mainly the rooftops of homes blown off at some villages. There were trees down and some power lines damaged but Neiafu's power was turned on this afternoon, she said.
A yacht was reported to have been swept onto a beach at Toula due to the strong winds last night but no one was injured.
For 'Eua and Ha'apai, police reported there was minor damage, mainly fallen trees.
Forecast
Meanwhile, a sixth Tropical Cyclone Advisory issued at 1:30pm this afternoon by the Fua'amotu Tropical Cyclone Warning Centre stated that a strong wind warning remains in force for Tongatapu, Ha'apai, 'Eua, Niuafo'ou and now Niuatoptautapu.
A gale warning remains in force for Vava'u.
Now a category 3, TC Winston was located near 17.7 south and 171.6 west of about 300km southeast of Niuatoputapu or 270km east-northeast of Neiafu at 10:00am this morning. The cyclone is moving east to northeast at about 24km/hr (13 knots).
For Vava'u, this continues to brings damaging east to southeast gale force winds with average speed of 65km/hr (35 knots) and momentary gusts to 90km/hr (50 knots).
The forecast for Tongatapu, Eua and Ha'apai is east to southeast winds at 45-55km.hr (25-30 knots) rising up to 65km/hr (35 knots). While the Niuas will experience west to southwest winds 45-55 km/hr (25-30 knots) rising up to 65km/hr (35 knots).