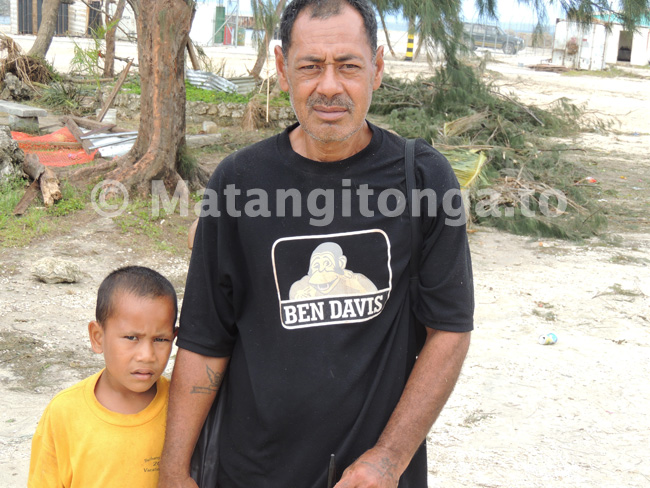 Sikotilani Loketi lost his wife Kalolaine during Cyclone Ian. With their son Mino in hand, he was this morning walking around the shattered Pangai waterfront.
Kalolaine Paongo (51) of Pangai was killed when Tropical Cyclone Ian (Cat 5) hit the main island of Lifuka in Ha'apai on Saturday, January 11, the only death reported so far from the Cyclone Ian.
Tonga Police in Nuku'alofa confirmed today that Kalo was injured on one of her legs from a piece of a tin roof, when the full force of the cyclone was battering the island around 2-3pm on Saturday.
"At that time no one was able to go out anywhere but her family managed to get through to the police who rushed her to the hospital. She is reported to have a lost a lot of blood and was diabetic. Kalo died later on Saturday night," police reported.
She is survived by her husband and three children in Pangai.
Family
Sikotilani Loketi, the husband of Kalolaine, told Matangi Tonga this morning, that they came from Vava'u to visit Kalolaine's family in Ha'apai for the New Year. His wife was cut on the leg by a piece of roofing iron during the cyclone. He put her into a wheelbarrow to take her to the hospital, but he said they did not know where to go and went to the wrong place, at first. It was too late to save his wife by the time they got to the hospital.