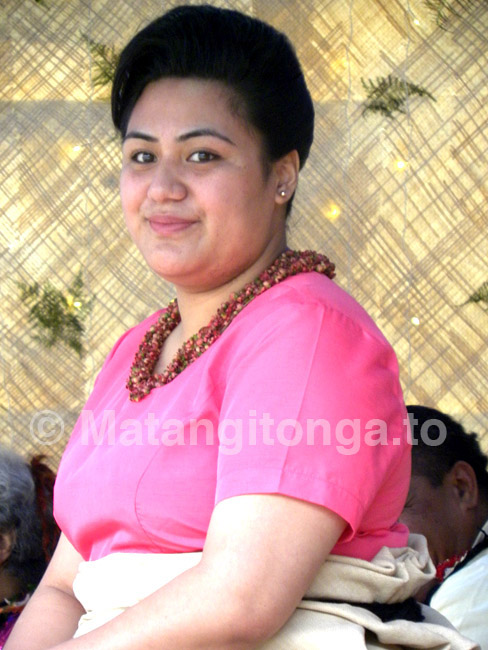 Hon. Sinaitakala Tu'imatamoana 'i Fanakavakilangi Fakafanua
Photos by Pesi Fonua and Linny Folau.
A Fakalelea ceremony was held yesterday afternoon at Siumafua'uta in Ma'ufanga, the family home of Hon. Sinaitakala Tu'imatamoana 'i Fanakavakilangi Fakafanua, to celebrate her marriage to Crown Prince Tupouto'a 'Ulukalala.
The couple will wed tomorrow at 2:00pm at the Centennial Church, Saione, in Nuku'alofa.
Following a ceremony for the registering of the marriage licence in the morning of July 10 and a Royal Luncheon at the Palace, the extened families joined in a festival of dance at the Fakafanua residence. Crowds of dancers and well wishers gathered at the Tu'imatamoana Wharf where the Crown Prince's family danced before walking a short distance to the bride's residence, bearing Tongan gifts including beautiful tapa.
The march was led by Prince Ata, a younger brother of the Crown Prince, together with the Tupou College Brass Band and followed by their families and people of their estates. They arrived at Siumafua'uta, singing and dancing and bearing the gifts that included large pigs and kava.
Dancing
Traditional dancing was performed by the people from the Crown Prince's estates including, a ma'ulu'ulu from Nakolo, the Fola'osi from Kanokupolu, a lakalaka from Vava'u Lahi, a tau'olunga by the Tupou College Ex-students, and a tau'olunga from Pea.
Hon. Sinaitakala was honoured by Queen Salote College where she formerly taught, with an ula by the all girls school, while other tau'olunga were performed by her people from Ma'ufanga. A Fijian dance meke was also performed.
Queen Nanasipau'u and members of the royal family were present at the celebration, which continued into the night.