Photos by Linny Folau, Adrienne L. Kaeppler, and Mary Lyn Fonua.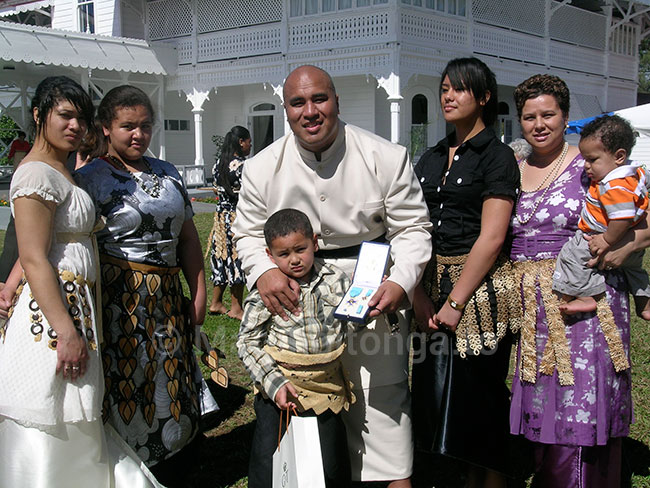 During Tonga's coronation celebrations 270 people were named to receive honours, with many attending the investiture ceremony at the Royal Palace on July 31. Topping the medal list was HM King George Tupou V and his mother HM Queen Halaevalu Mata'aho.
While recipients of the awards gathered in a marquee, the medals were presented in private inside the palace, with the awards of the insignia of the order of the Crown to be presented personally by King George Tupou V.
The presentation of the order of Queen Salote II was made by Princess Mele Siu'ilikutapu.
The Palace statement said that the awarding of an order is the privilege of the Head of State, and it can be given as a symbol of national friendship between two world leaders, or as a mark of honour and gratitude to a prominent figure from another country. An order may also be awarded in recognition of the loyalty and service of an individual for civil or military achievements. The orders have four classes of knight grand cross, grand cross, commander and member.
Orders of Chivalry

Order of the Crown, Knight Grand Cross
Grand Collar, Breast Star, sash and detachable Badge, Miniature, Rosette
HM

King George Tupou V
Her Majesty Queen Halaevalu Mata'aho

HH

Tuiatua Tamasese Efi

HIH

Crown Prince Naruhito

HRH

Princess Maka Chakri Sirindhorn

HRH

Princess Sonam Dechan Wangchuck of Bhutan

HRH

The Duke of Gloucester
Order of the Crown, Grand Cross
Sash and Badge, Breast Star, Miniature and Rosette
HRH

The Duchess of Gloucester

HRH

Princess Pilolevu

HRH

Princess Mele Siu'ilikutapu
Lady Masiofo Filifilia Tamasese
Te Arikinui Tuheitia Paki (Maori King)

HSH

Prince Tungi
Lord Glenarthur
Brigadier Michael Smythe
Mr George Chen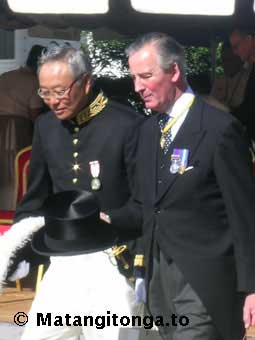 Ratu Epeli Nailatikau
Adi Koila
Lady Fiame
His Lordship Bishop Jabez Bryce (Bishop of Polynesia)
Dr Alexander Muller (Honorary Consul - Dusseldorf)
Miss Annie Kaneshiro (Consular Agent - Honolulu)
Ms Louise Raedler Waterhouse (Honorary Consul)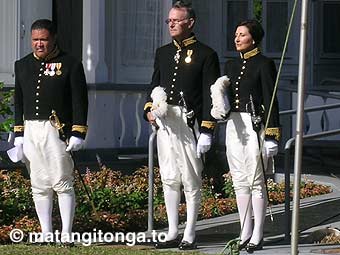 Order of the Crown, Commander
Neck Badge, Miniature and Rosette for Services to the Sovereign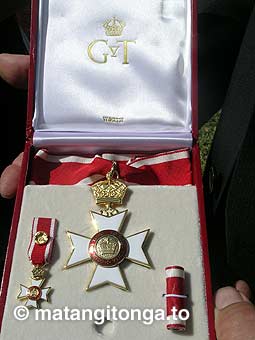 HRH

Prince Ata
Lord Fohe
Lord Fotofili
Lord Fulivai
Lord Luani
Lord Ma'afu
Lord Niukapu
Lord Tu'iha'ateiho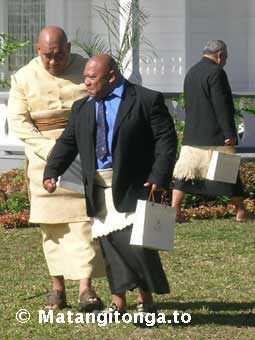 Lord Vaha'i
Lord Veikune
Lord Ve'ehala
Mr Adolph Johansson
Rev Dr 'Ahio (Royal Chaplain)
Mr Alan Hawley
Dr Atu Bain Vete
Mr Bruce Manson
Mr Charles Billich
Capt Christian Tupou, Aide de Camp
Mr Clive Rigby
Mr Greg Lawlor
Mr David Dunkley
Mr Dean Vete
Dr Elizabeth Wood-Ellem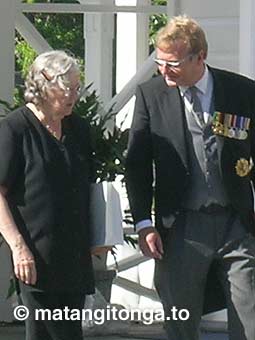 Mr Eric Gullichen
Mr Gitano Frajese
Mr Harry Waalkens
Mr Harry Dugdale
Cdr Hossein Javid
Fr John O'Rourke
Mrs Kalo Soukop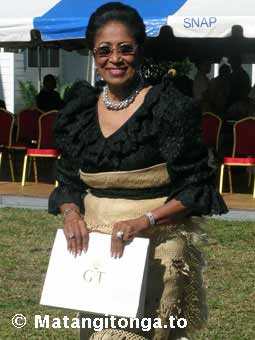 Ms Mele Vikatolia Faletau
Mr Mark Johnson
Mr Masanori Kawaguchi
Mr Michael von Reiche
Dr Michael Schirmer
Mr Michael Mansfield
Mr Neil Underhill
Brigadier Paul Manueli
Marquis of Axum (Phillip Eagleton)
Mr Peter Goldstern
Mr Richard Prema
Mr Soane Ramanlal
Mr Toutai Tupou
Mr Willy Bogner
Mr Wayne Chamberlin
Mr Wayne Brewer
Order of the Crown, Member
(Breast star, miniature and Rosette)
Mr Alan Riechelmann
Mr Alan Bowe, committee member
Mr Ashwin Khatri Narotam
Afu
Mr Chandrakand Bhagwan
Mr David Marks

SS

gt Faka'osi

SN

, escort
Fotu, Leimatu'a
Mr Guo mei Fa, business
Mr George Blake
Mr Hugh Clark
Mr Jack Guttenbeil, business
Mr Juergen Stavenow, Sandy Beach

HP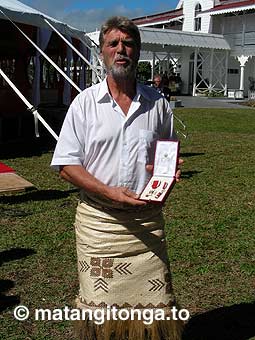 Mr Kalisitiane Tovi
Lauaki
Dr Lei Saafi, physician
Mr Leveni 'Aho, committee member
Mr Levini Tu'upilotu
Mr Matt Wilson, committee member
Mr Martin Blakeway
Mr Michael Jones
Mr Mang Sang Say, business
Motu'apuaka, matapule
Mr Nicholas Fisher
 Mr Peter Hamalgy, official photographer
Mr Raymond Yu, business
Mr Robert Bolouri, business
Ms Rosamond Bing, committee member
Mr Ross Chapman, committee member
Mr Sateki 'Ahio, private secretary
Sgt Sakalia, chauffeur
Mr Viliami Veikune
Mr Soakai Motu'apuaka
Mr Sione Saafi
Mr Sione Vamanrav
Mr Siaosi Moengangongo
Mr Sosefo Ramanlal, business
Dr Taniela Talifolau Palu
Mr Tom Hawthorne
Lady 'Ahome'e
Tokateu Tonga, matapule
Mr Tevita Misa Fifita, business
Mr Tomifa Paea, business
Uhi
Mr Vaitulala Tuivailala
Hon Vilai Tupou
Miss Ecketrina Ma'afu
Miss Siboney Kalaniuvalu
Mr Neil Dalgety
Order of Queen Salote Tupou III, King Grand Cross
Cross chain, Breast star, Sash and detachable badge, miniature and rosette
HRH

Crown Prince Tupouto'a

HRH

Princess Pilolevu Tuita

HRH

Princess Siu'ilikutapu
Baron Vaea of Houma
Hon Dr Feleti Vaka'uta Sevele, Prime Minister
Hon Dr Viliami Tangi, Deputy Prime Minister
Order of Queen Salote Tupou III, Grand Cross
Sash, Badge, Breast star, miniature and rosette
HRH

Prince 'Ulukalala

HSH

Prince Tu'ipelehake
Lord Kalaniuvalu
Lord Tuita
Hon Sione Ngu Tuku'aho
Lord Fielakepa
Lord Tu'ilakepa
Lord Fusitu'a
Dr Langi Kavaliku
Dr Sione Tapa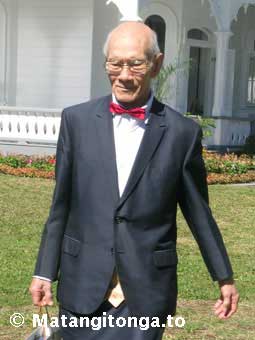 Hon Tu'a Taumoepeau-Tupou
Hon Siaosi 'Aho
Lord Tu'ivakano
Lord Nuku
Hon Dr Tevita Palefau
Hon 'Alisi Taumoepeau
Hon Fineasi Funaki
Hon Paul Karalus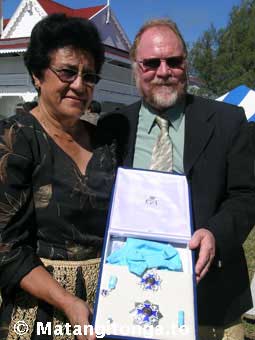 Hon Lisiate 'Akolo
Hon 'Afu'alo Matoto
Lord Malupo
Rev Dr 'Alifeleti Mone
Dr Konai Thaman
Mr Ramsay Dalgety
Mr Tevita Poasi Tupou
Mr Taniela Hoko'ila Tufui
Lord Chamberlain Viela Tupou
Lord Tu'iha'angana
Dr Marilyn Meier
Hon James Cecil Cocker
Mrs 'Eseta Fusitu'a
Mrs Fekita 'Utoikamanu
Mrs 'Emeline Tuita

HE

Dr Sione Ngongo Kioa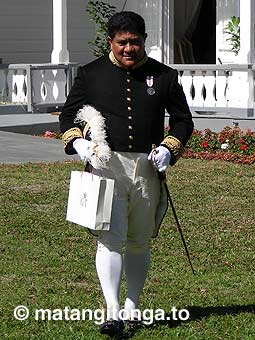 Order of Queen Salote Tupou III, Commander
Neck Badge, miniature and rosette
Asst Lord Chamberlain Hon Fanetupouvava'u Tu'ivakano, assistant Lord Chamberlain
Lord Fakafanua
Lord Fakatulolo
Lord Lasike
Lord Tui'afitu
Lord Tangipa
Mr 'Aisake Eke, Secretary for Finance
Mr Daniel Bourret (Honorary Consul Switzerland)
Mr Desh Sahae (India)
Mr Erwin Ludwig (Honorary Consul Hamburg)
Rev Dr Feke Mafi , Church of Tonga
Chief Justice Anthony Ford, Judiciary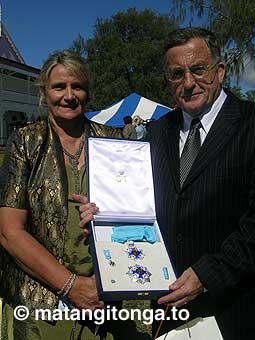 13. Mr Frank Cowley, baker
Mr Fakahau Valu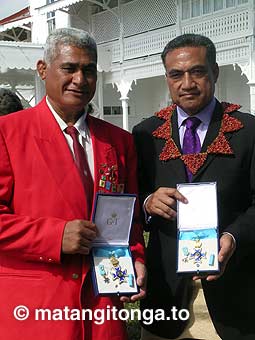 Mr Henry SySn (Honorary Consul Philippines)
Mr 'Isileli 'Aho
Miss kafo'atu Luani
Mr Khong Teck Kim (Honorary Consul Singapore)
Rev Kilifi Heimuli
Commander Lupeti Vi
Paster Manu Latu, 7th Day dventist Mission
Rev Luke Sikalu. Siasi Konisitutone
Mr Losini Koloamatangi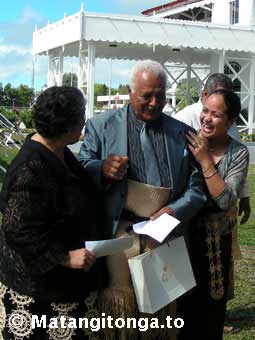 Mrs Mishka Tu'ifua,
Dr Malakai 'Ake, physician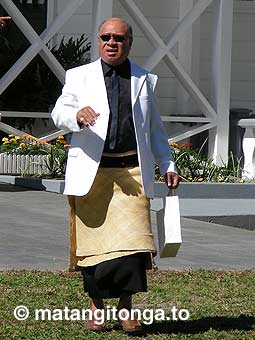 Mr Masao Soakai, pensoner/grower
Miss 'Ailine Simiki, community service
Mr Nikolasi Fonua , pensioner
Mrs Otusia Simiki, community service
Mr Paula Bloomfield
Mr Paulo Kautoke
Mrs Papiloa Foliaki
Rev Penisimani Fonua, pensioner
Dr Pohiva Tu'ionetoa, auditor general
Ms Robina Nakao, business
Capt Siosaia Mafi, service to sovereign
Mr Samuela Palu, Chief Police Magistrate
Mr Semisi Halaholo, Govt. rep 'Eua
Mr Siaosi Fifita
President Sione Fineanganofo, Latter Day Saints
Mr Sione Taumoepeau, most senior

CEO

Dr Sateki Tu'itavake
Rev Semisi Fonua, Free Church of Tonga
His Lordship Bishop Paini Mafi, Cahtolic Church
Mr Tevita Kolokihakaufisi, service to sovereign
Miss Temaleti Vakasiuola
Mr Tu'ilatai Mataele, business
Mrs Tuna Fielakepa, community service
Mr Va'inga Misi
Mr William Waterhouse (Honorary Consul General, Sydney)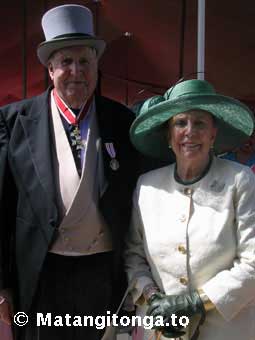 Order of Queen Salote Tupou III, Member
Breast Badge, miniature and Rosette
Mr Henry Muller
Mr Samiu Vaipulu
'Akau'ola
Ms Valerie Vili, Olympian
Mr Paea Wolfgram olympian
Mr Jonah Lomu, rugby
Mr Fiamalu Penitani, Sumo
Mr Fine Sani , sports
Mr Penisimanu Tu'ipulotu, sports
Mrs Keta Iongi
Miss Siulolo Liku
Mr Sanitesi Latu
Mr Willie 'Ofahengaue
Miss 'Ana Pouhila
Mr Samiuela Tu'ifangaloka
Mr Chris Kemoe'atu, American football
Mr Maake Kemoe'atu, American football
Mr Vai Sikahema
Mr Leonati Fakatava, sculptor Vava'u
Dr Litili Ofanoa
Mr Sione Kiteau Topui, Baker
Mr Mana Latu
Mrs Katokakala Latavao, Red Cross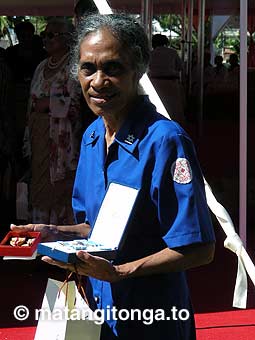 Mrs Lavinia Satini,

OTA

Hon Tupou 'Ahome'e, beauty pagent
Joey Mataele, beauty pageant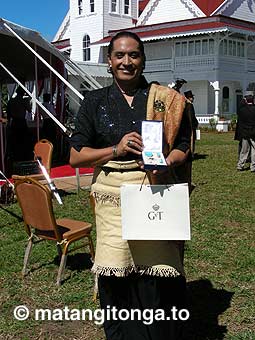 Paul Johansson, Cafe
Ms Holaimoana Cocker, Royco
Mrs Sela Atolo Tu'inukuafe. Guest House
Mrs Tu'imala Kaho, Nightingale
Ms Lupe Ha'amoa 'Ilaiu, long service
Mr Kelepi Makakaufaki, long service
Mr Busby Kautoki, long service
Mr Viliami Takau, long service
Dr Viliami Fukofuka,

CEO

 education
Mrs Siosi Cocker Mafi, Governor Reserve Bank
Mr Simione Sefanaia, Governor Tonga Development Bank
Dr Sione Leimoni Taufu'I,

CEO

Retirement Fund
Mr Tevita Liti, grower
Mr Nili Latu, rugby/grower
Mr Sini Nafe Kuila, grower Vava'u
Mr Finau Uata, business Ha'apai
Mr Mafana Manoa, rugby
Mr Pakofe Hala'api'api, grower
Mr 'Etueni Tupou, long service
Mr Siosifa Taumoepeau, archery
Mr Masima Sefesi
Mr Sione Tenisoni Taumoefolau
Rev Sione Pinomi
Dr Siale 'Akau'ola