An assessment of Hardship and Poverty in Tonga, which was carried out jointly by the Government of Tonga and the Asian Development Bank in 2003, stated that 23% of the 16 communities surveyed in Tongatapu, Ha'apai, Vava'u, 'Eua, Niuatoputapu and Niuafo'ou, were living below the poverty line of $28.18 per person per week.
The report said that living under such a condition these poor families had to make difficult daily choices between ""buying food or paying school fees". The figures were based on an analysis of the Household Income and Exenditure survey of 2001.
To have a clear understanding of the Tongan situation it was necessary for the assessors to define Hardship, or Tu'utamaki and Poverty, or masiva.
Poverty, or Masiva, is being without or having limited access to land, food, housing, education, health services, and money.
Hardship, or Tu'utamaki, is living in a very difficult situation; being dependent on relatives for food, money; and shelter, and supporting too many dependents in the household. Hardship was also strongly associated with the inability to meet the family's basic needs and traditional obligations (kavenga) and having limited resources, particularly land.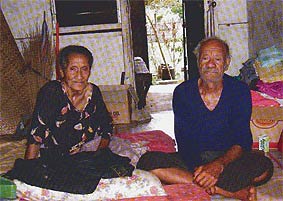 After defining Poverty and Hardship there was a conscious view among the parties involved that there was hardship evident in Tonga, but not poverty in Tonga since everyone seemed to have access to food.
There was hardship because of limited access to markets, poorly maintained or lack of rural roads, inadequate medical supplies and trained staff, and the high cost of water tanks and education services which hindered the people from raising their own standard of living.
Waste of public funds
Other causes of hardship were because of higher cost of living and falling value of the Tongan pa'anga, as well as perceived in-fighting in parliament and waste of public funds.
All the communities in both urban and rural areas agreed that the major cause of hardship the lack of jobs and other ways to earn cash.
The most important initiatives the government could act upon to reduce the level of hardship for Tongans it was recommended for the government to -
Create more income opportunities through better access to land for those without an allocation; assistance with marketing produce, particularly on the outer islands; regular and affordable transport services; equipment; and capital.
Improve access and quality of available basic services, particularly power, water supply, health, education, and roads through regular maintenance, assignment of qualified health staff, provision of additional medical supplies, and reduction of service charges, particularly on the outer islands.
Broaden community access to skills training for income and lifestyle improvement
Improve or construct village facilities, such as community halls for gatherings and activities, causeways, and wharves for improving the transport of goods to market and for people to access government services and income opportunities.
The 17 page report called "Priorities of the People, Hardship in Tonga" was published by the Asian Development Bank in May 2004