You are here
Results for New Zealand media
Sunday 20 November 2011
Five
TVNZ
journalists have been named as finalists in the prestigious Sir Terry McLean National Sports Journalism Awards.

Premium content
Saturday 30 August 2003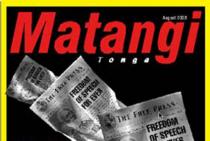 During the past few years Tonga has become a Lali of the New Zealand media, and of some fringe New Zealand politicians. A Lali is a drum that is beaten hard with a stick, and in these people's hands it has meant a thrashing for the Tongan Royalty and the Tongan government. From Matangi Tonga Magazine Vol. 18, no. 2, August 2003.

Premium content