You are here
Results for King's birthday.
Tuesday 6 June 2017
Tonga's King Tupou
VI
will celebrate his 58th birthday in Vava'u in July this year, with various festivities.

Premium content
Saturday 4 July 1998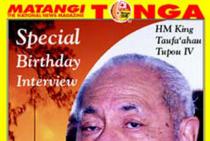 At 80,
HM
King Taufa'ahau Tupou
IV
, the King of Tonga, means different things to different people. If the King's words are his people's command, then their wishes are his obligation—an agreement that was instilled by tradition and culture, and which was later put into writing in the Constitution of 1875. Editor's Comment by Pesi Fonua.

Premium content