By Finau Fonua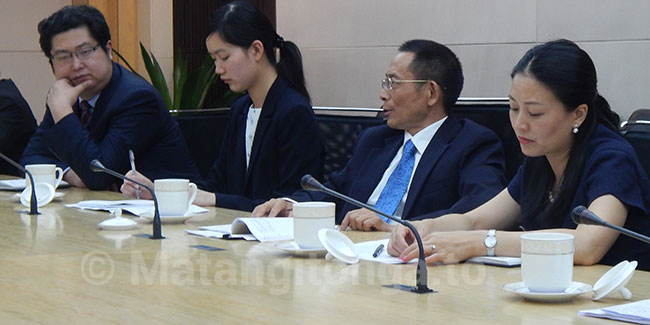 Tonga and China are discussing trade, but there's stiff competition to sell products in China. "You have to promote how good your products are," a Chinese trade official Mr Jiang Shan told Tongan Journalists at China's Ministry of Commerce (MOFCOM) in Beijing in June.
Mr Shan, General Director of MOFCOM's Department of American & Oceania Affairs, believes that China is interested in what Tonga has to sell. "We are open to import all the products you have into China, say seafood products like Tuna, Groupers and many other kind of sea food – and you have your well known squash and processed Noni products".
He referred to discussions between Tonga and China on a Memorandum of Understanding (MOU) regarding squash exports from Tonga, and pointed out that it was important for Tonga to promote its products because of the competition faced in China's market.
"The Tonga government is currently negotiating with our government for signing an MOU of quarantine protocol. Once we sign the MOU we can start to import your products. However, your side should do some promotional work about what products you have and how to identify importers form here. The consumption potential I think is really great."
Promotion essential
"You have to promote how good your products are because China also produces large quantities of pumpkins (squash). You have to promote how good it is compared to China's pumpkins. What advantages you have and what features you have. You have to do some work to let your consumers know about that. Take Fiji water as an example", he added.
Mr Shan described the process of trade between China and other countries, which has to go through a series of protocols. "First of all we sign trade agreements with countries which have diplomatic relations with us, and then if it comes to imports we need our AQSIQ China's quarantine inspection government body to negotiate an MOU with the specific country, then once that MOU is signed that particular product is permitted to be imported into China."
China's Trade with Pacific Islands
During his meeting with Pacific Island journalists, Mr Shan described China's relationship with the Pacific Islands and how the growing living standards of the Chinese people has been pushing the demand for goods from outside of China.
"Twenty years ago when I joined the Ministry of Commerce, very few people knew about the island countries because of the long distance which separates us. However, with the accelerating pace of globalisation, with the development of China, with the development of the island countries, the distance between us has been shortened. In recent years we have seen frequent exchanges between China and the island countries both from the government and from the businesses", he said.
"Now with the improvement of the living standards of the Chinese people, we need to allocate resources around the world. We need to import consumer products, raw material and finished products into China."
Seafood
China is interested in seafood.
"One point I would particularly like to mention is that seafood from the South Pacific are very much welcome here. We import lobsters and mussels from Australia. Now we are starting to import these kind of products from island countries particularly Tuna… there are Chinese shipping companies in the Pacific right now and once they are granted with fishing quotas they will do some fishing activities there."
Sea Cucumber
He emphasized a high potential for sea cucumbers. "Some private sector companies from Shandong province have been to Micronesia and PNG to collect sea cucumbers. The difficulty for them is that they cannot collect ideal quantities of sea cucumber – back in your countries if you can set up a company and organise people to collect sea cucumber we can ask our Chinese companies to work with you to do some imports."
Local Sea Cucumbers are sold in private restaurants for high prices. "If it is of high quality when cooked in an individual restaurant it sells at about 200 Yuan."
Tourism
In regards to tourism Mr Shan stated that an increasing number of Chinese tourists were traveling to Pacific Island countries.
"My personal experience tells me that tourism could be the primary sector for China to work on with your Island countries."
"So far there is no direct flight between China and Tonga because Tonga is quite far away from China. However, what I can tell you is that in recent years there are more and more Chinese tourists going to the island countries",
"One hundred million Chinese tourists are going abroad every year. That's our official calculation, so if you develop into high end places and get your people, get your companies to China attract people, it could be very lucrative."
"You have to make your country well known… I've been to Tonga a number of times for work. I didn't go to Vava'u until your ambassador told me that it was a beautiful Island," he said.