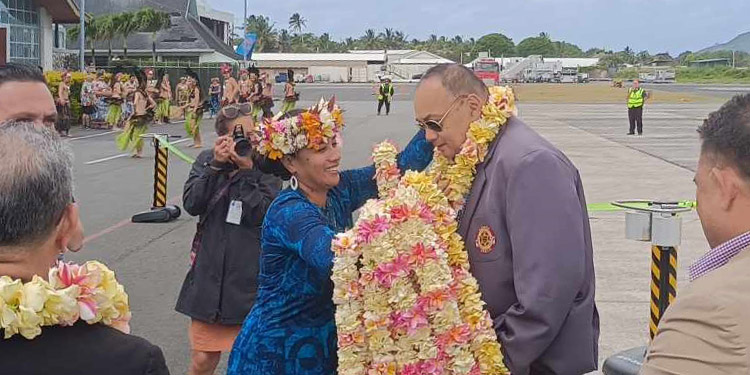 Tonga's delegation, led by the Prime Minister Hon. Hu'akavameiliku, arrived in the Cook Islands on 3 November for the 52nd Pacific Islands Forum meeting to be held from 6-10 November.
Leaders of the 18-member Forum, will this week meet in Rarotonga to adopt their implementation plan for the 2050 Strategy for the Blue Pacific Continent (2050 Strategy).
"Meeting sessions [have] been designed with an evolved format to create an environment of open communication, inclusivity and partnership that will propel the Pacific region towards concrete, action-oriented outcomes," the Tongan Prime Minister's Office stated yesterday. 
This year's meeting is chaired by the Cook Islands Prime Minister, Hon. Mark Brown, with a theme 'Our Voices, Our Choices, Our Pacific Way: Promote, Partner, Prosper'.
At their 2019 meeting in Tuvalu, Forum Leaders endorsed the development of the 2050 Strategy for the Blue Pacific Continent. Leaders highlighted their concerns for the region's enduring challenges such as climate change related impacts, coupled with the intensification of geostrategic competition, exacerbating the region's existing vulnerabilities.
This year, climate change is high on the agenda. The Forum Secretary General Henry Puna, on Thursday, said that the Pacific priorities and messages would be taken to the annual COP negotiations.
"As of today, November 2, we are officially 28 Days away from the COP 28 Opening ceremony on November 30 in the UAE...28 days honouring 28 years of our collective Pacific advocacy journey to get the world back on track for a 1.5 net zero future," he said.
Tonga's delegation includes the Minister for Trade and Economic Development, Hon. Dr Viliami Uasike Latu; Chief Secretary and Secretary to Cabinet and Acting CEO for Foreign Affairs, Mr Paula Pouvalu Ma'u; and representatives from the Prime Minister's Office, Ministry of Foreign Affairs, Ministry of Trade and Economic Development, Civil Society Forum of Tonga, the Tonga Chamber of Commerce, private sector and media.
The Pacific Islands Forum is a political and economic policy organisation for the region. Founded in 1971, it comprises 18 members: Australia, Cook Islands, Federated States of Micronesia, Fiji, French Polynesia, Kiribati, Nauru, New Caledonia, New Zealand, Niue, Palau, Papua New Guinea, Republic of Marshall Islands, Samoa, Solomon Islands, Tonga, Tuvalu, and Vanuatu. It has 21 dialogue and donor partners.
The annual Forum meetings are chaired by the Head of Government of the host country, who remains as the Forum chair until the next meeting. Decisions made by leaders are reached by consensus and are outlined in a Forum communique, from which policies are developed and implemented.
Tonga will be hosting the next Leaders Forum in Nuku'alofa in 2024.