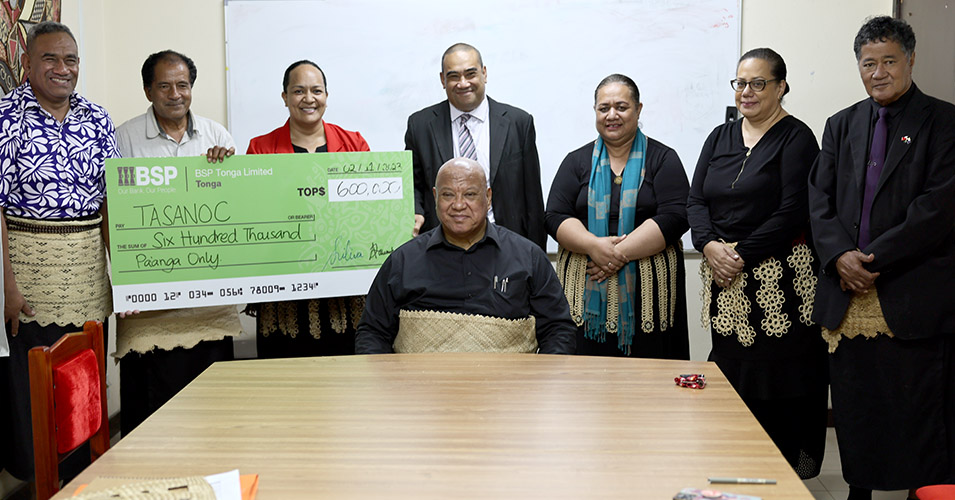 TASANOC - the Tonga Sports Association and National Olympic Committee, received a $600,000 pa'anga cheque from the Tonga government, yesterday 2 November, to fund the national teams going to regional competitions.
The Pacific Games and SOL2023, are coming up from 19 November – 2 December in Honiara, Solomon Islands.
The Minister for Internal Affairs, Lord Vaea handed over the cheque to the President of TASANOC, Mr Michael Bloomfield.
Tonga's team will have local and international players from around the region, who will compete in 19 of the 24 sports at the Pacific Games.
Both men's and women's teams qualified to all 19 sports. However, the women's team will not be participating in two including, weight-lifting and volleyball.
Events
Athletics
Archery
Basketball
Beach Volleyball
Boxing
Football
Hockey
Judo
Netball
Rugby 7s
Rugby 9s (

NRL

)
Taekwondo
Table Tennis
Tennis
Para-Tennis
Swimming
Volleyball
Weightlifting
Pacific Games
In the 2019 Pacific Games, Tonga's team returned from Samoa with 9 Gold, 5 Silver and 15 Bronze medals - Tonga's highest ever medal tally at the Pacific Games - that earned them 7th place.
The Pacific Games (formerly named as South Pacific Games) originated with Dr A.H. Sahu Khan. The idea was adopted and led to a meeting of nine territories, held in Noumea during March 1961, which awarded Fiji the honour of hosting the first Games.
During 1962, the South Pacific Commission founded the South Pacific Games Council, and over the next 40 years Games have been held in 12 countries and territories within the region. Suva in July 2003 hosted the 11th South Pacific Games and the 40th Anniversary Games.
The Pacific Games are held every four years.