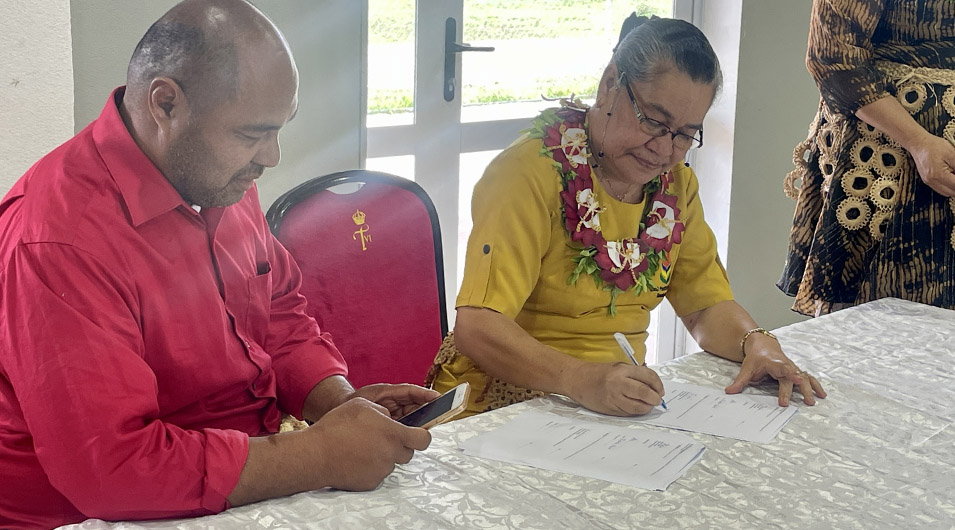 By SPBD Tonga Microfinance
On September 11, 2023, SPBD Tonga Microfinance proudly organized a ceremony in 'Eua with a dual purpose. Firstly, it marked the introduction of a new partnership in 'Eua through the SPBD White Goods Financing Loan Program. Secondly, it celebrated the remarkable achievements of female entrepreneurs associated with SPBD in 'Eua.
This event followed the broader Annual SPBD Business Women Year Awards for 2023, which took place in Tongatapu in June 2023 and brought together businesswomen from Vava'u, Ha'apai, and 'Eua.
SPBD is delighted to announce its new partnership with Pepe Mahe Store in 'Eua, focusing on the White Goods Financing (WGF) Loan Program. This partnership was officially established on September 1, 2023, through a signing ceremony at Malau Hall attended by SPBD General Manager Mrs Finelanuatoutai Tu'ipulotuand Mrs Pepe Mahe, the owner of Pepe Mahe Store. The goal of this collaboration is to make it easier for SPBD women in 'Eua to receive and to access high-quality and affordable white goods and appliances in Eua.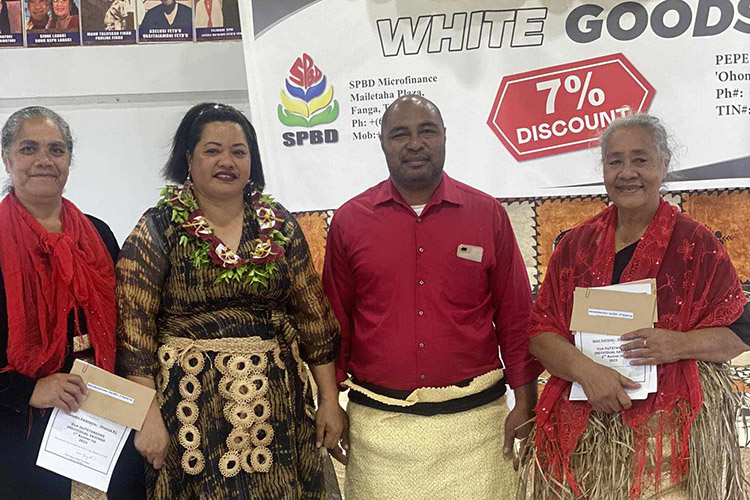 The General Manager of SPBD Tonga expressed her enthusiasm for partnering with Pepe Mahe Store, a local business. She said that SPBD members in 'Eua had expressed a strong desire to obtain white goods locally in 'Eua instead of traveling to Tongatapu or waiting for shipments. "We honor their wishes and signed up this new partnership. This is expected to improve their living standards, support their livelihoods, and increase their productivity at home."
Mrs. Pepe Mahe expressed her gratitude for collaborating with SPBD in serving the people of 'Eua. She praised SPBD's vision and mission, emphasizing the positive impact of their programs in 'Eua. She expressed her happiness in contributing her local business to this effort, noting that SPBD's loan programs had reached every village in 'Eua, attracting new customers.
SPBD Tonga is committed to creating opportunities for its members through financing, and this partnership is designed to empower female entrepreneurs in 'Eua by providing them with financial resources. Key highlights of the SPBD WGF Loan Program include a simplified application process, a 7% discount for participating SPBD members, a comprehensive package of services including business training and financial education programs, regular client interactions, and access to various loan products, with loan amounts ranging from $500 to $2,500 to meet various financial needs.
Additionally, the Business Women Year Awards ceremony, held concurrently with the WGF program launch, featured the presentation of various other awards to 'Eua's SPBD women entrepreneurs, recognizing their achievements in categories such as Best Centre Chief, Best Centre Secretary, Best Individual and Group Saver, Best Centre, and more. Mr Tupou Vaea, the District Officer and the representative of the Government Representative in 'Eua, attended, along with guests from 'Eua businesses, local government ministries, and churches.
SPBD Microfinance Ltd. Tonga remains unwavering in its commitment to empower and uplift SPBD women in business, offering them valuable economic opportunities to enhance the lives of their families, communities, and make significant contributions to Tonga's economy.
--
Sponsored promoted content, #7542. Sponsored by 
SPBD

Tonga Microfinance, 14-28 September 2023