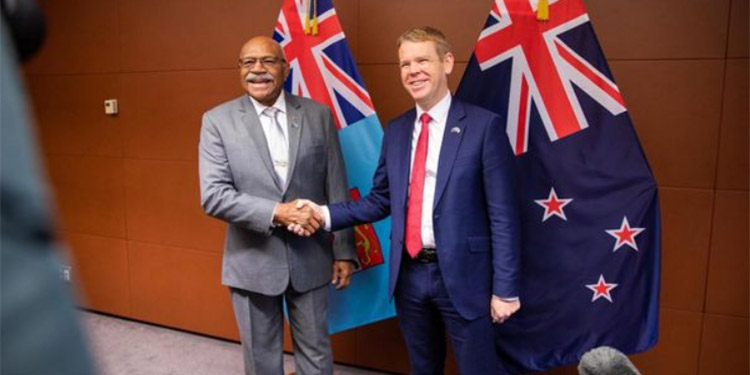 Fiji's Prime Minister Sitiveni Rabuka was welcomed by New Zealand Prime Minister Chris Hipkins at Parliament, Wellington on 7 June, after more than 25-years since he last officially visited the country in 1998.
PM Hipkins announced a further NZ$11.1 million of climate change support for Fiji to respond to the impacts of climate change, as the two leaders reaffirmed the strength and spirit of New Zealand and Fiji's relationship as outlined in the Duavata Relationship Statement of Partnership.
"New Zealand and Fiji are connected by a kinship forged in Pacific culture, identity and interests, founded on our long history, friendship, and mutual respect.
"Prime Minister Rabuka and I exchanged views on a wide range of issues that are important to our countries and region, including strengthening our regional institutions which have long served pacific interests, as well as economic and security matters that are impacting our region."
"At the same time, we had an inspired discussion on how we can further cooperate on combating the effects of climate change. It's clear it remains the single greatest threat to lives and livelihoods in the Pacific region," said PM Hipkins.
"New Zealanders have experienced first-hand through Cyclone Gabrielle the devastation it causes communities, and this additional funding will assist Fiji to deliver community-based climate adaptation and mitigation projects.
"Climate change is an issue we must all face together, and our international climate finance commitment of NZ$1.3 billion will help address the increased vulnerability climate change creates for economies, communities, food and water security, and ecosystems in the Pacific."
New Zealand–Fiji relationship
Prime Minister Rabuka said this official visit marked a significant milestone in the New Zealand–Fiji relationship, clearly demonstrating a commitment to elevating how we work together. 
"The Duavata Relationship Statement of Partnership is the platform from which we are able to approach issues of mutual interest and importance to Fiji and New Zealand, such as, climate change, social well-being, regional security, and building economic resilience, he said.
"This additional funding from New Zealand is very welcome. It will support Fiji to implement discrete projects in renewable energy, infrastructure resilience, climate policy, and capacity strengthening." 
A statement from the New Zealand Prime Minister's Office said that Prime Ministers Hipkins and Rabuka also discussed their vision for the region, in line with the goals set out in the 2050 Strategy for the Blue Pacific Continent by Pacific Leaders during the Pacific Islands Forum in Fiji last year.