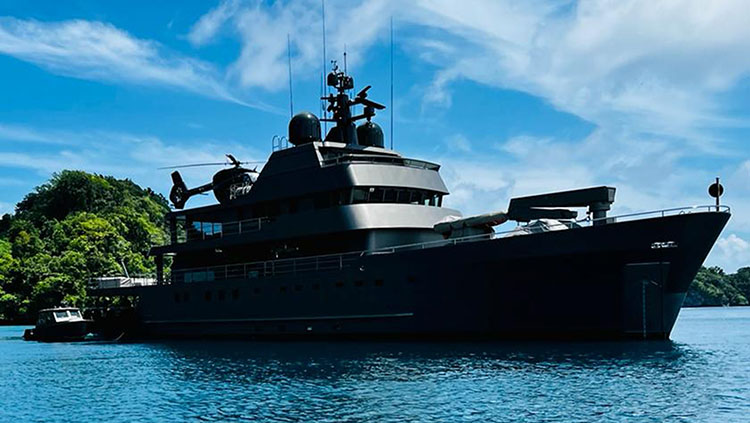 A team of scientists is undertaking coastal marine surveys in Tongan waters to evaluate impacts to coral reefs and fisheries following the Hunga-Tonga Hunga-Ha'apai eruption in January 2022.
The research comes under the National Emergency Management Committee (NEMC) and through Cabinet Decision. The Ministry of Fisheries, Department of Environment and Ministry of Lands and Natural Resources are supported by the Waitt Institute, Scripps Institution of Oceanography, CRIOBE and the Vava'u Environmental Protection Association (VEPA)
These marine surveys will focus on the impacts and changes to coastal marine habitats, including coral reefs and fish and invertebrate populations in Tongatapu, 'Eua, Ha'apai and Vava'u to support the build-back and recovery efforts of the Kingdom of Tonga.
A previous survey of sites in Ha'apai was conducted in 2017 by the same partners and the data will be used to analyse the changes and to identify ways for improving fisheries and environmental resilience to natural disasters.
Special Management Areas (SMAs) and aquaculture areas are of prime concern to the ongoing support of livelihoods and economic development. These updated surveys will provide critical information on the status of habitats and community managed SMAs as well as identifying habitats that are showing greater resilience to the ongoing impacts of fishing, natural disasters, and climate change.
Additionally, this research will provide crucial information to understand the best ways to protect and manage coastal marine areas. The Kingdom of Tonga is undergoing a nationwide planning process to designate protection of at least 30% of Tonga's Offshore and Nearshore waters to ensure marine resources are managed and able to support Tongans in the long-term. Tonga's ocean plan was approved by Cabinet in 2021.
The Waitt Institute and VEPA have partnered and supported the Government of Tonga since 2017 including the development of seven SMAs in Vava'u under Tonga's ocean plan and supporting the national marine spatial planning process.
With support from the Waitt Institute, the research vessel, Plan b, will arrive in Tongatapu on 23 August and conducting surveys until 5 September, when it will continue on to Samoa from Vava'u.
The vessel is joined by international scientists from USA and French Polynesia who have been in Covid isolation in Fiji since 15 August and national researchers from fisheries, environment, natural resources and VEPA. The expedition is following strong Covid mitigation protocols to ensure the safety of the researchers and crew of the vessel. The team will stay onboard the vessel or on the water throughout the expedition and will not go onshore.
--
Matangi Tonga Online ref. #6841 Vava'u Environmental Protection Association 23-30 August 2022