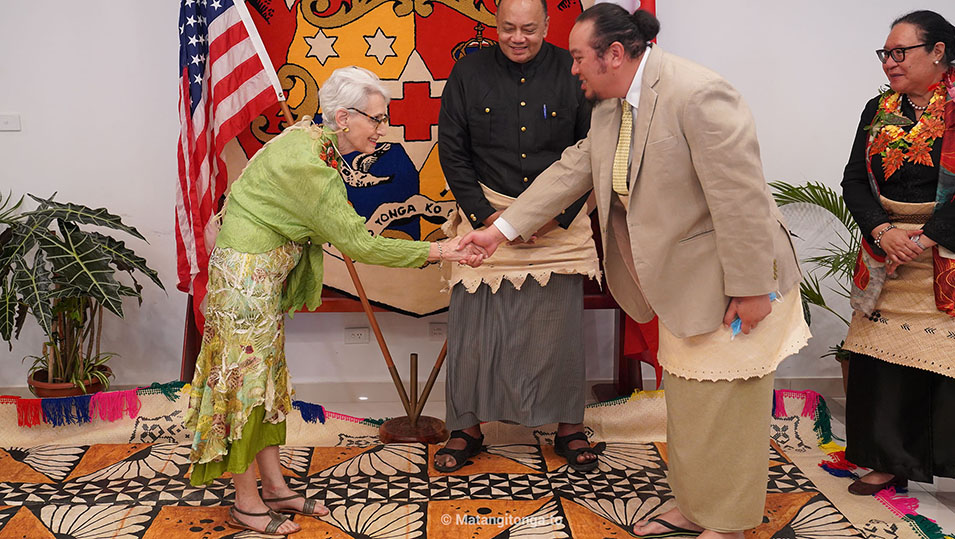 After flying into Tonga today, United States Deputy Secretary of State, Wendy R. Sherman, said the United States is looking forward to a new phase in its relationship.

She said for five decades the United States and Tonga have been partners and the relationship between our people goes back even further.
"We are both proud Pacific nations with a shared history, shared culture and shared values."
She said more than 65,000 people of Tongan descent live in the United States.

Sherman is on Pacific trip aimed to reaffirm the United States' commitment to the region, travelling to Samoa, Tonga, Solomon Islands, Australia, and New Zealand from August 3-9. 

After arriving at Fua'amotu International Airport, on Tongatapu, she flew to the outer island of 'Eua and met with King Tupou VI, accompanied by Prime Minister Hon. Hu'akavameiliku.
She then flew back to Nuku'alofa and signed an Energy Grant of US$100,000.
At a reception on Friday evening, hosted by the Prime Minister to commemorate 50-years of diplomatic relations, the Deputy Secretary said it was an honour to visit Tonga for the first time. Not only to commemorate the bilateral relations between our countries but also to join the Tongan people in the recent re-opening of Tonga's international borders.
"I want to express my gratitude to His Majesty for his warm and gracious welcome earlier. I was deeply moved and very touched by his hospitality, his wisdom and his humour."
Five decades
She said the relationship had grown over five decades.
"Our soldiers have served alongside each other in Iraq and Afghanistan and our people have learned to work alongside each other through education and cultural exchanges.
"As the Prime Minister noted, since 1967 Tonga has welcomed more than 1700 Peace Corps volunteers, Americans, who learned the Tongan language, lived and worked in the communites, while forming life long bonds with the Tongan people.
"Now we are looking forward to a new phase in our relationship. One where our friendship is further strengthened and our partnership further deepened, as the United States works to open an embassy here in Nuku'alofa."
She said as Vice President Harris had announced at the Pacific Islands Forum last month and today the United States Senate confirmed Marie C. Damour to be the next Ambassador to Tonga.
"President Biden, Vice President Harris and Secretary Blinken, all of us Americans recognize as I do, that the future of our nation and our people will be written right here in the Pacific through dialogue, through partnership, through listening, through friendship and through cooperation with our Pacific sisters and brothers."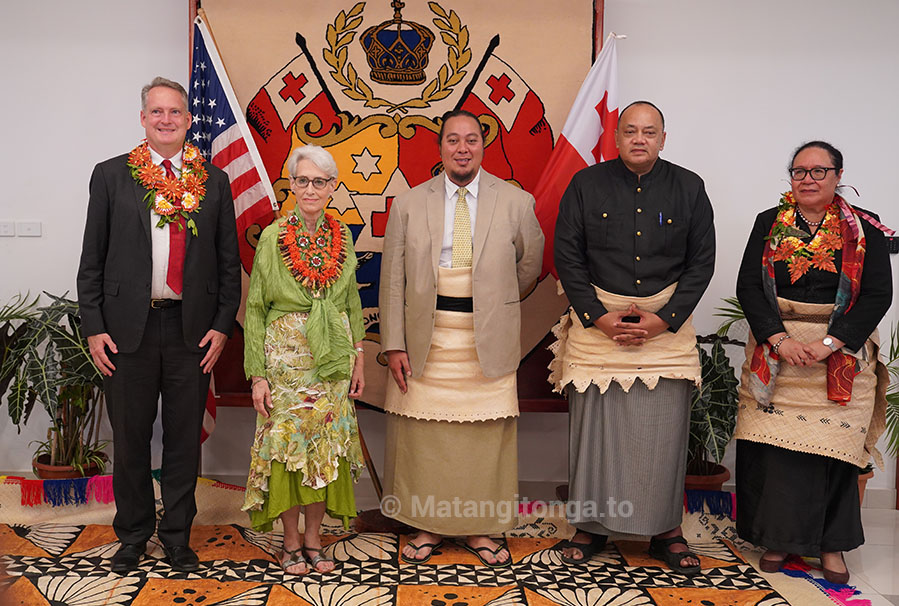 Tonga
Hon. Hu'akavameiliku in welcoming the Deputy Secretary, said the occasion marked the 50th anniversary of the establishment of the diplomatic relations between the United States and the Kingdom of Tonga.
"Your visit and presence here Deputy Secretary honours us and it is a testament to the United States Government's strong commitment towards enhancing and strengthening the partnership and the long standing relations between our two countries."
He said the partnership is also based on shared values and close cooperation, one that that has matured over the last five decades.
The PM said Tonga is also happy to welcome Kristofer Stice, the new Director of Peace Corps to Tonga and looked forward to the returning Peace Corps volunteers.
"Our people to people links are significant as a number of Tongans live in United States with almost 60% of all remittances to Tonga. With our border re-opening on 1 August, we anticipate family travels will start.
"Tonga welcomes the announcement by the U.S Vice President Harris of setting up two embassies in the Pacific, including one in Nuku'alofa," said the PM.
Deputy Secretary Sherman will stay overnight in Tonga  before flying out on Saturday afternoon. She goes on to Solomon Islands, will lead an interagency U.S. delegation to participate in the commemoration of the 80th anniversary of the Battle of Guadalcanal.
In Canberra, Australia, where she will meet with Foreign Minister Penny Wong, Secretary of Foreign Affairs and senior Australian officials to discuss U.S.-Australia collaboration for a secure and prosperous region, the bilateral trade partnership, and our work to combat the climate crisis.
In Wellington, New Zealand, Deputy Secretary Sherman will meet with Prime Minister Jacinda Ardern, and other government officials.  She will discuss the strong bilateral partnership between the United States and New Zealand and ongoing cooperation on a range of regional and global challenges.