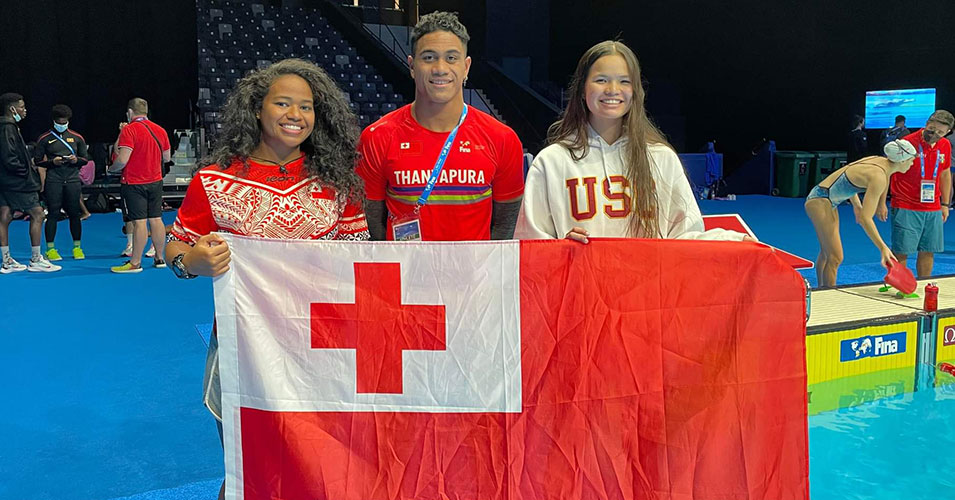 By Eleanor Gee
Three Tongan swimmers set new national records at the 15thFINA World Swimming Championships (25m) at the Etihad Arena, Abu Dhabi from December 16 – 21.
Finau Ohuafi, Charissa Panuve, and Noelani Day swam against the world's elite swimmers in the Butterfly, Freestyle, and Backstroke events. They were accompanied to Abu Dhabi by their Coach Miguel Lopez from the FINA Development Centre, as well as their Athlete Mentor and Liaison Manager, Zahra Pinto. 
Charissa (on a FINA Scholarship) and Finau (previous FINA Scholarship holder) are currently training at the FINA Thanyapura Phuket Training Centre in Thailand.
Noelani is currently studying at the University of Southern California, in Los Angeles, USA.
Tonga Swimming & Aquatics Association President Suliana Afu was pleased with the athletes achievements.
"I am very happy with the results of our team considering Tonga have no pool & limited funding to assist them with their preparation for competitions like FINA World. An excellent results from all 3 swimmers who participated broke 3 National Records & 2 Personal Bests (PB)."
The results at the FINA World Swimming Championships (25m) are:
Finau Ohuafi
100 Butterfly: 57.13 (new national record) – 17 December 2021
100 Freestyle: 52.82 – 20 December 2021
Charissa Panuve
200 Free  2:19.53  (new National Record) – 16 December 2021
100 Free  1:03.95  (

PB

) – 17 December 2021
Noelani Day
50 Freestyle  28.14  (new National Record) – 20 December 2021.
50 Backstroke  33.75  (

PB

) –19 December 2021
Previous times and records set for the short course (sourced from Tonga Swimming & Aquatics Association in October 2021):