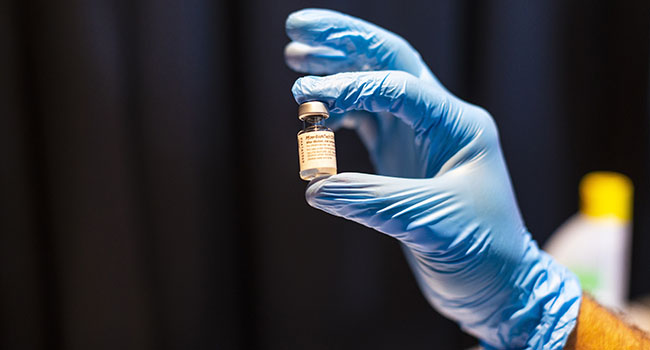 New York Times reporting by Sharon LaFraniere and Noah Weiland
The Food and Drug Administration on Monday granted full approval to Pfizer-BioNTech's coronavirus vaccine for people 16 years and older, a decision that is likely to set off a cascade of vaccine requirements by hospitals, colleges and universities, corporations and other organizations.
Within hours, the Pentagon, CVS, the State University of New York system and the New York City school system, among others, announced that they would enforce mandates they had prepared but made contingent on the FDA's action.
The approval came as the nation's fight against the pandemic has intensified again, with the highly infectious delta variant biting deeply into the progress that the country had made over the first half of the year. The Biden administration hopes the development will motivate at least some of the roughly 85 million Americans who are eligible for shots but have so far rejected them to change their minds.
The regulatory move goes a step beyond the emergency use authorization that the agency granted in December. More than 92 million people have already been fully vaccinated since then with Pfizer doses.
In a roughly 10-minute address on the approval, President Joe Biden said it should sweep away any lingering doubts about vaccines and spur more mandates. Appealing to corporate, state and local leaders, he said: "Do what I did last month. Require your employees to get vaccinated or face strict requirements."
Biden tried to cast the FDA approval as an example of how his administration was making headway against the pandemic, despite overflowing intensive care units in some states and an average of more than 1,000 lives a day lost. He said the death toll, while rising, was still far lower than it was last winter, because more than 9 in 10 older Americans are now vaccinated.
Biden also tried to reassure anxious parents about the growing number of children who are getting infected with the delta variant, saying that severe COVID-19 cases in that age group are still "very, very rare." He also promised to soon address "how we get our kids back to school safely."
Regulators are still reviewing Moderna's application for full approval of its vaccine, which it filed in June, a month after Pfizer. That decision could take several weeks. Johnson & Johnson is expected to apply for full approval soon.
This article originally appeared in The New York Times
c.2021 The New York Times Company