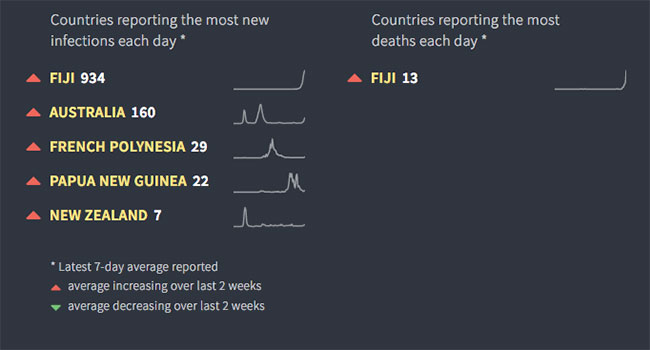 By Eleanor Gee.
Oceania is recording a surge in COVID-19 infections with 94,400 confirmed cases and 1,400 deaths reported up to yesterday. Fiji is reporting the most deaths each day at 13 on average.
Fiji is also reporting more new COVID-19 cases than any other Oceania country with 934 new infections on average each day as at 25 July, according to according to daily statistics compiled by Reuters.
Australia follows with 160 new infections daily, French Polynesia at 29, Papua New Guinea at 22, and 7 in New Zealand, on average each day.
No COVID-19
Meanwhile, Tonga is one of five countries in Oceania that has not recorded one case of COVID-19. The other COVID-free Oceania countries include Kiribati, Micronesia, Tuvalu, and Nauru.
Outside of Oceania, North Korea and Turkmenistan are the only two countries that have not reported any cases of COVID-19.