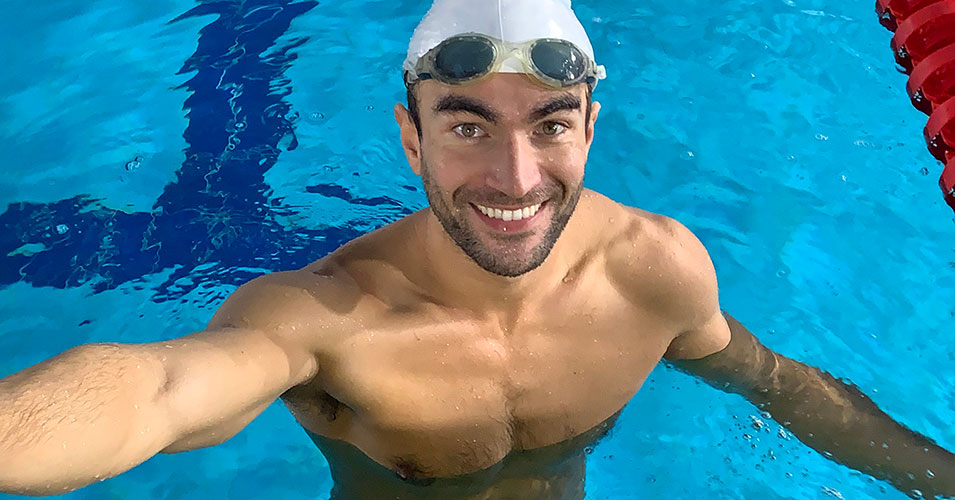 By Eleanor Gee
Team Tonga swimmer, Amini Fonua, is looking forward to a memorable third Olympic Games in Tokyo. He has represented Tonga at three consecutive summer games.
The 31-year-old, who is currently based in the United States, told Matangi Tonga he has represented the Kingdom at every summer Olympics since Tonga Swimming was started in 2010. He believes he is the first Tongan athlete to do so.
He participated at the London Olympics in 2012, Rio in 2016, and now in Tokyo. He is set to compete in the 100m breaststroke event on 24 July.
His most recent official time for the 100m breaststroke is 1:05:46 on 14 May 2021. His personal best is recorded at 1:02.95 in 2015.
Amini has some major achievements in swimming. He was the first Tongan swimmer to win a gold medal at an international event in the 50m breaststroke at the 2010 Oceania Swimming Championships.
He also became the only Tongan athlete to hold dual Oceania and Pacific Games titles when he won three gold medals at the 2015 Pacific Games in Papua New Guinea, setting two games records in the 50m and 100m breaststroke events.
Amini started swimming at the Roskill Swimming Club in Auckland breaking Auckland and New Zealand Age Group records from the age of 10 years. In 2007, he moved to West Auckland Aquatics and then in 2008, Amini enrolled in Texas A&M University, USA, on a swimming scholarship.
Training
Amini has been training by himself for almost two years in New York City in between starting a new business providing swim lessons in Manhattan.
"I've been trying to do whatever training I can, when I can. Whether that's jumping on a bike and driving up the west-side highway for cardio, if that's all I can do for fitness that day then I'll do as much of it as possible," he said.
"My nutrition has been great. Injuries have been occurring but they're ongoing and always being taken care of."
Earlier this year, Amini did not think he would make the Olympics, as he was competing with another "very talented up and coming Tongan swimmer, Finau Ofuahi, who has been training full-time in Thailand".
"Finau was leading the FINA points and I had one opportunity, at The Atlanta Classic in Georgia [in May], to better his FINA points performance."
"I was very lucky to be entered into this competition with the opportunity to compete and get it done. I believe if the pandemic in Thailand would've been under control then Finau would've really given me a run for my money as far as FINA points go."
"Finau is only getting better, faster, and it is very encouraging to see talent grow."
While Amini looks forward to competing at the Games, the highlight will be "having a cup of tea with my mum, Julie Fonua, who is going as Team Manager for the Tongan swim team".
COVID-19 has restricted travel worldwide and Amini has not seen his family for a while.
"I'm also excited to hang out with my teammate Noelani and her mom, Vila Day.  The Tongan Swim Team is literally family, and I love this so much about our team."
Noelani Day is also representing Tonga in swimming at the Olympics.
Unique atmosphere at Olympics
In Tokyo, COVID-19 has put a damper on the games with no spectators allowed at events and athletes having to abide by restrictions.
"I think the atmosphere will certainly be unique but I believe that Japan will make for a memorable experience.  I'll cope just fine."
After the Olympics, Amini said he wants to try more entrepreneurial and business endeavours after successfully helping his family build and manage the House of Tonga hotel and conference room in Nuku'alofa, Tonga.
One of his endeavours is his private swim coaching business in New York.
As for competitive swimming, Amini might go to the World Championship in December "but I haven't made that commitment yet".
"Seeing the sport of swimming grow within Tonga has been such a blessing but I do think it is time for me to step aside and allow the young guns to take over and perform on the international circuit."