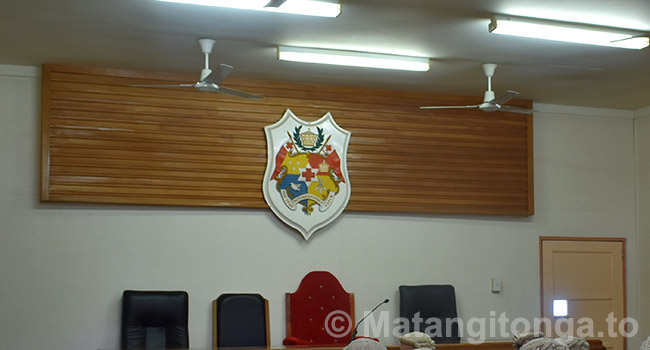 Siolosi Hu'akau (21) who was convicted of dangerous driving causing the death of a woman on the road in Talafo'ou, while injuring another was sentenced to three-years imprisonment.
He suffers from physical and mental handicaps and it was extremely regrettable that he was even allowed to drive a vehicle in the first place, said the Lord Chief Justice Whitten QC, when sentencing him today at the Nuku'alofa Supreme Court.
The defendant had pleaded guilty to dangerous driving causing death and dangerous driving causing bodily harm.
The deceased was Stella Fungavaka, a passenger in a vehicle, which her husband 'Amone drove to Kolonga on Sunday evening October 25, 2020.
The Chief Justice said that upon reaching the Talafo'ou area, 'Amone was driving at about 35-40km/h.
When they passed the Prime Minister's residence at Talafo'ou, 'Amone drove more slowly so that they could admire the scenery of the beachfront. As they approached a sharp turn towards Navutoka, a red vehicle driven by the defendant was also approaching the turn from the opposite direction.
There were two other passengers in his vehicle, and he was speeding. As the defendant approached the turn, he lost control of his vehicle, swerved onto the right lane and collided head on with the Fungavaka's vehicle.
Stella sustained multiple fractures, including a collapsed lung. As a result of her injuries, she was pronounced dead on arrival at Vaiola Hospital. One of the passengers in the defendant's vehicle, Pelenaise Lefai suffered fractures to her right femur.
Disability
A pre-sentence report revealed that the defendant was born with a medical condition affecting his lower limbs rendering him unable to stand for long periods of time. He was also physically and emotionally dependent on his mother and very attached to her.
She had also been his sole caregiver since his father left for New Zealand.
The defendant was unable to read or write, having only completed Class 1 at school. He was described as having the mind of a child. No medical evidence was provided. His disability caused him great pain throughout his childhood.
On the day of the offending, the defendant's mother asked him to drive his cousin to Hahake to pick up his cousin's wife. The defendant had never driven without his mother, but she assumed that because it was a Sunday, there would be no traffic problems, said the report.
The defendant and his family made a traditional apology to the deceased's family by presenting them with Tongan koloa and $3,000. They also gave gifts at Christmas. The deceased's husband had recorded his family's forgiveness.
Imprisonment
The Chief Justice said that one of the difficulties in assessing the defendant's degree of culpability in this case was the lack of detailed information about his driving leading up to the collision.
He said, apart from the references to his speeding, losing control of his vehicle and not having a valid driver's licence, the material contained little to explain, for instance, how fast he was driving immediately prior to the collision, for how long he had been exceeding the speed limit that day, whether he was driving in any other reckless or dangerous manner, whether he had driven in a similar way on other days when he had driven with his mother in the vehicle.
"In relation to the defendant's driver's licence, having regard to his physical and mental handicaps (particularly that he has the 'mind of a child'), it is extremely regrettable that he was ever allowed to drive a motor vehicle in the first place."
He said that in order to protect the community (and himself), the defendant should not be permitted to drive a motor vehicle on a public road again and ordered that he permanently disqualified from holding or obtaining a driver's licence.
"The defendant is young, he has no previous convictions and he co-operated with the authorities. I do not consider that the sentencing objectives of denunciation, punishment, deterrence and rehabilitation would be adequately achieved by fully suspending the sentence for an offence of this kind, which has resulted in the death of one person and significant injury of another."
In addition, in circumstances where he has ordered the permanent disqualification of the defendant's driver's licence, and having regard to his congenital handicaps, it was difficult to see what rehabilitation could be achieved by suspending any part of the sentence.
Nonetheless, he was prepared to suspend the final 12-months of the head sentence on conditions, he said.
The Chief Justice then sentenced him to three-years imprisonment and the final 12-months suspended for two-years from his release from prison.
This is on the following conditions, that he must not commit any offence punishable by imprisonment;
 be placed on probation, reside where directed by his probation officer; and 
complete a life skills or other courses as directed by the probation officer.
He was advised that if he failed to comply with the conditions, he would likely be required to serve the balance of his prison sentence.
The Chief Justice also directed that, while in prison, the defendant is to receive such medical care as his physical and mental disabilities reasonably require and that he be assigned only such labour as those disabilities may safely permit.