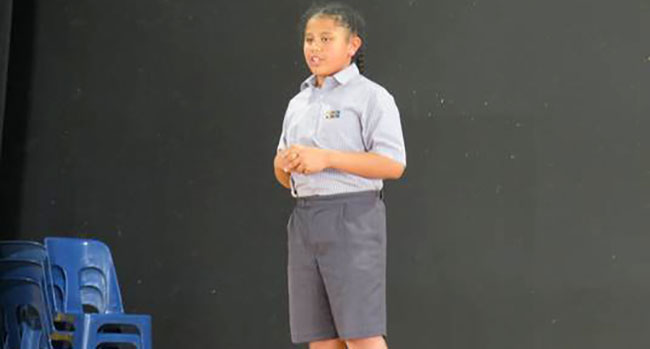 Eleven-year-old Sosaia Vea from Ha'ateiho won a speech competition out of over 400 students in Year 7 at Remuera Intermediate School in New Zealand recently.
Sosaia's speech titled 'Coconut Dream' was based around the need for Pacific students to step up their game academically "because our dreams and futures can change the world and how it sees us".
In an interview with a local radio station, PMN Tonga, in New Zealand, Sosaia said he wrote the speech to motivate Pacific students to stay in school.
"Why is an eleven-year-old boy from South Auckland going to Remuera Intermediate standing up and giving a speech about a people's problem? Because I realize there is a problem".
He explains in his speech how over the past five years or so, the performance of Pacific students in New Zealand has been academically disgraceful.
"This is unacceptable, not just for me, but the wider Pasifika community. It is vital that we consider learning a priority."
Meanwhile, Assistant Principal and Year 7 Dean, Megan McGaw told Sosaia's parents that Sosaia's speech was incredibly powerful and he delivered it flawlessly and with great pride and passion.
"We are all very proud of him, he is a fantastic student and on his way to being a leader here at RI [Remuera Intermediate School]."