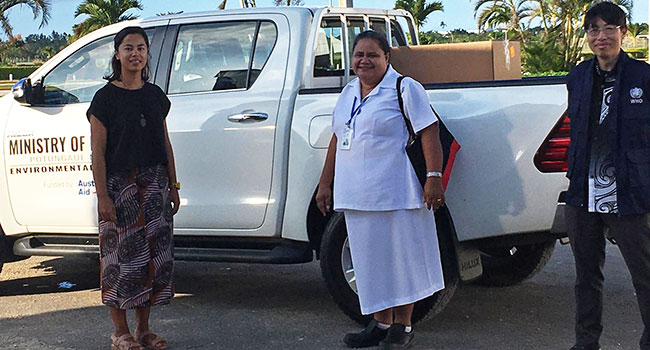 The third CoViD-19 testing machine, GeneXpert, and testing cartridges have arrived in Tonga and were cleared last night and kept at the Ministry of Health laboratory said Dr Siale 'Akau'ola today, 8 May.
The machine and cartridges were donated by the World Health Organization (WHO) supported by Australia, New Zealand and other development partners.
One hundred and twenty (120) cartridges have been received so far but more will come next week, said Dr 'Akau'ola.
"We will need one week to set it up, run calibration tests and controls to ensure it is in perfect condition to test. And some of the control kits will arrive on next week's flight so that testing process may take more than one week."
The GeneXpert testing system provides reliable results within 45 minutes. 
Tonga has already bought two PCR CoViD-19 testing machines which have much more capacity to test for the virus.
"In this way, we will have the ability to test more people," said Dr 'Akau'ola.
The machines will be ready when work to upgrade the laboratory rooms are completed.
Pacific
Tonga is one of twelve Pacific island countries receiving the GeneXpert testing equipment provided by WHO, which will allow samples to be tested in-country.
Australia and New Zealand have each contributed AUD$1 million and the Pacific Community (SPC) and the Pacific Islands Health Officer's Association have each contributed USD$500,000 to WHO to procure the testing equipment.
"Australia is pleased to support Tonga and to stand with our Pacific family as our region faces the threat of CoViD-19," said Australia's High Commissioner to Tonga, HE Adrian Morrison. 
The testing equipment is being delivered on flights to the Pacific, including through Australia's Pacific Corridor, in support of the Pacific Island Forum's Pacific Humanitarian Pathway. The corridor enables essential services and humanitarian assistance to reach the Pacific, through Australia, amid global transport and border restrictions due to the pandemic. 
The supplies will be subject to strict handling protocols to mitigate the risk of spreading CoViD-19 in the region.
And passengers and crew are subject to health checks before departure, and surfaces and equipment are disinfected regularly. 
Dr 'Akau'ola was grateful for the assistance and extended his thanks to all parties involved in procuring and shipping the equipment to all Pacific Islands at such a challenging time.
"At last all Pacific Islands will be able to test for CoViD-19."