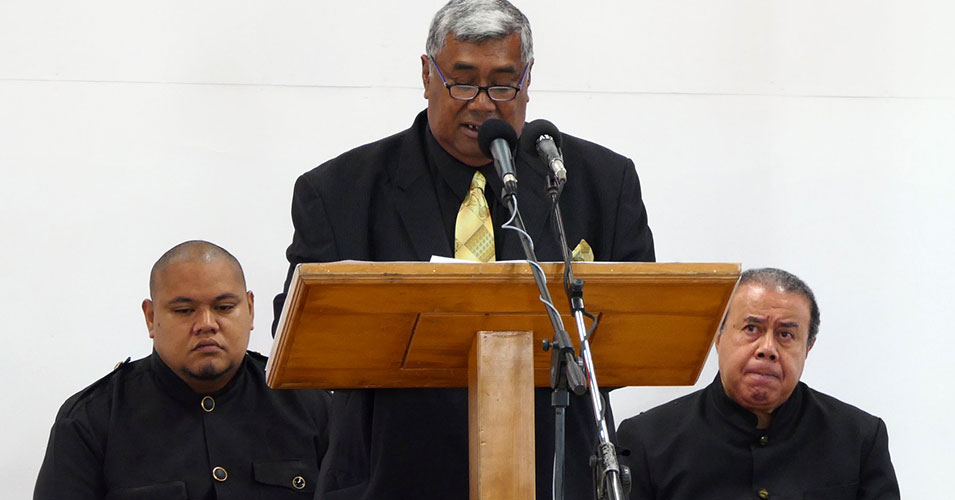 It is vitally important that all Tongans take preventative measures to curb the spread of CoViD-19 and respect WHO guidelines, King Tupou VI told the Tongan Legislative Assembly today, in a message for the closing of the House.
The soft closure of the 2019-20 session of the Tonga Legislative Assembly was held today without guests due to the COVID-19 pandemic.
Lord Lasike, who was accompanied by Lord Tuita and Lord Luani, read out a short message from HM King Tupou VI in Parliament House.
The only attendees were Members of Parliament, who practiced social distancing by sitting a meter apart.
King Tupou VI said we are currently in difficult challenging times due to the coronavirus (CoViD-19) since it is a pandemic. The virus, affecting the world, has no vaccine.
"It is of the utmost importance that we adhere to preventative measures to curb its spread, according to the guidelines issued by the World Health Organization and Tonga's Ministry of Health.
"For the future, healthy living will become a fixed national priority for the Tongan Government," he said.
Future generations
The King stressed the importance of education, which the Constitution guarantees for all Tongans.
"We must try to ensure that schools in Tonga educate students, so they can pursue further studies in the Pacific or in other parts of the world, and gain international qualifications. With those international qualifications," Tongans can return home to develop our various sectors," said the King.
However, to attain a good education and ensure healthy living for Tongans, depends on our state of economy. Government, churches and the people of Tonga must work together to improve the state of our economy, he said.
King Tupou VI thanked international partners and the Governments of Japan, New Zealand, Australia, China and the United Kingdom for their assistance in the health sector during this challenging time and for the development of the country.
Parliament is now adjourned to May.
The closing of the house was broadcasted live on the national AM radio station and other commercial FM stations. It was also streamed live on the Fale Alea 'o Tonga social media page.