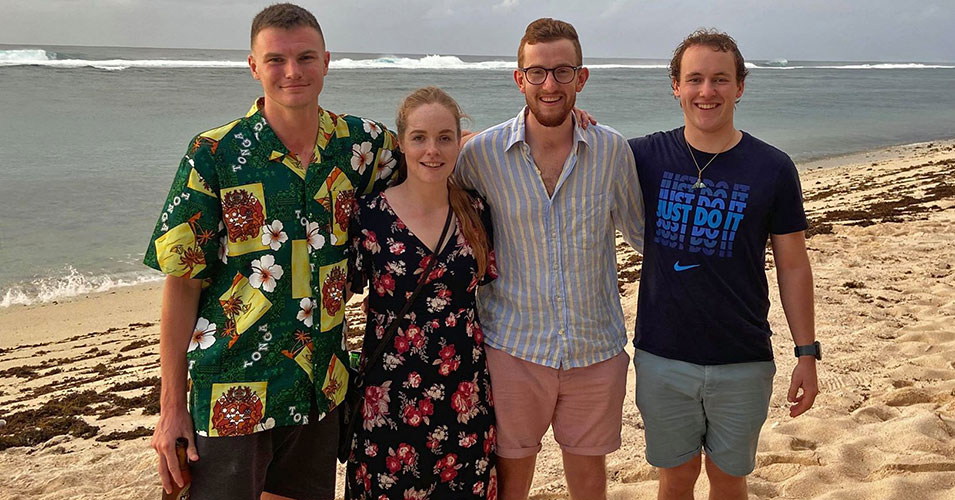 By Eleanor Gee
Two British Medical students have found themselves stuck in Tonga and unable to return home after Tonga closed its borders earlier this week to prevent COVID-19 from entering the country.
Timothy Gomm, a student from the University of Southampton, told Matangi Tonga they were only two weeks into their placements here when they were recalled from their electives by their universities on March 16.
They had flights booked out for Friday March 20 but were not permitted to board the flight at the airport.
Followed advice
All UK nationals abroad were also advised by their Foreign and Commonwealth Office to return to the UK as soon as possible.
"We followed this advice and managed to rearrange our original flights that were booked for the start of May, at the cost of thousands of pounds," he said.
The students were booked to leave Tonga on March 20 on the Auckland flight, but when New Zealand announced it had closed its borders to all non-residents starting at midnight the night prior, it sent the students into a bit of a panic.
Timothy said after spending hours on hold over the phone to Air New Zealand, they were advised by the airline they were permitted to board the flight as they had confirmed onward travel.
No way out
However, when they arrived at Fua'amotu International Airport, the students were denied boarding and told by Air New Zealand to "knuckle down, you'll be here for a while".
A transit agreement negotiated by the British Government and other Pacific Islands this week to allow UK subjects to leave was "rendered useless" to the students after Tonga barred all international flights for two weeks.
The students also could not get a seat on an Australian Aid charter flight which evacuated Australian volunteers and citizens from Tonga this afternoon, Wednsday 25 March.
Timothy said their government advised they were working on repatriation efforts, but so far nothing had coming to fruition.
Abandoned
On top of that, the student's elective program has been cancelled by the university and Timothy explained they cannot assist at Vaiola Hospital "as we aren't covered by our insurance and medical indemnity".
In addition, the students do not want to "risk being exposed to anything that would hinder our chances to getting home – in order to transit through NZ you have to be completely asymptomatic".
While the students are hoping Tonga will open its borders after the two week closure, Timothy said they wanted to get home to be with their families at what is a very scary time, and also to be able to help support the healthcare system in the UK.
"The uncertainty of when anything will be done to help us is having effects on my mental health. We understand that flights may be able to land if the Ministry of Health approves it, so we are desperate for our High Commission here to explore that route."
Keeping busy
Although Timothy is feeling "very nervous and apprehensive about the current situation", he and fellow student, Matt, have been keeping busy and spending most of their time keeping in contact with the British High Commission.
"We've had a lot of admin work to do, such as applying for jobs to work as a doctor in the UK for when we get home and renewing our visas."
They've also been doing a lot of reading, such as the Lord of The Rings series, but Timothy admits there are times when they still find themselves feeling very low with the few updates about "what is going on to help us from our government back home".
However, the students are staying active and enjoying the island with everything that it has to offer.
To date, Tonga has no confirmed COVID-19 cases.
Comments
Meanwhile, Matangi Tonga Online Facebook readers reckon that the Brits are better off here in Tonga: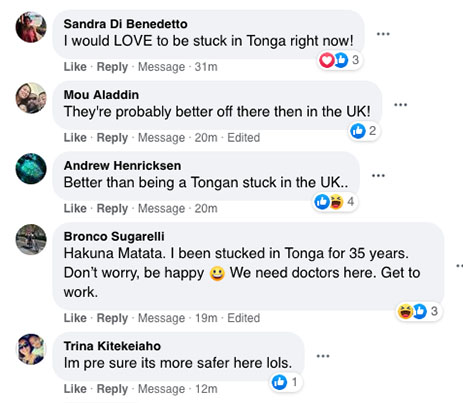 Massive challenge
Last week British newspapers were reporting that up to a million Britons may be stranded abroad by the coronavirus pandemic and many will be unable to come home for a long time, according to the Foreign Secretary Dominic Raab.
They reported that the foreign secretary – who has faced criticism for insisting it is impossible for him to lay on repatriation flights – saying that the UK is facing a "massive, massive" challenge.
"We have anywhere between 300,000-400,000 British nationals travelling abroad to closer to a million," Mr Raab told a committee of MPs.
But they don't know for sure because there isn't a register of Brits travelling abroad.