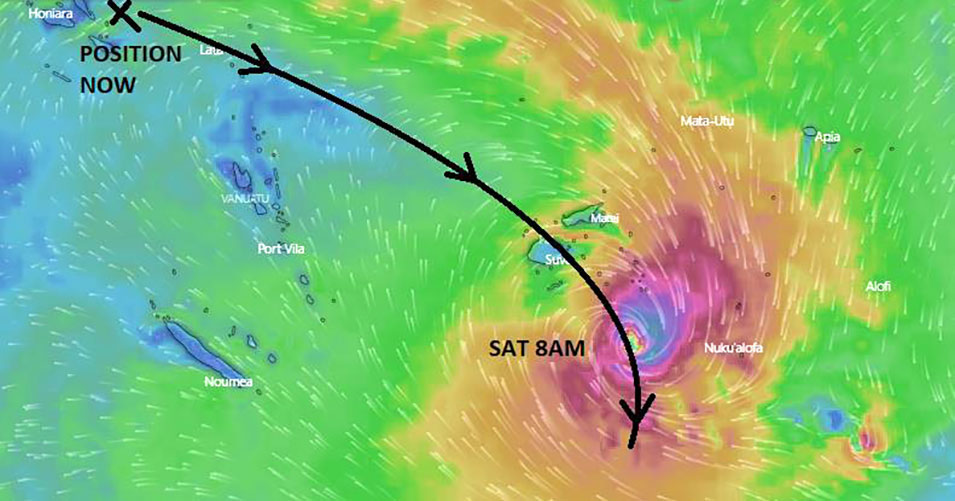 A tropical depression, expected to form into a cyclone later this week, could threaten Tongatapu and 'Eua by the weekend, Tonga Meteorological Services reported today, Monday 13 January.
Tropical Depression 04F is brewing over the areas of the Solomon Islands and Vanuatu regions and is expected to move east southeast, passing by Tongatapu and 'Eua on Saturday, 18 January.
Tonga Met said Tonga should prepare for a cyclone this week as there is an 85% chance of it becoming severe.
This week the weather will be very warm and humid with north to northwest winds early in the week, before becoming more active with heavy rain and tropical systems/cyclones development later in the week.
Cyclone season – active periods
During every cyclone season, there are active periods where the potential for tropical cyclone formation is high. These active periods come around every 30 to 60 days on average and last for 2 to 3 weeks.
The last active period of the cyclone season occurred between 21 December 2019 to the first week of January 2020, which saw Tropical Cyclone SARAI (Cat1) cross between Tongatapu and Ha'apai on New Year's Day.
The next active period starts today 13 January and is expected to last until early February.
The next two to three weeks could see one or two tropical cyclones developing over the South-West Pacific that could affect Tonga.
Cyclone Preparation
To prepare for a cyclone, Tonga Met has suggested five steps.
Know your surroundings and the cyclone risks that exist in your area.
Stay informed by getting the latest weather information on a daily basis. If a cyclone warning is in force pay more attention.
Know your nearest evacuation centre and how to get your family there in the event of a major cyclone or associated hazards.
Please alert your neighbours when you know there is a cyclone warning in force.
Finally, if you are unsure what to do during a cyclone warning situation please contact

NEMO

at 26-340 or the

MET

Office at 35-355 for further information.
Remember to stay tuned to the weather forecast on radio, on the web at www.met.gov.to or the Tonga Met Facebook page.