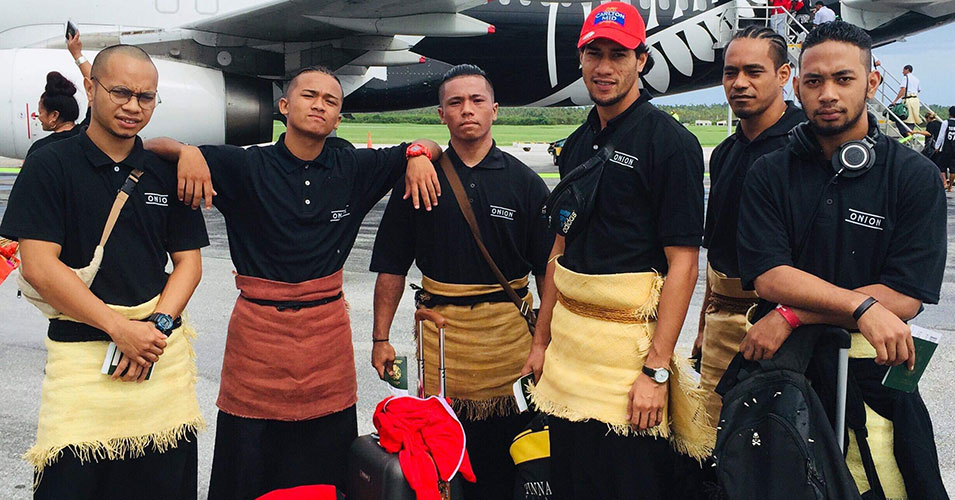 Tonga's hip hop Onion Squad have had their dreams dashed after they were denied US visas today, 2 August, to compete at the World Hip Hop Dance Championships (HHI) in Phoenix, Arizona, United States, next week.
The group, who are in Suva, Fiji, announced the bad news in a video on social media this morning.
Kaufononga Pulu (Nonga) from 'Tutu on the Beach' spoke on behalf of the disappointed dancers.
"We found out today we didn't get our visas to the US. We confirm we won't be competing," he said.
"So, our journey stops in Fiji and we will return [to Tonga] next week."
Onion Squad is the first dance group in Tonga to qualify for HHI, the biggest hip hop dance competition, after winning second place at the Hip Hop Pacific Islands competition held in Manukau City, Auckland, in April this year.
The group have been busy fundraising and practising since qualifying in order to attend the competition.
"I guess we'll just wait, even though we've been working so hard towards this for the past three months, but it doesn't matter. If America doesn't want us, of course they will say they don't want us to come," said a disappointed Nonga.
He explained they had all the documentation to support their visa applications including a letter of support from the Ministry of Foreign Affairs, and support letters from the dancer's employers and school, as well as from HHI.
"And the most important thing, we have our [bank] account, a combined account that all our fundraising money, all donations, all the love that everyone gave was in that account, and still…still nothing, still declined, still rejected."
In spite of the news, Ngonga and the dancers thanked their supporters.
"We would like to thank everyone. Shout out to everyone who has been following this journey right up to now. Thank you for believing and trusting this team to do their best even though we're not going to make it to HHI."
"I know this is not the end of the world. We have a plan and so maybe not this year, but we're coming next year," he said.
Onion Squad are a popular group in Tonga. They have performed in New Zealand and were guest dances at an event held at the Australian High Commission in Nuku'alofa recently. Dancers from the Onion Squad also performed for Sam Neill in a television documentary series "The Pacific in the Wake of Captain Cook with Sam Neill" released last year.
4,000 dancers
Now that Tonga is no longer in the competition, hip hop teams from the Pacific, WAN Squad from Papua New Guinea and MATA and KAWA Dance crews from Fiji, will be competing at HHI.
Over 4,000 of the world's best dancers, from over 50 countries, are set to compete at the World Hip Hop Dance Championship.
Tongan passport holders are required to travel to the US Embassy in Suva, Fiji, for visa processing.