Photos by Pesi Fonua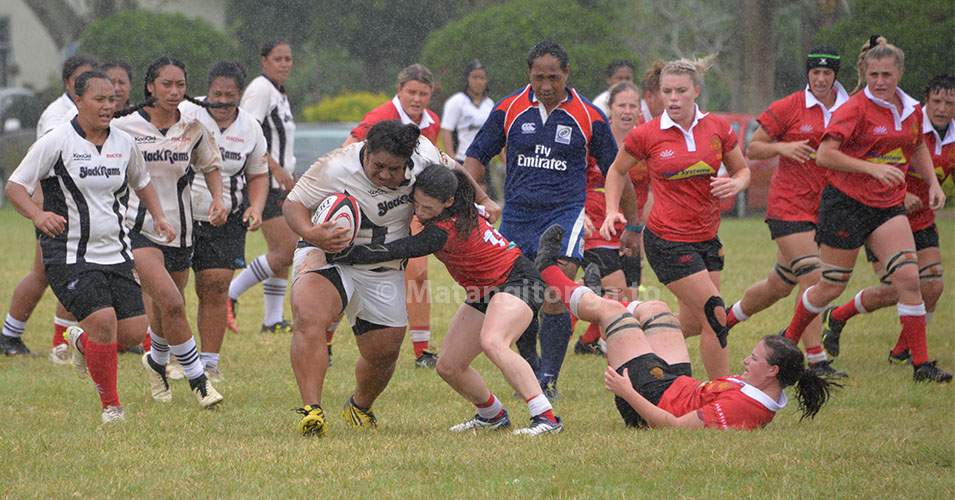 Tonga's HMAF women's rugby team held off an Australian Defence Force team to beat them 5-0 in a rugby union match at the Tupou College sports ground, in wet conditions on Saturday 11 May.
However, the Australian Defence Force men's rugby team decisively beat His Majesty's Armed Forces men's team with a score of 20-10.
Women
The HMAF's women team was made up of HMAF women players and recruited players from outside to make up the numbers, including formidable ball-carrier Pesalini Hehau, from Fo'ui.
It was a very competitive game, but there were a number of heavy-weight runners in the Tongan team who put the ADF defence to test.
While the ADF had a few speed stars, unfortunately they could not break through the Tongan defence line. Tonga's no. 8 Pesalini Hehau (Hihifo Club) showed remarkable strength.
Men
With the men's game, the ADF team appeared more aggressive from kick-off. They dominated the scrums during the first half and the rest of the game.
At half time the ADF led the score 10-0.
The HMAF men's team however bounced back and scored the first try in the second half. The conversion went way out and the score was 10-5.
The ADF bounced back, and the score moved up to 15-5.
The HMAF hit back and the score edged up 15-10.
Timi 'a sotia he 2019:
CPL

ETEAKI

CPL

UHATAHI

CPL

UTOIKAMANU

CPL

LATU

LCPL

'

AHO

LCPL

MANUOFETOA

LCPL

TOKO

LCPL

TAVALU

PTE

MOHETAU

PTE

PITA

(

PTR

)

PTE

KAIPOULI

(

PTR

)