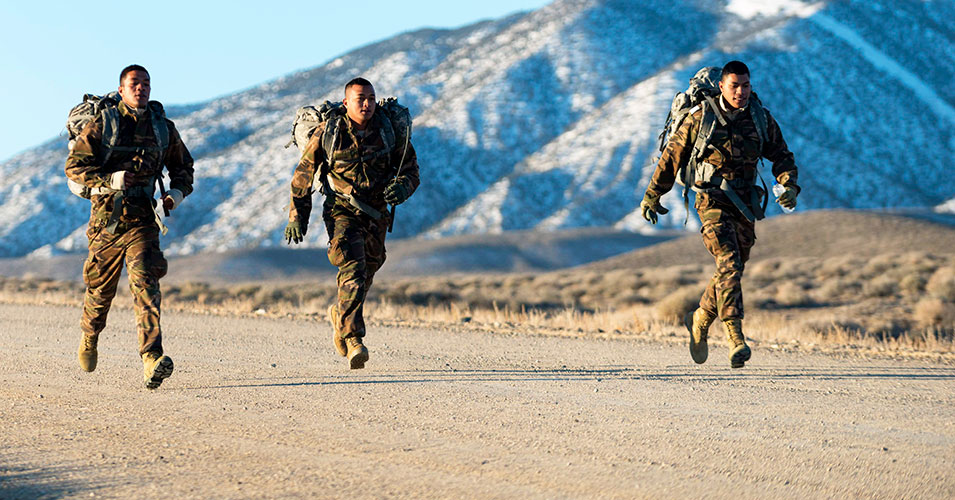 Four Tongan Marines competed in the Nevada National Guard international military contest with Pvt. Sione Lonitenisi finishing in second place, last month in Hawthorne, Nevada, USA.
US Army Nevada National Guard reports the Tongan Marines competed alongside eight Nevada Army National Guard Soldiers for the title of "Best Warrior" in a variety of events at the Hawthorne Army Depot, which is also the world's largest ammunition depot.
The other Tongans who competed were Pvt. Saevii Tonga, Pvt. Sione Atoa and Pvt. Dimitirous Polisima.
This is the first time Tonga's armed forces have participated in the Nevada Guard annual Best Warrior contest although both established a partnership in 2014.
The contest is like a military decathlon featuring a variety of events, including tests of physical fitness, marksmanship and army knowledge. It was held over three days on March 12-14, where 12 athletes were scored in 11 different disciplines.
The Best Warrior winner this year who is also declared Nevada Army Guard's Soldier of the Year is 29-year-old former U.S. Marine-turned-Nevada Army Guard cavalry Soldier, Spc. Tyler Davis, of Las Vegas.
Although Davis did not win any of the events, he finished consistently in all individual events and managed to pull ahead of Sione, who won the Army Physical Fitness Test and the Soldier Readiness Test.
Exceptional
Davis said the Tongans performed exceptionally well despite being unaccustomed to Hawthorne's elevation and winter temperatures, and put a lot of stress on the home-state Soldiers.
"I absolutely felt the pressure. They are very-well rounded Marines. We realized they were winning many of the events."
The Tongan officer accompanying the Tongan Marines, Maj. Tomaakino Tu'itavuki, was pleasantly surprised by the performance of his contingent.

"I was expecting we would take the last four places. We have never trained in this type of weather or ever experienced this elevation. But our team has remained flexible and battled through three days of competition."
Davis will now represent the Nevada Guard in the Region VII Best Warrior contest held in Hawthorne in mid-May. The contest will include top Soldiers from eight western states and territories in the US and Sione will also be invited to represent Tonga.
The National Guard's State Partnership Program joins Nevada with Tonga and Fiji in an ongoing series of engagements across military, civilian, economic and social topics.
This year, two military observers from Fiji watched the Best Warrior contest and are set to send participants to Nevada next year.