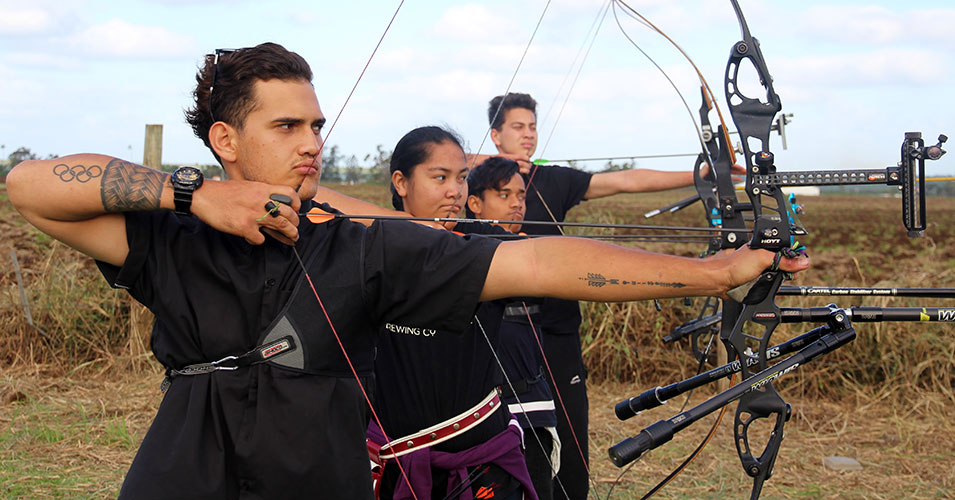 The current Oceania Champion archer, Arne Jensen, has broken Tonga's national archery record twice within a month recently, while training for the upcoming Pacific Games.
The 21-year-old, who won gold last year at the Oceania Archery Championships in New Caledonia, told Matangi Tonga today that the old national record was 628 which he set in 2016.
"Three weeks ago, I raised it to 642, and last Saturday I shot 648. This is out of a maximum score of 720."
Arne is a recurve archer shooting the target 70 metres from the shooting line with the bullseye the size of a CD or 12 cm in diameter.
After his win last year, Arne has exceeded the qualifying standard for the Pacific Games several times, and he has been training daily along with other Tongan archers.
"Since [Oceania Championships] we've been doing a lot of technical refinements with our team, working on strengthening consistent form that you need in archery, and the results have been really showing."
Archers
Fellow archer, Sepeti Makihele has already met qualifying standards for the men's compound and the rest of the elite development squad which includes, August Sanft, Ana Fifita, Mele Tu'uakitau, Molisi Kilisimasi, Angelina Kaihau, Alukoulu Ulukivaiola, Fatai Tanaki, Lavinia Kaihau, Viliami Fehoko and Rachel Taukei'aho are all heading towards solid qualifying scores, he said.
One of the young archers Mele Tu'uakitau (17) beat six year veteran Rachel Tauke'aho in last Saturday's national qualification competition, in the 720 round. 
Lusi Tatafu, who represented Tonga at the 2016 Rio Olympics will not be available for selection due to other commitments.
President of Tonga Archery, Hans Jensen said he hopes 12 Tongan archers will qualify for the games. But prior to that, he plans to take some of the archers, including Arne, to compete in the World Archery Championships held in Hertogenbosch, Netherlands in June.
"The World Championships will provide our players with exposure to big events," he said.
The Pacific Games has one Olympic qualifying spot in archery for a female and male, something the Tongan archers have their eye on including winning medals. The 2020 Olympic Games will be held in Tokyo, Japan.
O