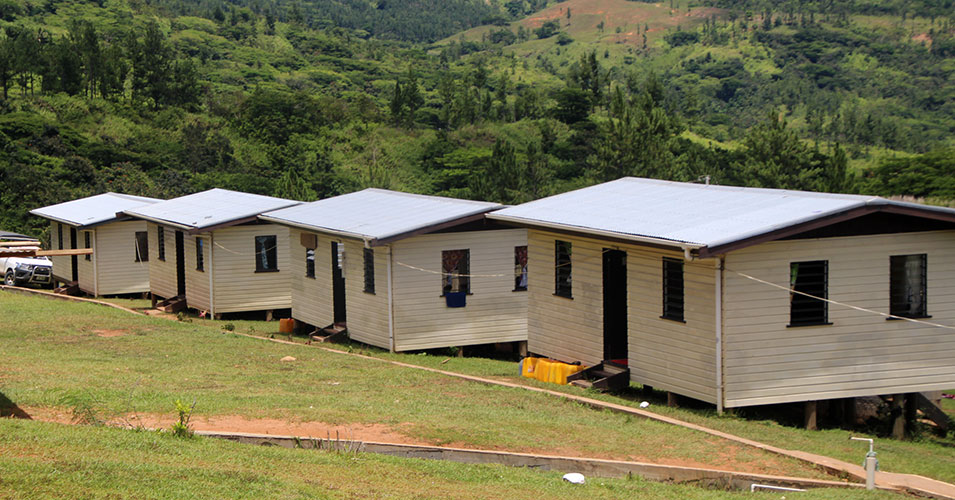 By Eleanor Gee.
The successful relocation of Tukuraki, a Fijian village in the highlands of Ba, Viti Levu, from a disaster prone site to a new area is a prime example of the future of climate resilience, a reality faced by communities vulnerable to climate change and natural disasters in the Pacific. Their new houses were built to withstand Category 5 cyclones.
Tukuraki suffered three natural disasters in a span of four years. In January 2012, a landslide buried most of the village, including a house where a family of four were sleeping, and wiped out its roads, water supply and community hall.
The village was later destroyed twice, in December 2012 by Tropical Cyclone Evan (Cat. 4), and again in February 2016 by Tropical Cyclone Winston (Cat.5). The villagers took shelter in a cave and in nearby villages before returning to makeshift houses.
The suffering by the Tukuraki villagers led the Fijian Government to move the small village with a population of around 40, to a disaster resilient area. This was done in consultation with the Tukuraki community.
At the new site, 11 new houses were built to withstand Category 5 cyclones, with an evacuation centre doubling as a community hall. For water supply, a dam was built to provide water along with 10 storage tanks with filters, and household distribution through piping for clean, safe drinking water. Rainwater harvesting from the rooves were installed as well as a wastewater system leading to a common soakage pit. The homes have an open area with no rooms and an enclosed toilet and bathroom facility.
Since the opening of the new Tukuraki village in October 2017, the villagers have adjusted and settled in their new secure homes. They were visited by Pacific journalists in November, including Matangi Tonga journalist Eleanor Gee.
The village plantation, which provides food and income remains at the old site (a half hour walk away) which the villagers still tend. Sustainable livelihood alternatives were also provided at the new site. These include creating a fishpond with Tilapia Fish, building 15 bee hives for honey production, and a poultry farm. Financial and literacy training was provided as well as handicrafts and weaving.
Over FJ$756,000 was invested in the relocation project, which includes FJ$278,000 to build the 11 homes with bathroom facilities, FJ$126,642 to build the evacuation hall building, and the rest on access roads, water supply, drainage, retaining wall, waste water and storm water, as well as sustainable livelihood projects.
The relocation of the Tukuraki Village was funded by the European Union and the Fijian Government through the Building Safety and Resilience in the Pacific Project, implemented by the Pacific Community (SPC).
Tonga climate resilience
The Tukuraki relocation and climate resilience project is a great model that other Pacific countries, including Tonga, could follow.
While Tonga does not enjoy the larger land mass that Fiji has, the Tukuraki project still offers a long term cost-effective solution for villages that continue to suffer every time a natural disaster strikes.
The occurrence and strength of hurricanes, cyclones, and flooding, especially in low lying coastal areas, are more frequent, placing an economic strain on Pacific Islands.
After Cyclone Ian smashed Ha'apai in 2014, around 70% of residents were displaced and damage was calculated at around US$48 million. Earlier this year, Cyclone Gita inflicted an estimated $356 million pa'anga in damages mainly on Tongatapu and 'Eua. The country is still recovering from the cyclone.
The cyclone season has already started for 2018/19 and the Meteorology Department forecasts at least two tropical cyclones may hit the kingdom before the season ends on 30 April 2019.