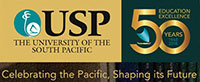 By USP-Tonga staff: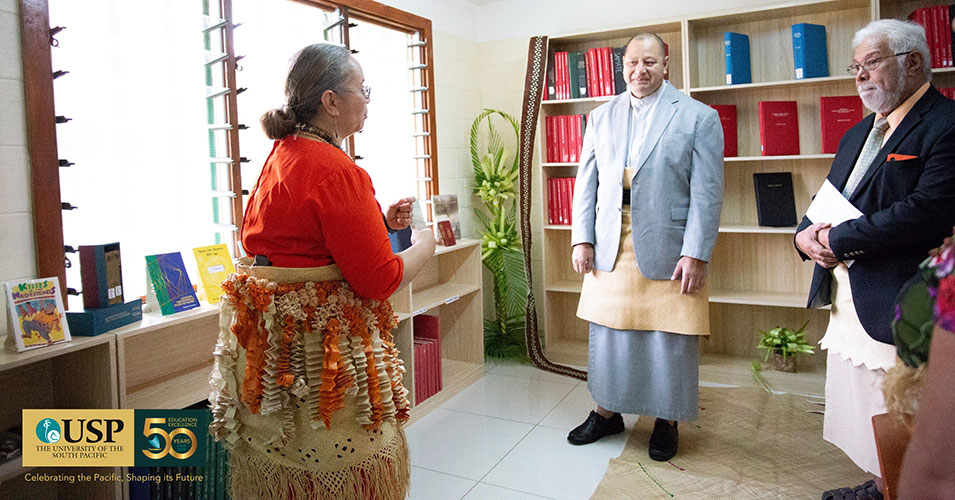 "In a welcome most fitting for their King, the staff and students moved a standing ovation to greet His Majesty, King Tupou VI to Tonga Campus. His Majesty's Royal visit saw students from the Pacific TAFE school based program (from Tailulu College and Apifo'ou College) seated on the edge of the walkway as a sign of respect.
"His Majesty's visit to the campus, on Wednesday Nov, 14th,was to commission the 'Kukū Kaunaka' Collection. His Majesty named the collection, 'Kukū Kaunaka' in reference to preserving precious national treasures and protecting it from being lost. The name is an expression from the now extinct Tongan sport of pigeon-snaring where holding on to the pigeon-snaring net required special skills.
"The closed ceremony was attended by the Deputy Pro Chancellor, Ms. Aloma Johansson, Vice President for Regional Campuses and Estates and Infrastructure, Dr. G. Masasso Paunga, The President of the Free Church of Tonga, Reverend Semisi Fonua, Lord of the Estate, Lord Tu'i Ha'ateiho, Director of the Nauru Campus, Ms. Alamanda Lauti, Director Tonga Campus and Institute of Education, Dr. Seu'ula Johansson-Fua, the Student Association choir, and Staff. His Majesty was pleased with the original thoughts pertaining to the thesis collection.
"The Kukū Kaunaka Collection is an attempt to hold on fast to the treasure that Tongans have unearthed in their pursuit of the highest of academic achievements and it ensures the preservation of knowledge and research conducted by Tongans who have attained a PhD or Doctorate degree – of the 193 identified theses, 141 were commissioned on the day. The collection, housed in the Library, stores the results of research conducted by Tongan scholars all over the world, including Fiji, New Zealand, Australia, Japan, China, Canada, United States of America and the United Kingdom. Dr. Seu'ula Johansson–Fua intends to see the continuity of the collection of PhD theses and an extension to include MA theses by Tongan scholars. The purpose of the collection is to bring home the country's 'koloa' or treasures and further encourage our students' research work in building Tongan scholarship.
"Also gifted to the collection were rare books on Tonga from Ms. Alamanda Lauti's personal collection which included historical accounts and photographs. She also presented some of her Nauru collection to the campus which have now been displayed under the Nauru section of the library.
"His Majesty King Tupou VI was elated at the viewing of the traditional Tongan canoe – the Tafa'anga which was an initiative of the current students of Tonga Campus. This will also be part of the campus' collection in honor of the University's 50th anniversary. The initiative to preserve the skills of building the Tafa'anga is part of the Student Association's larger program to preserve and relearn traditional knowledge and skills that are diminishing.
"It was indeed a moment to shine for the Tonga Campus community and an honor to receive His Majesty's support for our work in supporting educational development in our home country. It was indeed a most humbling and significant event as Tonga USP staff marked the 50th anniversary of the USP service in the region and in Tonga."
Source: USP-Tonga
#4664