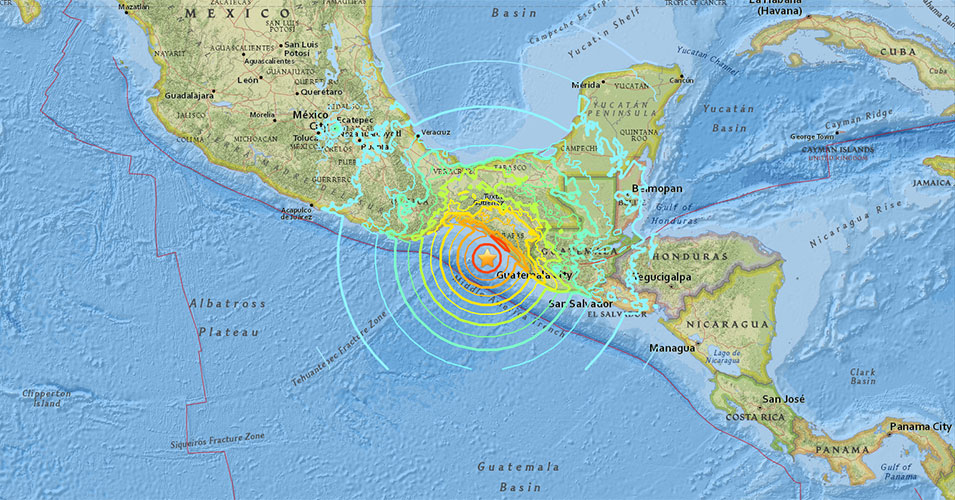 A tsunami generated by a big Magnitude 8.1 earthquake off the coast of Mexico this evening is being projected toward the Pacific Islands. "The main beam is toward our area," said 'Ofa Fa'anunu tonight, after the National Emergency Operation Centre (NEOC) activated a Tsunami Marine Warning, with a wave expected to reach Tonga at around 6:15am tomorrow morning (Saturday, 9 September).
Tonga is being "just cautious," said 'Ofa, the Met Director. "We are expecting less than one metre. It may be over one foot in Tonga, but tsunami warmings are giving 1M for Samoa, Fiji and New Zealand."
Tsunami metering buoys off Mexico have already detected .1 and .2 ft waves, he said. "But that is in deep ocean. The issue is when it reaches shallow water. The height of the tsunami wave depends on the coastline and that's where the wave will occur."
'Ofa said Tonga's coastline has not been surveyed properly for estimating the effects of a tsunami on various communities. "It's also difficult because we haven't had one coming from Mexico. We know the main beam is toward our area. The energy of the wave is called the main beam and it's projected toward the central Pacific."
'Ofa said earthquakes in Chile in the past had projected their energy or main beam toward Hawaii, but this series of earthquakes are generating a wave from a different area.
To be on the safe side, he warns Tongans to keep away from the beaches, harbours and coastal areas tomorrow morning.
"We have received one foot tsunami waves in the past and it didn't do much damage apart from the strange currents."
He said the strong currents caused can be very dangerous for people who are in the water when the tsunami waves arrive, even if the wave is small.
The estimated arrival time of a wave or waves at 6:15 am could be plus or minus half an hour.
PTWC
Meanwhile, the Pacific Tsunami Warning Center has confirmed a tsunami wave off the coast of Mexico. The largest wave so far is 2.3 feet, the Tsunami Warning Center said in a tweet.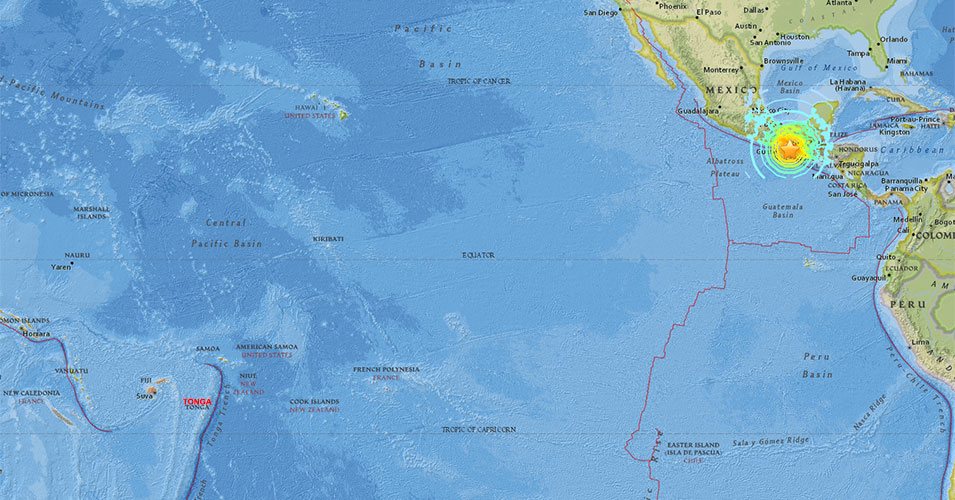 The Pacific Tsunami Arning Centrer at Ewa Beach, Hawaii, stated that tsunami wares are forecast to be less than 0.3 meters above the tide level for Tonga and some other Pacific countries. Estimates vary for different coasts as follows:
NWS
PACIFIC
TSUNAMI
WARNING
CENTER
EWA
BEACH
HI
0855
UTC
FRI
SEP
8 2017
EVALUATION
----------
  * AN EARTHQUAKE WITH A PRELIMINARY MAGNITUDE OF 8.2 OCCURRED
    OFF THE COAST OF CHIAPAS, MEXICO AT 0449 UTC ON FRIDAY
    SEPTEMBER 8 2017.
  * TSUNAMI WAVES HAVE BEEN OBSERVED.
  * BASED ON ALL AVAILABLE DATA... HAZARDOUS TSUNAMI WAVES ARE
    FORECAST FOR SOME COASTS.
TSUNAMI THREAT FORECAST
-----------------------
  * TSUNAMI WAVES REACHING MORE THAN 3 METERS ABOVE THE TIDE
    LEVEL ARE POSSIBLE ALONG SOME COASTS OF
      MEXICO.
  * TSUNAMI WAVES REACHING 0.3 TO 1 METERS ABOVE THE TIDE LEVEL
    ARE POSSIBLE FOR SOME COASTS OF
      AMERICAN SAMOA... ANTARCTICA... COOK ISLANDS... ECUADOR...
      EL SALVADOR... FIJI... FRENCH POLYNESIA... GUATEMALA...
      KIRIBATI... NEW ZEALAND... SAMOA... TOKELAU... TUVALU...
      VANUATU... AND WALLIS AND FUTUNA.
  * TSUNAMI WAVES ARE FORECAST TO BE LESS THAN 0.3 METERS ABOVE
    THE TIDE LEVEL FOR THE COASTS OF
      AUSTRALIA... CHILE... CHINA... CHUUK... COLOMBIA... COSTA
      RICA... GUAM... HAWAII... HONDURAS... HOWLAND AND BAKER...
      INDONESIA... JAPAN... JARVIS ISLAND... JOHNSTON ATOLL...
      KERMADEC ISLANDS... KOSRAE... MALAYSIA... MARSHALL
      ISLANDS... MIDWAY ISLAND... NAURU... NEW CALEDONIA...
      NICARAGUA... NIUE... NORTHERN MARIANAS... NORTHWESTERN
      HAWAIIAN ISLANDS... PALAU... PALMYRA ISLAND... PANAMA...
      PAPUA NEW GUINEA... PERU... PHILIPPINES... PITCAIRN
      ISLANDS... POHNPEI... RUSSIA... SOLOMON ISLANDS...
      TAIWAN... TONGA... VIETNAM... WAKE ISLAND... AND YAP.
  * ACTUAL AMPLITUDES AT THE COAST MAY VARY FROM FORECAST
    AMPLITUDES DUE TO UNCERTAINTIES IN THE FORECAST AND LOCAL
    FEATURES. IN PARTICULAR MAXIMUM TSUNAMI AMPLITUDES ON ATOLLS
    AND AT LOCATIONS WITH FRINGING OR BARRIER REEFS WILL LIKELY
    BE MUCH SMALLER THAN THE FORECAST INDICATES.