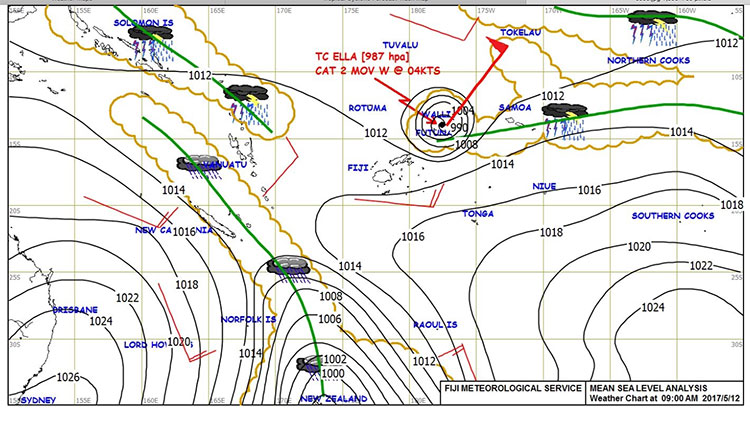 As Tropical Cyclone  Ella moves away from Tonga it is expected to weaken and track to the north of Vanua Levu in Fiji on Saturday.
FijiMet advised that at 6:00am this morning, May 12, TC Ella was located about 280km northeast of Cikobia or 310km northeast of Udu Point, near 14.3 degree South latitude and 177.8 degree West longitude.
It has a central pressure of 987 HPA and was moving west at about 7km/hr (about 4 knots). Close to its centre, the cyclone is expected to have average winds of up to 95 km/hr with momentary gusts up to 130 km/hr.
FijiMet stated that TC Ella is predicted to maintain a westward track and expected to move just to the north of Vanua Levu from the early hours of Saturday morning. On this track it is expected to lie about 185km northeast of Cikobia or about 225km northeast of Udu Point at 6:00pm today and is expected to be located about 120km northeast of Cikobia or about 135km north-northeast of Udu Point at 6pm tomorrow. It is anticipated to gradually weaken into a Category 1 system in the next 12 to 30 hours.
Tropical Cyclone Warning - A Gale warning is in force for Vanua Levu, Taveuni and nearby smaller Islands.