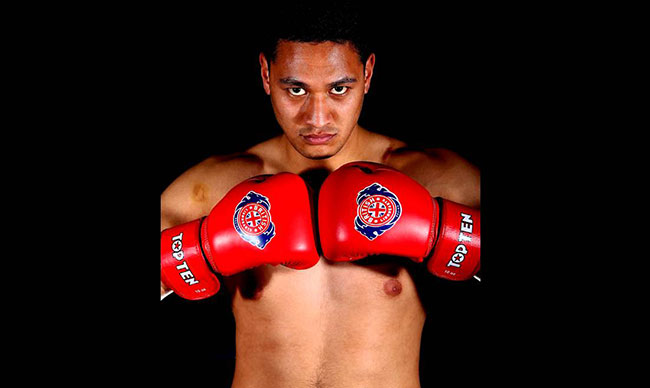 By Finau Fonua
Uaine Fa Jnr. (aka Junior Fa) remembers defeating New Zealand's champion fighter Joseph Parker back in 2012, in a qualifying amateur boxing competition for the London Olympics. Four years since that encounter, Fa is confident he can beat Parker again as a professional.
"To this day they probably still don't think that's a big deal. But the fact is still the same, which is that I beat Joseph Parker - and I was the last man to beat him", he told Matangi Tonga.
"I definitely look forward to the day that we do get to fight again. But that depends on me, if I'm really good with my career than we'll definitely get to fight again."
This Saturday December 10, Joseph Parker (24), a Kiwi-Samoan, will carry the weight of a nation and the hopes of all the Pacific Islands when he battles Mexican-American fighter Andy Ruiz for the WBO heavyweight title at the Vector Arena in Auckland. A win for Parker will put him into the history books as the first Pacific Islander to win a world heavyweight title belt.
Fighting in an undercard to this championship bout is "Junior" Fa (27) who will face Argentine fighter Pablo Magrini. Fa only started fighting professionally this year but already yields a record of eight fights, all wins - with five coming by way of knockout. His next opponent Magrini walks in to the ring with a record of 17 wins and only one loss.
"I think it's a very a good step-up, but the whole year I've been training really hard and this will be my last fight for the year so I want to finish it well," Fa said.
Fa represented Tonga as an amateur and won a bronze medal at the 2010 Commonwealth Games in India. More significantly, however, Fa was the last man to have defeated Parker, a fight which took place in 2012.
For Parker, Saturday night might well be the night he becomes champion of the world. For Fa it is one more step forward in a journey towards getting a title shot.
"The whole world is watching this fight so I want to make a good statement," said Fa.
Fa-Parker rivalry
Born and raised in Auckland, Fa is little known by the New Zealand public but is well known by the New Zealand boxing establishment. In 2012 he shot down their Olympic hopes when he defeated Parker in a qualifying competition for the London Olympics. The fight was the last of four amateur boxing bouts fought between Parker and Fa, and was a climatic end to a long-standing rivalry between the two.
Fa recounted, "It wasn't a bad rivalry. It was just that we were both the top heavyweights, so we always met. Things are pretty cool with us but I definitely look forward to the day that we do get to fight again."
"The thing with Parker is that he hits fast and he hits hard. With a fella who hits fast and hard, you don't want to trade with him. You have to pick your shots and you got to move. That's basically what I did with the fights that we had and I won them."
"To this day they probably still don't think that's a big deal. But the fact is still the same, which is that I beat Joseph Parker - and I was the last man to beat him."
"They should see me as a threat"
"If they don't see me as a threat then they're fooling themselves. They should see me as a threat. If they don't see me as a threat, then they're suckers."
After Parker lost to Fa and failed to make it to make it to the 2012 Olympics, Parker turned professional in 2012.
Fa, on the other hand, remained an amateur and travelled to England where he was invited to train in British boxing gyms and sparred with British heavyweights such as Anthony Joshua and Joe Joyce. Fa, himself a 6' 5" heavyweight, was impressed.
"Those guys are massive. Their physiques are crazy, man. Joshua is a freak, he's just like one of those freaks – he hits hard, probably the hardest puncher I've ever been in with," said Fa.
"When I was over there, training was really hard and I learnt heaps from there."
Fa later returned to New Zealand and took a break from boxing, got married and settled down in Papakura with two kids.
Earlier this year he decided to return to the boxing ring to begin his professional career and so far has successfully climbed up the ladder. But despite his success, Fa remains unpromoted and unable to train full time. He currently works as a maintenance man for restaurants around Auckland.
"I still have to work to pay for the bills and to pay for the nappies – I used to work as a foreman, work at a factory. That job wasn't too bad but it was physically draining. I used to train before work and then I would train after work. I'd be so tired driving after work because I had such a long day. I would slightly fall asleep at the wheel."
In search of a promoter
"I've got a great team behind me, I have great coaches and great trainers, a great physio and a great manager. All I need now is a promoter – looking for a promoter and sponsors that are willing to back me up. With a promoter, it would make things so much easier," he said.
"That's why I want to do well in this upcoming fight. Hopefully someone will pick up on it."
"The break I took off boxing did a lot of good for me. It gave me time to get my mind right. It gave me time to get married and to have two beautiful kids. My time off boxing gave me time to look at my fights and to see where I needed to improve. I kept on watching other pros to learn from them.
"My favourite fighter to watch is Evander Holyfield. He was a warrior. That fella beat up Mike Tyson. Nobody thought that he would. But he didn't care, he just went in there and actually beat him up."
Fa knows it won't be easy, but remains confident in himself to become a world heavyweight champion.
"In two years' time I want a title fight – I'll be ready for them. With the right training and with the right fights."
Proud Tongan
Uaine Fa Jr (Junior Fa) is a proud New Zealander and states Papakura as his hometown. But despite being New Zealand born and raised, Fa decided to represent Tonga as an amateur. He was the flag bearer for Tonga at two Commonwealth games.
"It made a whole lot more sense because my coach at the time was Lolo but he was also the Tongan coach, so I'd rather go to a tournament represent Tonga and being with my trainer, rather than fight for New Zealand and being with another trainer," said Fa.
"Plus I'm Tongan as well and I'm very proud of my parents and Tongan history so I wanted a chance to represent them as well".
Fa's father is from Ha'alaufuli in Vava'u while his mother is from Matangiake in Tongatapu.
"I've been to Tonga twice but I still haven't been to Vava'u yet. My parents didn't really teach us Tongan – growing up I didn't really pick up the language. It's pretty stink, I really want to learn the language."
"I remember when they told me that I was going to be the flagbearer, I was so happy and so were my parents."
"Tonga is small but it's talented. At the moment rugby is the national sport, but I would love to see boxing become the national sport," he said.
The Parker vs Ruiz championship event will kick off this Saturday December 10th at the Vector Arena in Auckland. The first undercard of the event will start at 6:00 pm (New Zealand time).