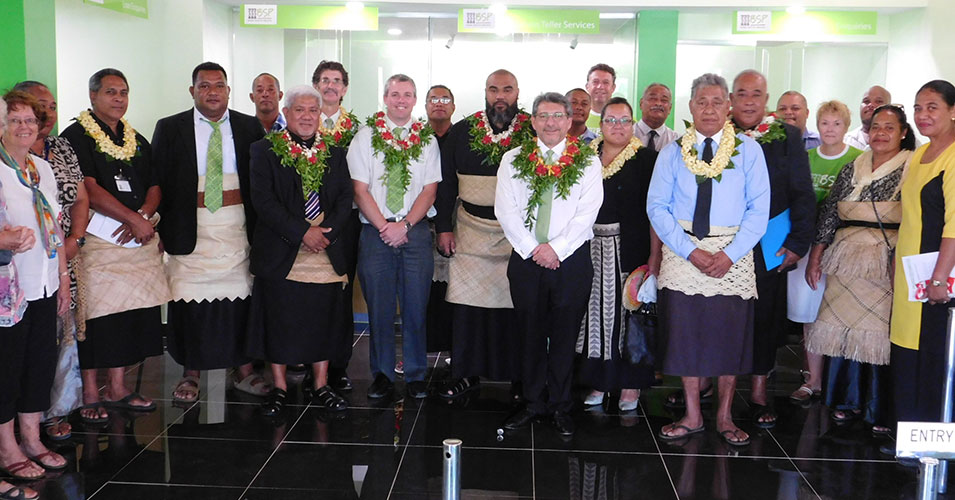 When Bank of South Pacific Tonga Limited opened its door just over 15 months ago, one of its strategic goals was to open branches in Ha'apai and 'Eua. 
Last week the people of Ha'apai and 'Eua began enjoying the benefits of having a commercial bank at their doorstep to service their banking needs. To reinforce the bank's commitment to making banking easier, each island also has a fully Automated Teller Machine (ATM) installed.
BSP Country Head, Daniel Henson said, "When we opened our door, community feedback indicated a need for outer island branches. Today, I'm pleased to deliver on that promise."
The branch in Vava'u has undergone major renovations, including the installation of another ATM. It was opened last week by the Governor of Vava'u, Lord Fulivai. The ceremony was attended by the Chairman of Bank South Pacific, Sir Kostas Constantinou OBE; the CEO of Bank South Pacific, Robin Fleming; and the Governor of National Reserve Bank of Tonga, Dr. Sione Ngongo Kioa.  
The BSP 'Everywhere Banking' team supports the outer islands by delivering financial literacy workshops to communities.
Mr Henson was pleased with the result. "On behalf of the Bank of South Pacific Tonga Limited, I would like to personally thank the people of these islands for welcoming us and we will continue to best serve you and your business."