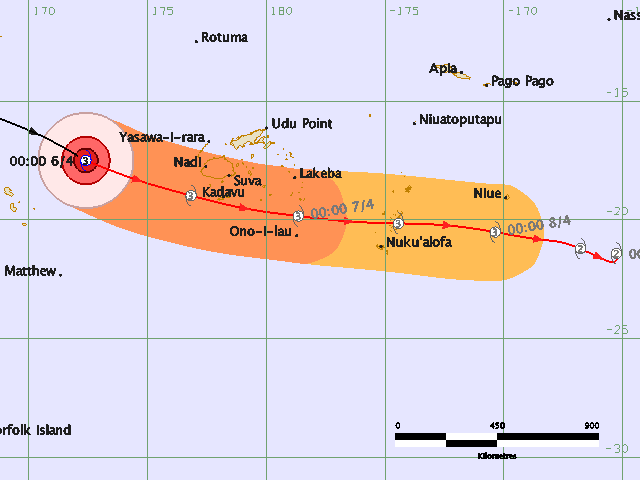 A new cyclone is threatening children and families in Fiji, UNICEF warned this afternoon.
Only weeks after Category 5 Cyclone Winston ripped through the Fiji Islands, affecting 40% of the population, Fiji is once again facing extreme weather conditions due to the presence of three tropical disturbances, one of which has formed into rapidly-intensifying Cyclone Zena.
The tropical disturbances have caused widespread flooding across large parts of the country, including areas already badly affected by Cyclone Winston. Many rivers have broken their banks; high tides linked to the new moon are also of concern, UNICEF reported in a statement.
Cyclone Zena is predicted to pass through Fiji at Category 3 strength on April 6-7, travelling along the southern coast of Viti Levu, home to more than 70% of Fiji's population.
Winds have already increased and wind gusts of up to 120kph are expected. Viti Levu's southern coast includes Fiji's densely-populated capital Suva.
In Suva, UNICEF Pacific Representative, Dr Karen Allen said "The flooding and rains associated with these tropical disturbances could not come at a worse time for children and families in Fiji. These are the same families that were directly affected by Cyclone Winston just over a month ago. Far too many are sheltering under tarpaulins, pieces of salvaged corrugated iron, in tents or again in evacuation centres."
Many people are still in evacuation centres following Cyclone Winston, numbers seeking shelter are once again increasing due to the latest flooding.
Dr Allen added, "This poses significant threats to the health and wellbeing of children and families. Flooding and displacement like this exponentially increases the risk of all types of disease spreading quickly, especially diarrhoea, skin disease, eye infections and respiratory infections. The risk from diseases spread by mosquitos such as dengue and zika virus also increase."
"At a time like this we are also deeply concerned about the emotional wellbeing of children and families who have already been living under conditions of extreme stress since Cyclone Winston. For families who have already lost everything this will be a huge setback to their recovery efforts."
UNICEF is closely monitoring the situation and will be joining rapid assessment missions to affected areas. The cyclone season has been especially unpredictable in the South Pacific, due to the effects of El Niño.