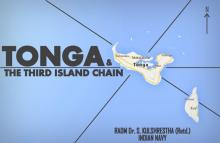 In the maritime arena, Tonga is grappling with security of its extensive coastline as well as policing of its 676,401 sq km territory. Its remote location makes it a fertile region for transnational crime, while unauthorized exploitation of its fisheries and marine wealth in its coastal waters as well as in its EEZ has direct impact on its national economy and security, according to an article about the future security of the region that was published last week.
"Tonga has insufficient physical and electronic monitoring resources to remain updated about the real time situation in its vast area and is severely constrained as far as Maritime Domain Awareness (MDA) is concerned," states retired Rear Admiral Dr S. Kulshrestha of the Indian Navy, in an opinion piece titled "Tonga & the Third Island Chain", published in the IndraStra on 25 February.
He explained that currently Tonga with its outlying islands is susceptible to gun running, narcotics, human trafficking and other criminal activities, in addition to unauthorized exploitation of its fisheries and marine wealth.
He goes further to argue that Tonga should listen to the policy advice of the US government, and also that India might assist Tonga in the setting up of its MDA infrastructure to strengthen maritime security.
RADM Dr Kulshrestha refers to a security strategy concept called the "Third Island Chain", and stated, "An important factor that has to be considered while discussing the Third Island Chain is that Tonga is being aggressively wooed by China, even though there are only about 300 Chinese residents as per some estimates."
Three Island Chains
RADM Dr S. Kulshrestha said that back in 1951 John Foster Dulles of the USA propounded the Island Chain Concept, comprising of three island chains for a strategic containment of the USSR and China.
"The phenomenal economic growth followed by upgrading of military capabilities of PLA and the subsequent claims on islands in the South China Sea, probably led Mr Shizo Abe, the Prime Minister of Japan, to articulate the 'Asian Security Diamond' in 2013. He called upon India, Australia, and Hawaii (U.S.) to form a strategic coalition for safeguarding the maritime commons comprising the Indian Ocean and the Western Pacific. The Japanese Prime Minister has also approached France and United Kingdom to join this Asian Security Diamond keeping in view the significant strategic presence of these two countries in the IOR and the Western Pacific."
RADM Dr Kulshrestha explained that the key component of the First Island Chain was Taiwan; it extended from northern Philippines and Borneo, up to Kuril Islands.
The second line of defence was from Mariana Island to  the islands of Japan.
The Third Chain's key component was Hawaii; it began at Aleutians and ended in Oceania. He said the Polynesian Link in the Third Island Chain was more relevant today as China came more strongly into the regional picture.
"The Third Island Chain as espoused by Dulles; from the Aleutians to Oceania with Hawaii as a key component, has started to assume relevance with an assertive China militarizing disputed islands. The New Zealand –Tonga – Hawaii link within this chain could play a significant role at least as far as Maritime Domain Awareness is concerned. Whereas, New Zealand and Hawaii may not need any benign assistance, Tonga, with its 177 islands spread over an area of ~700,000 sq km in southern Pacific Ocean, is a different story," he stated.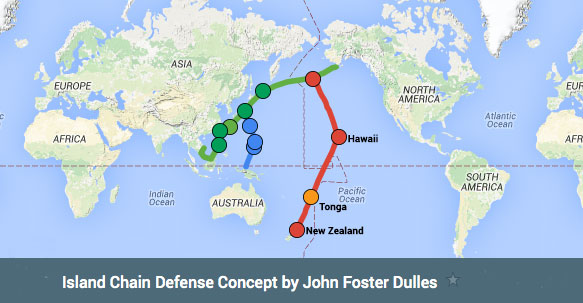 "As regards applicability of MDA to Tonga it would be prudent to take a cue from the definition and scope of MDA, as has been articulated by the US government vide their document National Security Presidential Directive 41, 2004.
"Maritime Domain Awareness is the effective understanding of anything associated with the global maritime environment that could impact the security, safety, economy or environment of U.S. This is accomplished through the integration of intelligence, surveillance, observation, and navigation systems into one common operating picture that is accessible throughout the U.S. Government."
"Unlike traditional naval operations, it is apparent that the goal of MDA is far more than simply looking for potential maritime enemies poised to attack Tonga," RADM Dr Kulshrestha stated.
"The implications of 'anything associated' with the maritime environment that can affect the security, safety, economy, or environment go far beyond a classic maritime threat. As per the U.S. interpretation, these include smuggling of people or dangerous cargoes, piracy, proliferation of Weapons of Mass Destruction, identification and protection of critical maritime infrastructure, oil spills, weather, and environmental concerns among other events.
"What Tonga needs today is a robust MDA along with a rapid air and sea transportation capability," he stated.
India has been participating in bilateral and multilateral strategic dialogues in the region including those involving Japan, Australia, and the US and the Indian Navy has participated in various naval exercises. However, India has not joined any group, which directly aims at containment of China.
"India maintains cordial relations with nations in the Pacific; however, Tonga and other smaller nations in the South Pacific Ocean aspire for more attention from India. India could assist Tonga, benignly, in setting up of its MDA infrastructure. This would not only enhance the potency of the Polynesian Island link in the Third Island Chain, but also strengthen Tonga's maritime security," he stated.