Tropical Cyclone Advisory Number Four for Tonga on tropical depression 03F issued from the Fua'amotu Tropical Cyclone Warning Centre at 4:00pm Saturday 28 November 2015
A gale warning remains inforce for the Niuas.
A strong wind warnings remains inforce for Vava'u, Ha'apai,Tongatapu and 'Eua.
A heavy rain warning remains inforce for the Niuas.
A gale warning remains inforce for all Tonga waters.
A heavy damaging swell warning remains inforce for all Tonga waters.
Situation:
Tropical depression TD03F center (996hpa) was located 14 decimal 2 south,174 decimal 3 west, or 200km north northwest of Niuatoputapu or 210km northeast of Niuafo'ou at 01:00 this afternoon.
Tropical depression 03F has estimated winds of 55km/hr near its centre and is currently moving Southeast at 25km/hour, the system is slowly intensifying and could possibly become a tropical cyclone in the next 6-18 hours.
For Niuafo'ou and Niuatoputapu:
Expect damaging gale force winds 55-65km/hr with momentary gusts up to 85km/hr.
Overcast with occassional rain, heavy at times with squally thunderstorms.
Flash flooding in low lying areas.high seas with damaging heavy southeast swells.
For the rest of Tonga:
East to southeast winds 55-60km/hr with gusts up to 70km/hr.
Cloudy with scattered showers, heavy at times.
Rough to very rough seas. A moderate to heavy damaging southeast swell.
Tide predictions:
Low  tide : 03:10pm
High tide : 09:20pm
The mean sea level pressure recorded at Fua'amotu at 4:00pm was 1010.4 millibars and the relative humidity was 68%.
The next Tropical Cyclone Advisory for Tonga will be issued at 10:00pm or earlier this evening (28/1½015) by www.met.gov.to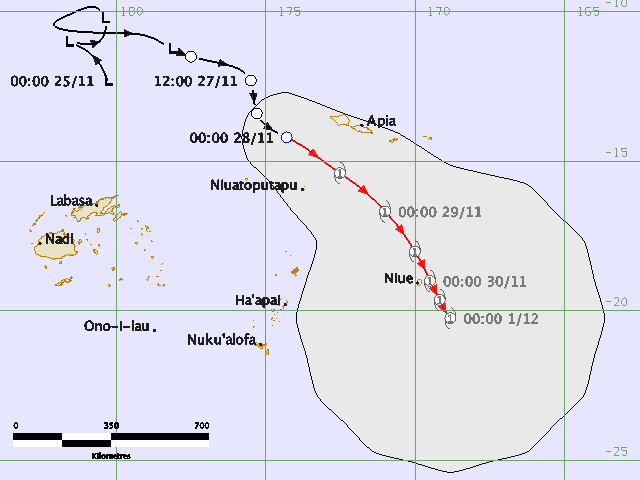 Meanwhile the RSMC Nadi Tropical Cyclone Warning Centre forecasts the track of the tropical depression over the next few days will take it to the east of Tonga. The forecast path shown above is the Nadi's best estimate of the cyclone's future movement and intensity. There is always some uncertainty associated with tropical cyclone forecasting and the grey zone indicates the range of likely tracks.