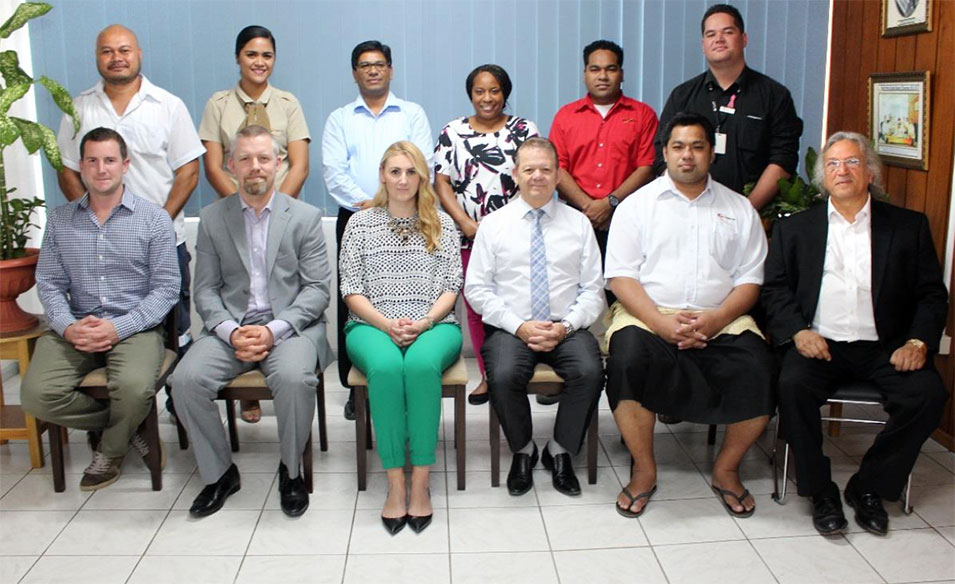 Front Row (L to R): Toby Ryan (Field Engineer, Itron), Glen Richardson (System Consultant, Itron), Ana Maneva (Itron Project Manager, Itron), Robert Matthews (CEO, Tonga Power Ltd), Lualala Tapueluelu (Project Manager, Tonga Power Ltd), Moustafa Nazif (Senior Manager, Itron).
Back Row (L to R): Viliami Ongosia (Project Engineer, Tonga Power Ltd), Jane Guttenbeil (Marketing & Communications Advisor, Tonga Power Ltd), Ajith Fernando (Risk & Compliance Consultant, Tonga Power Ltd), Katrina Polk (Senior Product Line Manager, Itron), Peifaga Fuiono (Senior IT Technician, TPL), Nikolasi Fonua (Strategic Development Manager, TPL).
--
Tonga Power Ltd (TPL) is taking the next step in the continuing modernization of its network to provide customers a more efficient and reliable electricity supply.
Tonga Power is to begin deploying 'smart meters' to more than 15,000 customers on Tongatapu early next year. The first stage of the project entails the deployment of 3000 meters, focusing primarily at customers that are vulnerable to financial constraints with the option for prepayment of their electricity.
Smart meters play a critical role in shaping the electric grid of tomorrow and enabling the integration of new technologies and innovations across our Network. As the power grid evolves into a broad platform with the integration new sources of renewable energy and technologies, the ability to connect legacy assets and systems and integration of new technologies is critical and smart meters supports this revolution.
Changing the existing electric meter with the new smart meter is part of Tonga Power's plan to improve electricity services to our consumers and in general to the people of Tonga. Smart Meters will allow TPL to offer alternative methods of billing and paying for electricity such as prepayment. It will also allow TPL to monitor more closely the quality of power that we are providing to our customers.
TPL's CEO, Robert Matthews, says, "The rollout of Smart Meters across TPL network is a significant step in offering our customers a pre-payment option (pay as use electricity). The meters can be remotely interrogated by TPL head office to provide important customer usage and billing information including quality of supply and
performance of our electricity network. The next five years will see the further deployment of more than 20,000 meters throughout the Kingdom of Tonga".
The technology will help eliminate the relatively high number of disconnections each month and improve Tonga Power's customer service.
Itron, a world leading technology and services company, dedicated to the resourceful use of energy and water, has been selected to provide OPENWAY RIVA™ technology to Tonga Power for this specific project. With this new system, OpenWay Riva will enable in-depth energy management with TPL's renewable integration and will play an important role in optimizing our network communications.
OpenWay Riva is a technology platform developed by Itron that significantly enhances the capability of its OpenWay smart grid solution by delivering high performance communications and innovative distributed applications to solve critical challenges facing the world's power grids.
TPL's Project Manager, Lualala Tapueluelu, said "The technology has been under development throughout the last decade with Tonga Power Ltd deploying its latest release. This system will enable Tonga Power to monitor conditions and performance of the electricity network at each customer's network connection".
Manufactured in the United States of America, the smart meters are intelligent energy meters that can operate in prepayment or credit mode. It provides accurate information on consumption and customer costs direct to TPL in real time. The new technology can detect technical problems or faults in the supply of electricity, thus minimizing the disruption to customers.
The OpenWay Riva deployment includes the installation of a smart meter device on every connection to our network in Tongatapu connecting the system to TPL's back office through a mesh radio network. This system enables dynamic selection of the optimal communications path based on network operating conditions, data attributes and application requirements.
A one week workshop was conducted at TPL's head office, Nuku'alofa by a team of engineers from Itron which offered a comprehensive understanding of the works to be completed throughout the life cycle of the project, and setting parameters and expectations for both Tonga Power Ltd and Itron.
jguttenbeil [at] tongapower [dot] to