Photos by Linny Folau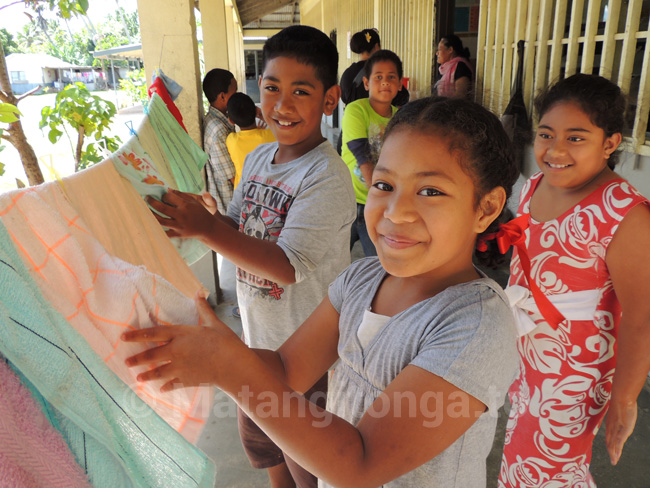 "Raise a hand for hygiene," is this year's theme for Global Handwashing Day, marked annually worldwide on October 15 to motivate and mobilise people to wash their hands with soap to keep communities healthy.
In Tonga, more than 300 young students at Kolomotu'a Government Primary School have daily access to clean water and soap to wash their hands, right outside their classrooms, making it easy for the youngsters to enjoy the habit of washing their hands frequently.
Fapiola Leka a teacher for Class 4 said the school provides each class with a bowl, bucket and jug for their daily hand washing activity and students bring the soap and hand towels to for use at school.
"They wash their hands before each class in the morning and after lunch. We have their hand towels hanging outside the classroom verandah to dry their hands after every handwash," she said.
Fapiola said their school teaches students the importance of cleanliness and washing their hands with soap because good hygiene is very important to their healthy living.
Bots and flus
Global Handwashing Day, recognised by the UN, was initiated to reduce childhood mortality rates related respiratory and diarrhoeal diseases by introducing simple behavioural changes hand washing with soap. This simple, accessible action can, according to research, reduce the rate of mortality from these diseases by almost 25 and 50 per cent, respectively.
In promoting Global Handwashing Day, the Global Public-Private Partnership for Handwashing said the theme is action-oriented and can be used particularly well for advocacy. "Every year, 1.7 million children do not live to celebrate their fifth birthday because of diarrhoea and pneumonia. Handwashing with soap is among the most effective and inexpensive ways to prevent these diseases. This simple behavior can save lives."
"You can and should identify yourself as a hygiene champion. This can help create a strong social norm of good hygiene in a school, community and region. Global Handwashing Day is a good opportunity to ask governments to fulfill this important role," they stated.
This year marks the 8th annual Global Handwashing Day on October 15 and this observance increases awareness and understanding of handwashing with soap as an effective and affordable way to prevent disease around the world.