By Pesi Fonua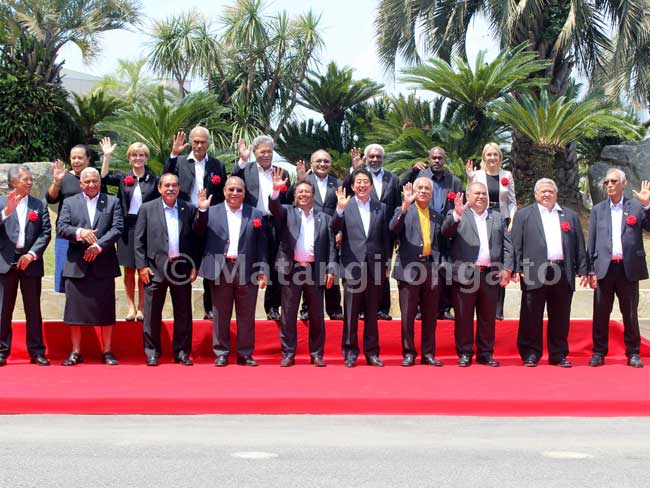 Japan's Prime Minister Shinzo Abe pledged 55 billion Yen to 14 Pacific Island Countries (PICs) to foster resilience against climate change and disaster, this morning 23 May 2015 in Iwaki, Fukoshima.
The 55 billion Yen grant is an increase from the 40.0 billion Yen that Japan granted to the 14 Pacific Island Countries in PALM6, 2011.
PM Abe made the announcement when he officially opened the seventh Pacific Island Leaders Meeting (PALM) forum at the Hawaii Hotel, Iwaki.
Iwaki City, in the Fukushima Prefecture is recovering after being struck by the Great East Japan Earthquake in March 2011.
During his opening address he reassured Pacific Leaders that despite the vast ocean, that separates the people of the Pacific, "Long gone are the days . . . that we had to lament the distances between us. Now is an age in which we both cultivate and celebrate our common identity as Pacific citizens."
He encouraged Pacific Leaders that to be able to face the fury of nature, "we must bring to each other our wisdom and experiences, while maintaining connections in which we help each other out at any time.
"What will help us achieve this goal well is a community committed to the equality of all before the law, which places importance on democracy and has great regard for the human rights of each individual."
". . . We should have a two-way relations that are as level as the horizon itself and entirely free of threats using force or coercion. That is the order for a society of Pacific citizens."
PM Abe ended his opening speech with a number of questions:
In order for our innumerable islands to leave as an inheritance to future generations the diversity of the cultures we each developed and our natural diversity, what is the pathway to growth that we should choose?
Shall we not also launch a gathering of ministers responsible for promoting tourism?
Let us always reaffirm our view that we are not far from each other but close by, shall we not?
PM Abe told Pacific Leaders that the "To Do" list is long indeed, but he informed them that Japan is working to boost the momentum of reforming the United Nations. He said that he was looking forward to meeting Pacific Leaders this Autumn "on the sidelines of the United Nations General Assembly."
In a joint Press Conference by PM Abe and the President of Palau HE Mr Tommy E. Remengesau at the conclusion of PALM 7 forum, PM Abe formally announced the Fukushima Iwaki Declaration.
The Fukushima Iwaki Declaration covered seven topics:
Disaster risk reduction
Climate change
Environment
People-to-People exchanges
 Sustainable development
Oceans: maritime issues and fisheries
Trade, investment and tourism.
In a bilateral talk with Hon 'Akilisi Pohiva later in the day, PM Abe also announced a grant assistant of 3.3 billion Yen to the Tongan government for the upgrading of wharfs.
PM Abe also expressed his wish that the two governments will develop as similar close relations and tie as that between the Royal family of Japan and that of Tonga.
He congratulated Hon. 'Akilisi Pohiva on the coming coronation of HM Tupou VI, and said that they had yet to confirm who would be travelling to Tonga to attend the Coronation.
Yesterday, May 22, the Japanese Government also pledged 1.5 billion Yen for a Green Planet Fund for Pacific Island Countries for climate change resilience.