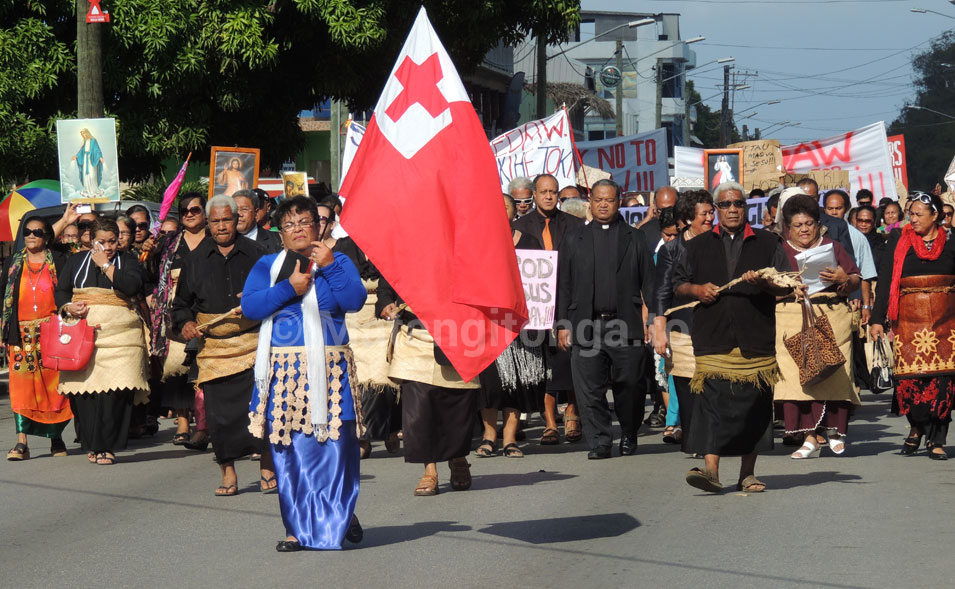 Waving pictures of Jesus and placards in opposition to the United Nation's Convention on the Elimination of Discrimination Against Women (CEDAW), Tonga's Catholic Women's League today marched to Parliament to present a petition.
Lady 'Ainise Sevele, the Assistant President of Tonga's Catholic Women's League with the Vicar-General Monsignor Lutoviko Finau and other church members led the march of about 300 people. Lady Sevele said the petition had more than 2000 signatories, calling for the Government of Tonga not to ratify the United Nation's CEDAW convention for women.
The petition was presented to the Speaker of the House, Lord Tu'ivakano, by Joyce Afeaki the assistant treasurer of CWL, accompanied by Hifoileva Papa Fifita CWL Secretary and Monsignor Finau.
The main reasons for their opposition is because they believe that the convention, which seeks to eliminate discrimination against women, clashes with their Christian faith and does not concur with the fundamental values of Tonga's family life.
The Speaker and Deputy Speaker Lord Tu'i'afitu and some MPs came out to the Parliament's gate and greeted the marchers after the petition was presented.
The march from the Catholic Basilica began with prayers and ended with prayers with hymns sung during the march. One placard called for " 'Akilisi and your government step down!". Another placard warned of doom.
Parliament opens next week on Thursday, 28 May. The government announced to the UN in March this year that it intended to ratify CEDAW.