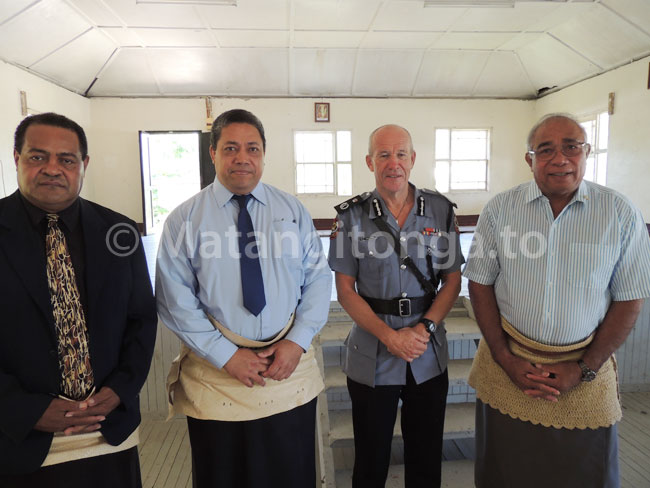 From left, Rev. Fili Lilo, Dr Siale 'Akau'ola, Police Commissioner Grant O'Fee and a dialogue member at St Paul's Hall, Nuku'alofa, March 19, 2013.
Tonga recorded 98 suicides over the last 12 years, and most were male and under the age of 30 years, Tonga's Police Commissioner Grant O'Fee told a local consultation on suicide trends and risk that started on March 19.
During the three-day dialogue stakeholders are expected to develop strategies for an Awareness and Outreach Program to the community that will be conducted in April.
The consultation organized by a National START Study Committee is chaired by Rev. Fili Lilo, Secretary of the National Forum of Church Leaders with members from the Ministry of Health, Police, Internal Affairs (district officers), Crown Law office and WHO.
The START (Suicide Trend at Risk Territories) dialogue brings together stakeholders who have special interest and expertise on suicide and looks for ways they might assist the community to prevent suicides.
Rev Lilo said the committee plans to start holding various consultations in districts throughout Tongatapu starting in April. "We want to develop coherent strategies for an awareness and outreach program on suicide," he said.
It is understood that a National Monitoring Survey on suicide was signed last week between the Commissioner of Police, the Director of Health Dr Siale 'Akau'ola, and Rev. Lilo. The survey will enable suicide statistics to be submitted to a coordinator of the committee Silia Fainga'a for analysis.
Suicide
Commissioner Grant O'Fee told the consultation in the period 2000-12 police recorded a total of 98 suicides. He said 90 were male and eight female, while 69 were under the age of 30 years. "In 2012 there were 10 suicides and we have had one or two this year," he said. "I am not expert on the issue but any sort of discussion held on the topic by a powerful group like the churches in Tonga is good," he said.
Participants included district officers, government representatives from the Ministry of Internal Affairs and Health, with the National Youth Congress, Salvation Army, media and church members attending.
Dr Siale 'Akau'ola was supportive of the consultation, which is sponsored by church leaders and the Ministry of Internal Affairs.