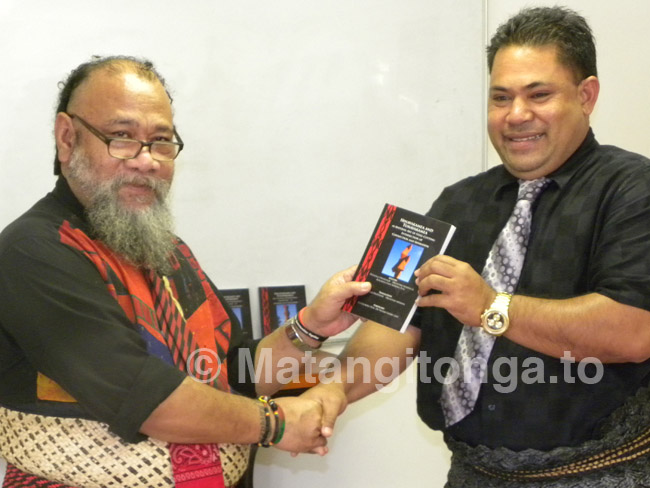 Professor 'Okusitino Mahina and Dr Viliami Latu
Two brown sculptures erected at the entrance to the newly restructured Vuna Wharf, are the subject of a new catalogue that was launched by the Minister of Tourism Dr Viliami Latu and Professor 'Okusitino Mahina on June 22.
The publication titled "Hinavakamea and Tunavakamea, as material art of steel-cutting intersection of connection and separation," offers an explanation of the sculptures.
Professor 'Okusitino Mahina one of the authors of the catalogue said that the sculptures produced by a Tongan multi-media artist Semisi Fetokai Potauaine, are artistic impressions of the beautiful maiden Hina and her beloved eel. One is called "Hinavakamea Hina-the-iron-boat" and the other, a mirror image, is called "Tunavakamea, Tuna-the-iron-boat".
Copies of the catalogue in Tongan and English were presented to the sponsors of the book project, including the CCECC General Manager Mr Yang;  the Acting CEO of Tonga Communication Corporation Mr Rizvi Jurangpathy; and the incoming CEO for the Ministry of Commerce and Tourism, Tatafu Moeaki.
Art
The two sculptures were commissioned under the first project of a new National Arts Program initiated by the Minister of Tourism, which he stated aimed to use the uniqueness of the Tongan culture and heritage in promoting and marketing Tonga as a tourism destination. Dr Latu said this was a crucial part of the Ministry's long term plan and vision and he hoped that the new Minister for Tourism and CEO would continue the program.
"The uniqueness of the Tongan culture and heritage is an invaluable asset that should be emphasized in realising the real potential of tourism as a leading sector for economic growth and development in Tonga," he said.
Another art project in the pipeline was that the Mayor of Auckland had agreed to bring artwork by Tongan artist Filipe Tohi to be displayed on the outside wall of the Narottams store facing the new parking space in the CBD.
The authors of the catalogue include the artist Semisi Fetokai Potauaine, Professor Mahina,  and Dr Latu, with Mele 'Alatini, Maui-Tava-He Ako Professor Tevita O Ka'ili, Kolokesa Uafa Mahina-Tuai and Bruce Sione To'a Moa.
The unveiling of the sculptures, the launch of the catalogue and the inauguration of Tonga's National Public Art Program are part of the opening of a new wharf.
The landscaping of the entrance to the wharf has not been completed, and a date for opening the cruise ship wharf has not been confirmed.