Above, Tonga Women's Soccer team, Oceania competition 2012
The clash between the Tonga and Samoa women's soccer teams at Loto Tonga this afternoon, as expected was a hard-fought encounter between the two Polynesians sports rivals, but Tonga got the game under control from kick off and the score was 6-1 at the break.
Laite Si'I Manu got things rolling when she potted the first goal for Tonga early in the first half.
After Laite opened the door to the scoreboard, Piuingi Feke went in and slotted four goals, one after the other, until Kiana Mu'amoholeva closed the scoring for Tonga in the first half with a goal to make it 6-0.
Samoa gave it a final burst in the dying seconds of the first half and Hazel Peleti was successful with a goal just before the break, but unfortunately, Hazel twisted her knee in the process and she was rushed off to hospital.
At the break the score was 6-1.
Samoa came out firing in the second half, but unfortunately under the heat of the early afternoon sun, a scuffle broke out, and referee Nelson Sogo showed Henifa Bryce and Laite Su'I Manu Red Cards and sent them off the field for the rest of the game.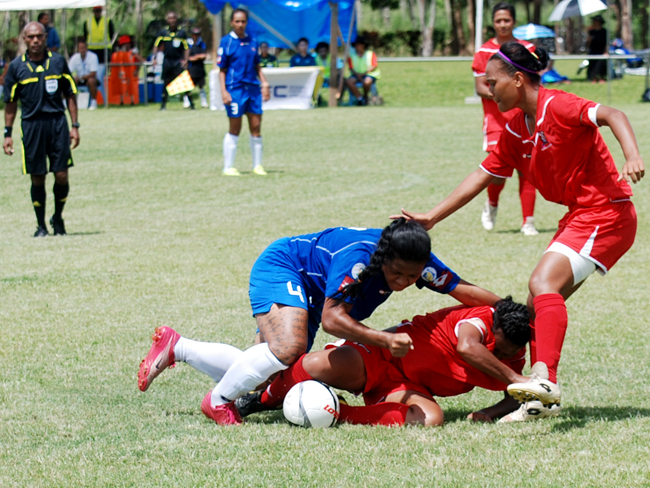 Above, Samoa's Henifa Bryce gets physical with Tonga's Laite Si'i Manu at the start of a red card incident
The contest between the two teams became more intense, but at full time the score remained at 6-1.
A victory for Tonga means that they will play Papua New Guinea in the final for the OFC Women's Olympic Qualifier 2012 on Wednesday March 7. Papua New Guinea had beaten Tonga 2-0 in their first encounter on Saturday March 3.
The winner on Wednesday will go and to meet New Zealand, a decider for who will represent the region in Women's Soccer at the 2012 Olympic in London during July/August.
The final games on Wednesday, March 7, Papua New Guinea will meet Tonga for the gold and the silver medals of the OFC Women's Olympic Qualifier, while Samoa and Vanuatu will play for the bronze.
On Saturday, March 3 Samoa beat Vanuatu 4-3.
The Tongan and the Samoa teams:
Tonga
1. Lupe Likiliki (gk) (c)
2. Sofia Filo
3. Buccilea Ongolea
5. Laite Si'i Manu
6. Mele Soakai
7. Sala Veamatahau
8. Salome Va'enuku
9. Kiana Mu'amoholeva
10. Piuingi Feke
11. Koni Vungamoeahi
18. 'Ofa La'akulu<
Substitutes:
21. Sia'ila La'akulu (gk)
22. Tangimausia Ma'afu (gk)
4. 'Eseta Vi
12. Vea Funaki
13. Wendy Feke<
15. Wenonah Fautoke
16. Tania Silakivai
17. Malia Leone
19. Pauline Tonga
Coach:
Lui Muavesi
Goals:
5. Laite Si'i Manu
10. Piuingi Feke
9. Kiana Mu'amoholeva
Expulsions:
5. Laite Si'i Manu
Samoa
1. Marielene Papalii (gk) (c)
2 . Tanya Bryce
3. Avondale Sasi
4. Henifa Bryce
5. Lanuola Mulipola
6. Rosemarry Alauni
9. Faata O'brien
10. Tamasailau Leuta
12. Sa Faapusi
13. Lelaua Laupepa
14. Hazel Peleti
Substitutes:
22. Mary Ah Siu (gk)
8. Faanunu Ropeti
11. Malelega Seko
15. Aliialofaifaleupolu Moataa
16. Faasega Okceffe
17. Fiataua Sikoti-Piula
19. Felanuai Iopu
Goals:
14. Hazel Peleti
Expulsions:
4. Henifa Bryce