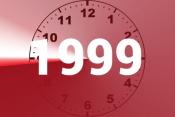 FROM OUR ARCHIVES
From Matangi Tonga Magazine Vol. 14, no. 1, January 1999.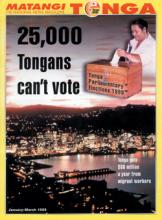 "

A diversity of views"
Matangi Tonga asks parliamentary candidates: How can the Tongan economy recover? How can more youth be employed?
The campaigning for Tonga's triennial Parliamentary Election, to be held on March 10-11, 1999, has been in full swing during February as Nobles' and People's candidates compete for the seats in the Tonga Legislative Assembly. This year there are 55 candidates for the nine People's Representatives seats.
Tonga's parliament, known as the Legislative Assembly, is made up on nine Nobles' Representatives elected by 33 nobles, nine People's Representatives elected by the rest of the 100,000 population, and 12 Cabinet Ministers appointed by the King.
The structure of the Tongan parliament was best described by King Tuafa'ahau Tupou IV in an interview with the Matangi Tonga in 1990, when he said: "The history of Tonga tells us that the governing of the country was carried out by the King himself. When parliament was installed it was then carried out by the King in partnership with the nobles, and then the People's Representatives were brought in, still to be in partnership with the King and the nobles to work together. Therefore, the aim of the Government of Tonga is to work together without any opposition.
"The kind of government that the Constitution was designed for was for a diversity of views to be presented, followed by a consensus agreement-government by consensus. It is different altogether from a government by opposition," the King said.
In Tonga, the People's Representatives stand as individuals and a seat in the House not only gives them a respectable income but more importantly is a platform for promoting their ideas and the ideas of the people they represent.
During the past few years there has been attempts by some of the People's Representatives to form a united front in opposition to the Nobles' Representatives and the Cabinet Ministers, whom some consider to be "the government". This notion has been very successful as a campaign banner. However, in preview elections while some candidates got into the House on this ticket, it fell apart once they enetered the House because the rest of the members of the House reacted by becoming the majority and this minority united front collapsed.
Another approach was to form political parties, and while several attempts were made in the last decade, Tongan politicians soon found that party politics were too restrictive and it was hard them to toe the party line all the time, particularly at tmes when they wanted to express their personal opinions.
The 1999 Parliamentary Election is an important one. To pull out of its current economic recessions Tonga needs members of parliament who can seriously work together with other members of the House to find solutions to the country's problems.
Matangi Tonga put two important questions to candidates to find out how prepared they were to tackle different economic questions in the House.
These were the candidates that were able to talk to and their answers to the two questions that we asked them:
If elected, what would you do to increase Tonga's Foreign Reserve and pull the country out of its economic recession?
What do you think Tonga should do to provide employment for its thousands of unemployed youth?
Tongatapu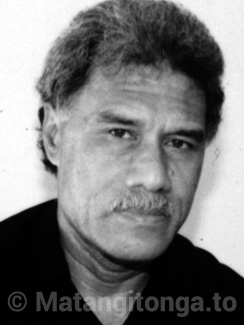 'Akilisi Pohiva
Standing People's Representative for Tongatapu, said to ask the Ministers who had the authority and were at the decision making level. He said he would raise motions in the Legislative Assembly for the development of marine resources.

'

Akilisi believed that Government ministers should negotiate for capital to develop industries to employ more people, and he would raise motions in the Legislative Assembly concerning these issues. "Give me the authority, a budget and then you can ask me this kind of question," he said.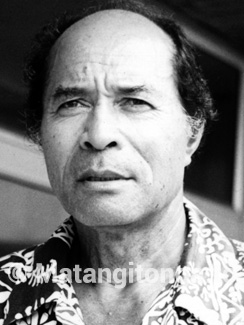 Sione Tu'i'onetoa
Sione, a retired teacher, said he would share his whole salary from the house among the 63 village committees in Tongatapu to start up village commercial projects. He would continue to finance these projects from his parliamentary salary until they were developed to a stage where they would be recognized and assisted by government.
He believed that Government was responsible to find work for these people,  and the proposed village committees should help government to fulfill their obligation.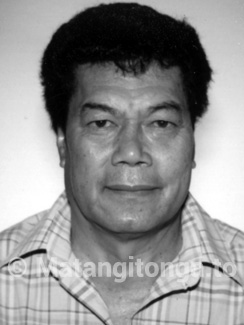 Sitili Tupouniua
A former

MP

and exporter, Sitili believed that Tongans should feel responsible and care for one another. The private sector needed to be encouraged and provided wih incentives to do their part. We needed to attract foreign investors through incentives and also to provide a harmonious social environment where they could feel secure and be able to conduct business transactions. We should improve our relationship with the Chinese and other foreigners who were living in Tonga.
He said that the school curriculum should be tailored to suit the abilities of students-because now it was to academic. There was also a need for more courses on trades and technical skills, preparing students for self-employment. Apart from educational institutions, the first place for children to learn these skills was at home, where they could learn how to plant and how to weave. With those basic skills there should not be any unemployment because there was still a lot of uncultivated land in Tonga, and good handicrafts were in demand.
'Isileli Pulu
'

Isileli said that to solve both problems Cabinet and Privy Council must be held accountable to the people.
It was the responsibility of government to create and economic policy, and not the House.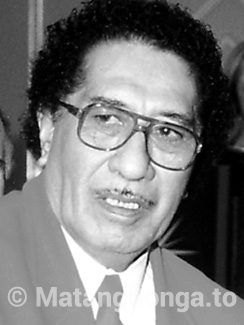 Joe Tu'ilatai Mataele
A former

MP

, and resort owner, said he would encourage the development of the agriculture and fishing sectors of government, and encourage participation of the national airline in the development of the tourist industry through lower airfares. He wanted to stop Government from interfering in the private sector, eg with licensing of squash exporters. He also wanted to make Ministers accountable and committed to jobs, because he believed they had too many overseas trips.
With the fishing, agriculture and tourism sectors, jobs that are more productive would be available during the development process. Joe said youth needed to be trained in practical skills that would be useful for them later in life.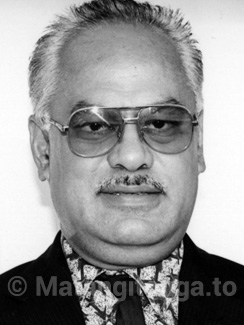 Mateaki Heimuli
A broadcaster, Mateaki believed that Government should negotiate to double Tonga's squash exports to Japan this year. He said that if Government were to offer 7-10 percent interest as an incentive for Tongan superstarts and business people overseas to invest in their country of resident in a fund to be known as 'Ofa ki 'Api Masiva Fund, it would help to boost Tonga's Foreign Reserves.He wanted Government to allocate overseas land leases for the production of kava for the American pharmaceutical market.He believed that the creation of an anti-corruption mechanism would allow more freedom of the auditor general's office to do their job.
Mateaki would like to see the creation of a new Ministry of Youth and Sports to promote activities organized in the villages by youth themselves. Youth groups could get into market gardening, the cleaning up of the villages and organizing sporting activities. He believed there was an urgent need to change Tonga's education system to meet the current trend suitable for the development of special skills and academic wisdom. Tonga had to put an end to the growing number of dropouts without any working skills.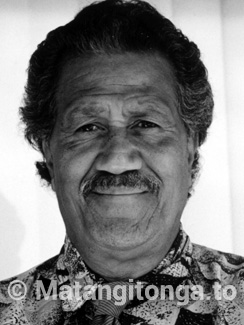 Salesi Kauvaka
A grower, Salesi said that Tonga has some of the richest waters in the world; we should sell fishing rights to Korea, Japan and China for a duration of 10 years at $1 million per annum.
He noticed that there were many uncultivated tax allotments. After the recent cyclone, food in the market was expensive, and the unemployed could make a lot of money from farming. The other employment opportunity was to send youth to cultivate the land that had been acquired in Hawai'i. He said that putting our faith in God would enable us to achieve what we were hoping for, our Foreign Reserve would go up and there would be jobs for the unemployed.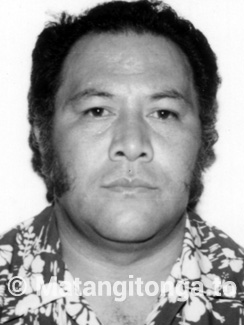 Filini Sikuea
A taxi driver, Filini said he would like to see the establishment of a form of government in which the people elected all members of the Legislative Assembly, including the Ministers. To revive and support the private sector and choose industries that would prove to have a strong market value.
He wanted to see the formulation of a fiscal policy that would provide more employment, and said it was important to raise the standard of technical training provided by government to international levels.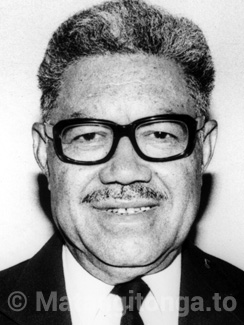 Mahe Tupouniua
Standing People's Representative, and a former Minister of Finance, Mahe said,  "If elected, I would try to persuade Parliament to pass legislation calling for:
a complete overhaul of the Tongan economic and financial systems
drastic cutbacks on ministerial and senior officials overseas jaunts
some form of selective import control
adjustments to the pa'anga exchange rate
seriously consider inviting the International Monetary Fund to step in and bring some sort of order to this economic and financial chaos
The following three things
get the Tonga Family Planning Association to work ten times harder than before
mount a massive "Job creation, Invest in Tonga" campaign that would emulate Heilala Week
reintroduce work schemes of the type we had before, with as many overseas countries as possible i.e. export Tonga's young surplus population
Tupou Malohi
A frequent letter writer to the local newspapers, Tupou said, "I will not answer these two questions".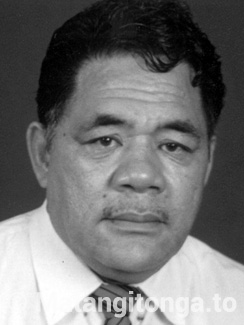 Fononga Tu'upeatau
A former co-operative society registrar, Fononga said, "Government cannot salvage Tonga from this economic recession, we must utilize the people. The Tonga Development Bank should not function as a commercial bank, growers need to be given longer time to pay back their loans at lower interest rates and with no loan deposit"
He believed the solution to unemployment would be to work on the motto set up by the Credit Union and Tonga Co-operative would help with the unemployment problem. "Establish societies in Tonga similar to the Chinese Chinatown, which trade amongst themselves."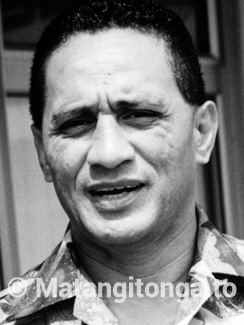 Sione Mata'ele
Sione looked to farming and tourism. "Get the copra going for a minimum of $500 a tonne, with money from copra to aid in scholarship schemes," he said, "and bring in $100 million for hotel development. "He favoured the establishment of welfare systems with a retirement plan and no minimum support.
Improve or start air cargo services to export frozen products in cooler containers to help the fishing sector. Provide a tax haven for investors.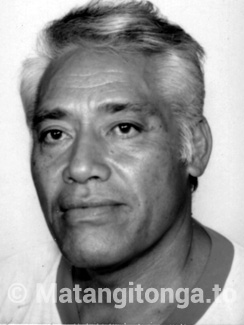 Siope 'Amanaki
A commercial farmer, Siope believed it was time for the Ministry of Agriculture, and for government to formulate an export agricultural agricultural program that could bring an income to the individuals, which in turn would boost Tonga's foreign reserves. The same went for the Ministry of Fisheries. For government to build water reservoirs in the Western and Eastern districts for growers to water their crops with. In order for growers to have high yields from kava, nonu, watermelon and squash, there should be an adequate water supply.
Because 80 per cent of employment is through agriculture, there should be more schemes available for growers to choose from, thus providing employment for the unemployed. Government should establish more technical institutes for youth to serve an apprenticeship and to be trained so that they could have better qualifications. Government to pay more attention to the development of sports as a means of employment opportunities for youth. For government to negotiate for jobs opportunities for Tongans to go overseas.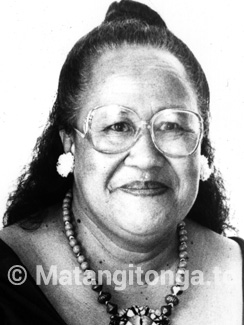 'Iunisi 'Ilolahia Fuka
A lawyer, 'Iunisi said Tonga should look for a stable market overseas for women's handicrafts.
To improve employment Tonga could extend the Maritime Institute to have a branch which dealt with carving, and offered courses for women to improve their skills in weaving, and teaching apprentices in the art of tapa making, and youth could easily find employment from this.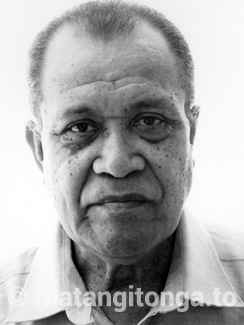 'Aisake Fa'alongo Filimone
Government to cut down on export limitations, with the export of squash and watermelon, squash being the fastest way to get much needed money. Revision of the Ministry of Agriculture, "they are not showing much for the work they are doing," he said.
Due to lack of natural resources like minerals, 'Aisake believed it was best to let people go overseas to work.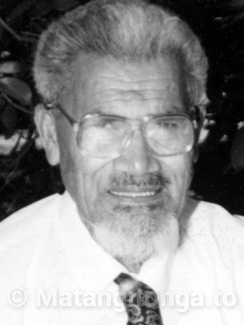 Fisi'ihoi Manu
A grower and a Muslim cleric, Fisi'ihoi believed that there should be a reduction in the salaries of parliamentarians, and that parliament should be in session once every five years.Fisi'ihoi said he had Muslim connections in 50 countries in the Middle East, Asia, Europe, Africa, America and Australia who were willing to help Tonga with finance, scholarships and jobs.
Government should negotiate with Australia, New Zealand and the United States for employment opportunities for Tongans.
Ha'apai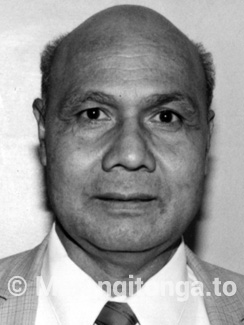 'Uliti Uata
Standing People's Representative for Ha'apai, 'Uliti, a businessman, said that private businesses should not have to compete with the government. He believed that government needed to cut its annual budget, and its spending.
For government not to get involved in business thereby competing with the Private Sector, but to support the private sector as the provider of employment opportunities for the people. For government to ease the custom duties on commercial goods allowing businesses to grow before government started charging heavy duties.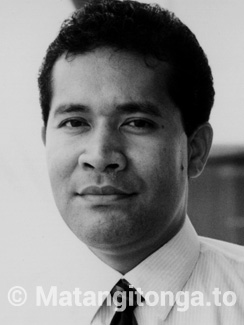 Fineasi Funaki
"

I'm thinking in terms of what is vital to the lives of the Ha'apai people. We have to increases our exports, in agriculture, fisheries and manufacturing. We will then increase our Foreign Reserve and pull the country out of the recession."
He said he would like to initiate in the House legislation that would promote free enterprise, encourage the private sector, and in turn would provide job opportunities. Move to cut down government intervention in private businesses which did not inspire growth.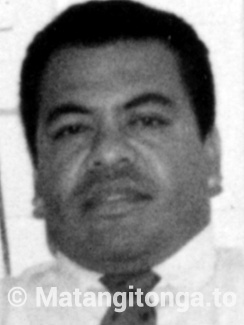 Mo'ale Finau
Mo'ale wanted government to encourage the growth of the private sector in order to increase export overseas, and to make sure that government did not pass legislation or amend the Constitution, which could affect the flow of remittances from Tongans overseas. He said it would help the economy if it were made easy for Tongans to travel overseas, and government should regulate foreign businesses from moving capital funds overseas.
Government should be able to manage its funds, allowing job opportunities to be made available. For government to help the private sector to grow and to provide more jobs.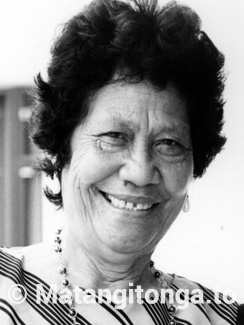 Sela Kasinga
A street corner speaker, Sela believed there was a lot of money in Tonga, but it had been used wrongly by the people who are in power. "The focus should be on the youth so that they may become honest leaders." Sela said there was no economic recession, "people are jus too lazy to make use of the resources and skills available to them."
There was money to be made but people were lazy and were not making use of their talents, not everybody could have an office job. "Again as a mother, I say the youth must be looked after because if they are messed up they will not become good citizens."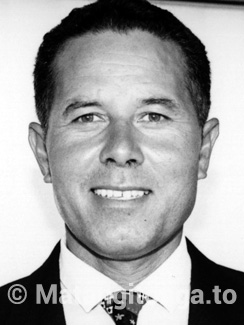 Kamipeli Tofa
A long time campaigner for parliament, Kamipeli believed that government should channel some funds into key economic sectors to boost exports. As for Ha'apai there should be a special effort to identify potential export products. "Look for prospective trading partners with special preferences for export."
Conduct a survey on the needs of the youth, and then prepare a program to match. Raise the age when students may finish school so that they would be intellectually prepared for the outside world. Encourage youth to set up their own businesses, with financial assistance from Government.
Vava'u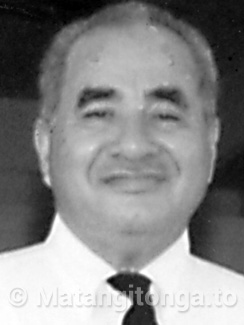 James William Kuli Harris
A former Secretary for Labour Commerce and Industries, he believed that several things needed to be done. First government needed to substantiate the rhetoric that the private sector is the engine for economic development.

"

If you are looking at employment, it's really the private sector that will do the employing. Government must assist the private sector in order for it to grow, expand and thereby absorb the unemployed." He said that government should look at its curriculum to ensure students who left school were trained to be vocationally marketable.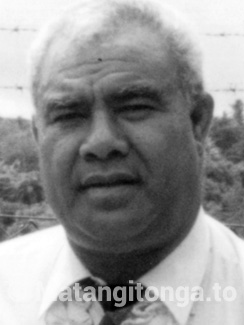 Kelepi Piukala
A lawyer, Kelepi believed it was time for Government to present an aggressive program to develop fisheries, agriculture and tourist, and to work with the people to avoid economic and social degradation. "What are the ideas that I will push forward in Parliament? Technology! Technology! Technology! With applied technologies, we can do the work and we can make the money!"
Encourage the use of modern technology in agriculture and fisheries to increase production and export and to boost our foreign reserves, at same time provide employment.
Molimea Laulaupea'alu
"

I have been in the civil service for 28 years, and until my pension is approved I have nothing to say. I have no experience in politics."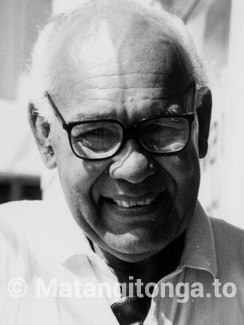 Koliniasi Pua Afuha'amango
A grower, Koliniasi said he would ask government to intervene and find a market for Tongan agricultural and fisheries products. He wanted government to allow Tongans in Hawai'i to cultivate the land that had been leased there.
Government to promote the spirit of sharing, by limiting to one the post a person may hold in government, and also only one hereditary title a noble could hold.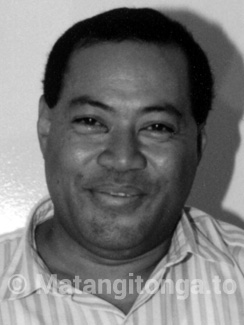 Samiu Kuita Vaipulu
Standing People's Representative, Samiu believed that for a start there should be a cut in the government's travelling expenses, and a slow down on imports, while Tonga was trying to increase exports. "I think the Trust Fund should be injected into our Foreign Reserve until the economy bounces back." He said that foreign aid and development programs should be implemented so that a substantial of cash is pumped into the community.
There was an urgent need to strengthen the private sector in order to provide employment opportunities. "I am proposing to the European Union to fund a scheme called Vava'u Enterprises, a joint venture between Vava'u businessmen who wanted to set up businesses but lack the capital funds."
To'imoana Taufaeteau
A lawyer, To'imoana said that Government needed to define its work-plan, and should cut down its spending, and stop the buying of land overseas and heavy machinery for road construction. It should cut the travel expenses of ministers.
That is a hard question but there is a need for changes so that there is a balance of power in parliament….Government should encourage the private sector and the development of the fisheries.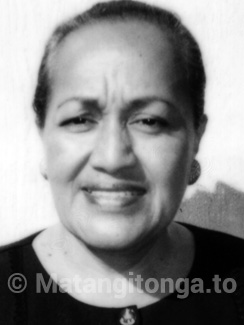 Sisilia Pasina Fonua Hoeft
A businesswoman, Sisilia said that Government should invest more money in the development of the Tourist Industry. Government should encourage the development of an import substitution industry such as poultry farming, dairy farming, and the manufacturing of shampoos from coconut.
 "I would support a consideration to provide apprenticeship programs at village level. I feel we have limited technical education available. We need apprenticeship programs in villages for the young people because they definitely need skills in order to find jobs here or overseas." The facilities and machinery for setting up such a program could be funded by foreign aid.
Siale Motulalo Faletau
–2.  A lawyer, Siale said government needed to encourage the development of the fisheries and agricultural sectors, to increase exports and create employment for young people.
'Eua
Tu'ipulotu Lofitu Lauaki
Standing People's Representative, Tu'ipulotu said that Government should borrow $50 million, and then bypass the bank and lend the money directly to the people at a low interest rate. He wanted to revive the knitting factory in Tongatapu; improve the fisheries sector by purchasing three long line-fishing vessels to boost exports; and to improve the tourism sector in 'Eua.
For government to lower the retirement age to 55 years old. To establish an apprenticeship training centre for youth. To establish an apprenticeship training centre for youth. To establish a factory similar to the former knitting factory for the weaving of kato alu by women. Encourage young people to take up fishing to be marketed by the government.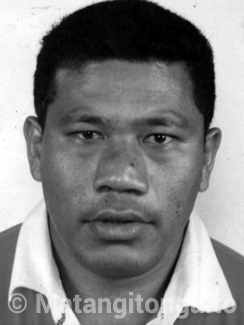 'Esafe Toafa Kivalu
Government to offer more incentives to the development of fisheries. Revive oil exploration between 'Eua and Tongatapu . It could be the fastest and easiest source of foreign earnings. To do away with the post of deputy directorship in ministries, a director should be able to run a ministry, and save money.
The development of fisheries and oil exploration would provide jobs for some people. If government could not provide employment opportunities then they should try to secure some funds to pay out unemployment benefits.
Siosaia Toafa Kivalu
Government to supply a freezer container for 'Eua in order for 'Eua to increase its agricultural production for export to Tongatapu and for overseas. For the Legislative Assembly to stop increasing the salaries of its members.
For government to build technical institutes, and teach youth technical skills so that they may be able to get better paid jobs.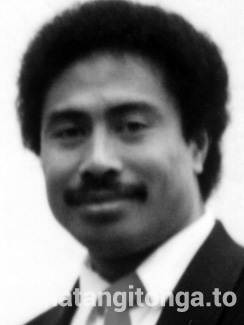 Sunia Fili
Sunia said that the People's Representatives could not promise anything to the people, but to boost our Foreign Reserve there should be a restriction on imports. He thought government should abolish the quotas system on squash; encourage people to go overseas; and the King to distribute his estates in 'Eua to the people to grow squash.
Government to help the private sector by easing the licensing process; appoint a new Minister of Sports; and for Government to spend more money in the development of the Ministry of Fisheries which could then offer more jobs for the people.
Hakeai Vea Havea
To cut down on imports, and support existing programs to develop fisheries, agriculture, sports and for the people to go overseas to send remittances as a source of foreign earnings.
Encourage school leavers to get into farming where they could make more money rather than sitting in an office.
Niuas
Lisiate Tokolahi
Declined to comment because he wanted to be sure what the results of the election would be before making a comment.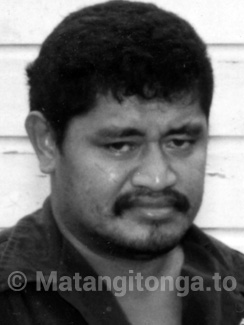 Petelo Sanele 'Uvea
Petelo said that Government should pay special attention to growers who exported their crops overseas.
Issues concerning the private sector should be looked into because it was where employment was available.
'Ofa Kilofaanitani Simiki
Reduce the imports of heavy machinery to save our Foreign Reserve. Encourage export projects and provide employment. The National Reserve Bank should retain high loan interest rates to discourage importers. Devalue the pa'anga to attract more tourists for the new millennium. Negotiate with other countries for a Duty Free Trade Agreement on some products.
Reduce the public service by 20 per cent and divert these funds to local communities to boost commercial activities and provide income. School leavers to farm the land leased overseas, and seek out sporting contracts for Tongan athletes.