At Digicel, we are looking for dynamic people to join our growing team. These fantastic opportunity is available and if you have the ability to operate effectively in a fast paced telecommunication industry and meets the desired requirements; then we would like to hear from you!
VACANCIES
1.
DISTRIBUTIONS
AND
MOBILE
FINANCIAL
SERVICE
MANAGER
2.
REGULATORY
RISK
&
COMPLIANCE
OFFICER
Deadline for applications extended to 26 November 2022
--
1.
DISTRIBUTIONS
AND
MOBILE
FINANCIAL
SERVICE
MANAGER
This role will report to Head of Commercial- Tonga and responsible to provide a proactive approach to the direction and continued growth in the Distribution of Recharge/Top Up for the Tonga Market. Lead the local Distribution team with daily monitoring and tracking of sales and providing opportunities in both the Consumer and Reseller space to enable further growth in the market.
Successful applicants will accountable to develop growth strategy in areas such as EVD and overall sales by monitoring and actively contributing to delivering on monthly targets. In addition, role will also responsible to develop growth strategy, policies, and procedures for the roll-out of Mobile Financial Services (MFS) initiatives and ensure sustainable market dominance as set out in Digicel Tonga Limited. You are responsible for ensuring the business is compliant with all Anti-Money Laundering /Combating Financing of Terrorism and Fraud Prevention in your country of responsibility. You also need to define and communicate the key controls and processes that need to be in place and coordinate with the Market Team a plan and timeline to implement them.
Core Responsibilities:
Responsible for daily tracking of sales delivered by Interlinc sales team and local sales team on servicing of resellers in market •
Developing incentives and sales strategy to penetrate zones less performed and reward high performing resellers.
Responsible in getting insights on consumer behavior, reseller buying patterns, Digicel experience feedback and consumer spend that will affect supply and demand of recharge in market.
Building strong relationships to top 10 resellers and 6-monthly reseller audit to gather insights around brand assessment, customer experience and areas of improvement
Proactive approach to propose, plan and implement sales strategy in liaison with the Commercial Head and providing thorough training on promotions and products to local Distributor team on a monthly basis
Manage the distribution of sim to resellers and activation growth based on Gross Ads
Ensure achievement of targets including sales presence, employee satisfaction

&

NPS

, subscriber base maintenance and growth.
Drive Digicel Top Up based on Telepin platform by incentivizing agents internally, manage, and promote initiatives around Reward and Recognition.
Develop and implement an effective route to market plans to ensure market dominance of

MFS

 products/services.
Implement channel innovation and ensure Digicel Mobile Financial Services is sustainable innovates and build on its product portfolio in the market.
Ensure conformance to regulatory obligations of Digicel

MFS

products while maintaining a balanced relationship with key stakeholders.
To review procedures, policies, workflows and quality control programs within the Mobile Financial Services division.

VE

ffective management of the sales force to ensure maximum business impact in terms of new Customer acquisition, and revenue growth.
Prepare presentations, reports, analysis as and when required by the Commercial Head and

CEO

Support the

CEO

and other

SMT

members, as and when required
Academic qualifications, Experience and Skills required for this role:
Diploma/Degree in Business Management/ administrations
Minimum 3-5 years of experience in business management
Excellent communication and interpersonal skills are essential, including tact and diplomacy.
Experienced in leadership development initiatives.
Experienced of working in a fast paced and changing environment.
Ability to work well under pressure.
Able to manage multiple projects and priorities simultaneously.
Experienced in dealing with and managing external partners

&

 customers.
__
2.
REGULATORY
RISK
&
COMPLIANCE
OFFICER
This role will report to MRS Head of Compliance (HoC) and responsible for ensuring the business is compliant with all Anti-Money Laundering / Combating financing of Terrorism and Fraud Prevention in Tonga. To Download job description, click here: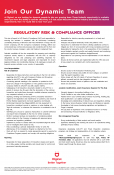 --
Express your interest for the above roles via Digicel's Careers Page https://www.digicelgroup.com/en.html, no later than Saturday, 26th November 2022 (extended deadline). All applications must be attached with a cover letter, most recent resume, referee details and copies of required qualifications. Applicants must apply online via Digicel Website/Careers Page.
Digicel Tonga (PTE) Limited is an Equal Opportunity Employer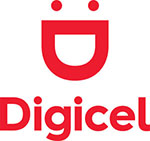 --
Matangi Tonga Online ref. #7021 Digicel Tonga extended 23-26 November 2022