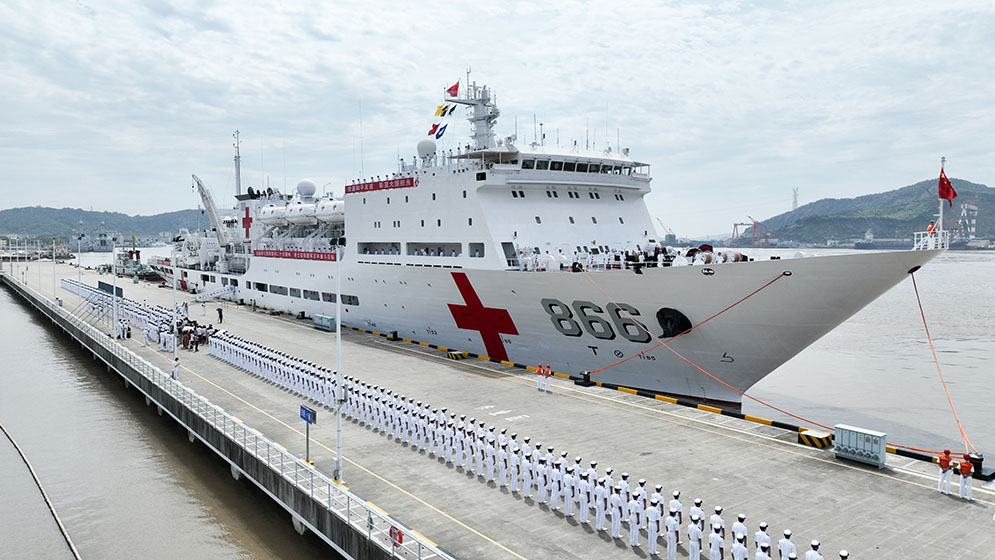 The Chinese naval hospital ship Peace Ark will pay her third goodwill visit to Tonga on a humanitarian medical mission from 28 July to 4 August 2023, to provide week-long free medical treatment for people in Tonga.
It will be the second stop of her "Mission Harmony 2023" which includes Kiribati, Tonga, Vanuatu, Solomon Islands and East Timor, the Embassy of the People's Republic of China in Tonga announced.
They stated that during the previous two visits to Tonga in 2014 and 2018 thousands of Tongans received medical consultation and treatment aboard the ship.
"Peace Ark will dock at Vuna Wharf next week and look forward to consolidating the bond with the medical personnel from Vaiola Hospital and other clinics to help as many people as possible."
Peace Ark has extensive diagnostic and examination facilities with over 100 doctors and nurses working in dozens of clinical and auxiliary departments. The ship has multiple operating rooms, nursing stations and exam rooms, "being capable of carrying out more than 40 kinds of examinations, treatments and operations in general surgery, orthopedics, obstetrics and gynecology and other disciplines.
"During the visit, free of charge medical services will be provided from the afternoon of her arrival on Friday, 28 July to the afternoon of Thursday, 3 August, except on Sunday, 30 July."
Medical teams from the hospital ship will go to towns and villages to provide medical services in Tongatapu. Peace Ark also carries a helicopter that may support transfer of patients who are in need from outer islands like 'Eua to the ship.
Peace Ark was commissioned into the Chinese People's Liberation Army Navy (PLAN) in 2008. It was built to meet the medical rescue requirements for maritime operations. Over the past 15 years, the PLAN voyaging hospital has travelled a total distance of over 260,000 nautical miles and has visited 44 countries and regions
Tonga established diplomatic relations with the People's Republic of China 25 years ago.